In this article:
Hand Sanitizer Displays
Assured Systems supply a range of hand sanitizer displays from 15" to 21.5". These displays are designed to promote hygiene within your facility with remote content updates
Assured Systems develop digital signage solutions for technically demanding applications all over the world. Standing in the face of the Coronavirus, Assured Systems tackle viruses and bacteria head on with the launch of a new specially designed digital signage hand sanitiser kiosk that dispenses hand sanitiser gel to kill 99.99% of germs.
Under guidelines of the World Health Organisation it is recommended to wash your hands for 20 seconds frequently throughout the course of the day, especially when handling public infrastructure. Sometime this can be difficult and hand sanitiser can help prevent the spread of infection by killing the virus immediately.
This has led to the launch of an innovative signage based LCD display with an integrated automatic hand sanitiser dispenser allowing the latest guidelines to be promoted alongside company policies whilst offering the opportunity to sanitise your hands and minimise the spread of infection.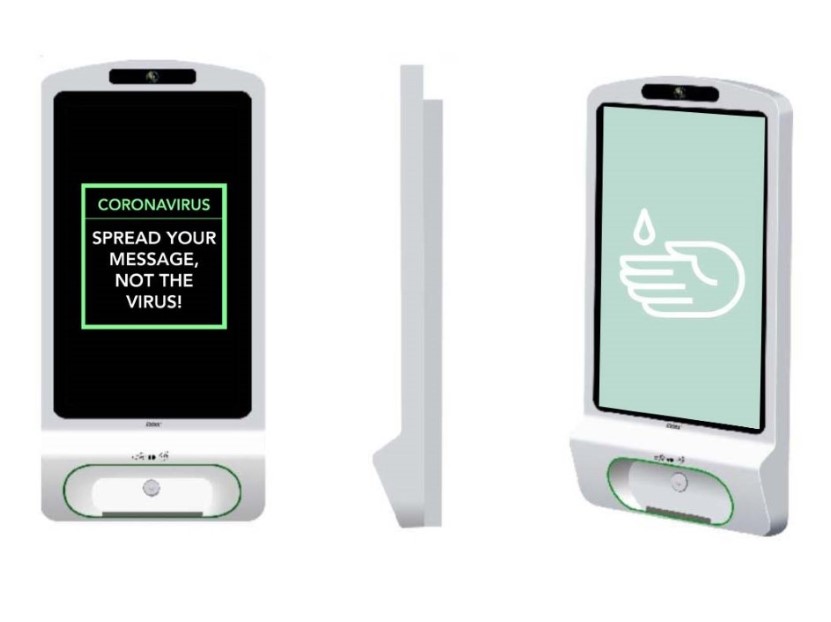 Assured Systems account manager for digital signage Nick Barry points out "These series of hand sanitising kiosks are the perfect solution for high-traffic public locations such as pharmacies, retail, commercial buildings, and the leisure industry such as spas, wellness centres and gyms where health and safety is key to operation. The displays not only offer a gently reminder for the users to clean their hands more often but can be used to promote other company policy or other areas of the business also. Upon walking up to the hand sanitiser display, the user can automatically dose hand sanitiser foam onto their hands without touching anything which is exactly what we need right now. The 21.5" wall / visa-mount solution is the product I recommend covering a wide range of users requirements".
Flexible Media Content
These hand sanitizer kiosks are available with two media options allowing you to either use a USB or Android media player with content management software built in.
USB Looping allows for custom content to be uploaded manually via USB onto the display.  This is an on-board solution that allows for content to be easily uploaded manually via USB to the SD card and automatically loop the content across the display to enhance and compliment your corporate messaging. 
The on-board Android media player offers the ability to remotely distribute and manage on-screen content so that you can service multiple units across a network via Ethernet, Wi-Fi or Cellular connection. 
Interactive Content with PCAP Touch Technology
If an interactive CMS is required a 10 Point PCAP touch screen can be integrated into the hand sanitiser display. This is ideal for visitor management systems making sure everyone entering the building is sanitising their hands prior to entrance.
Hygienic Design Whilst Remaining Vandal-proof
Featuring a full metal housing and 3mm tempered glass display, these hand sanitiser kiosks are designed with protection from the public in mind. They are also designed to withstand frequent chemical spray and wipe downs to further reduce spread of infection.
Automatic Sanitiser Dispenser with LED and CMS Notifications
The user does not have to touch anything! Simply put your hands into the machine and the hand sanitiser gel will auto-dispense. When these signage kiosks are running low on hand sanitiser an LED light signal indicates that it requires a refill. The signage administrator cam also receives a notification via the CMS. To refill the hand sanitiser, you open the machine and refill with up to 5000ml of liquid based hand sanitiser gel. Drip trays are included as standard to avoid any being built up on the surrounding floor.
Wall-Mounted or Freestanding with Battery
Assured Systems recommend wall mounting the solution as the tidiest and most cost-effective solution. A battery and stand can be purchased to turn these hand sanitiser displays into a mobile solution whereby a temporary hand sanitiser kiosk needs to be deployed.
Available in a 15.6" and 21.5" variant, you can view our LCD hand sanitiser kiosks by clicking here. Alternatively, our sales team are here to help. Please contact sales@assured-systems.com or call 01785 879 050 for more information.