As innovative IoT applications spring up around the retail industry, NEXCOM edge server NDiS B426 gives brick-and-mortar retailers a firm grasp of customers' interests. Featuring GPU-accelerated system responsiveness, the NDiS B426 has the competence of an edge server to invigorate retailers through smart retail insights. The NDiS B426 can identify traffic flows, measure customer engagement, and find behavioral patterns, offering retailers valuable information to optimize shelf assortment, craft marketing strategies, and ultimately increase in-store sales.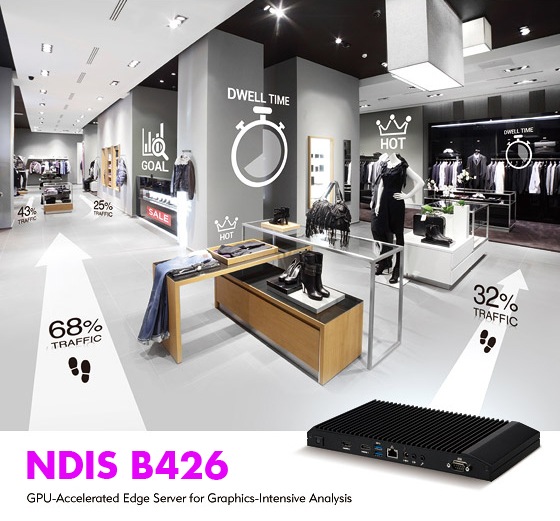 Equipped with the 6th generation Intel Celeron Processor 3855U and NVIDIA GeForce GT 730M graphics processor, the edge server NDiS B426 is geared towards graphics-intensive analysis. With fast system responsiveness boosted by GPU acceleration, the NDiS B426 can interpret real-time video footage captured by up to six full HD in-store cameras and incorporate cloud services to create a clean neat presentation of analysis results. With a slim size and main connecters aligned on the front side, the NDiS B426 can be easily tucked in a back office or stockroom, helping retailers swiftly reposition for the IoT era.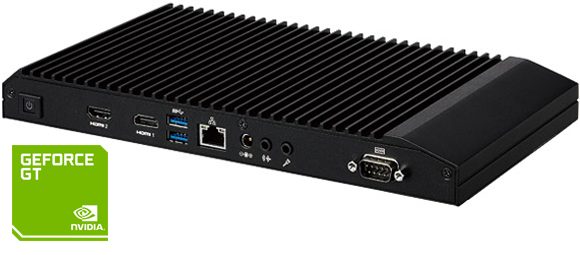 While customers wander around in the store, the NDiS B426 hums in the back, decoding customers' preferences by examining, for instance, how customers move, what products customers touch, and where customers linger. Rapidly and cost-effectively, the NDiS B426 streamlines analysis processes that generally rely on enterprise servers or cloud platforms. By producing real-time statistics, the NDiS B426 enables retailers to acquire an in-depth understanding of in-store customers, evaluate the performance of sales promotions, and strategize store and shelf layouts, ushering in the IoT-driven retail.
Main Features:
Intel 'Skylake' Celeron processor 3855U
NVIDIA GeForce GT 730M for graphics-intensive analysis
Slim design for easy and discreet installation
Front-accessible I/Os for easy connectivity
Dual HDMI output for 4K UHD content
Supports Wi-Fi communication through expansion
Wide Operating temperature: -20°C to +50°C
The NDiS B426 is only an example of our multimedia embedded computer range, please follow the above links or click here to see more, or feel free to reach out to our sales team in either the UK 01785 879 050 or USA 864 421 6991.
About Assured Systems
Assured Systems is a leading technology company offering high quality and innovative applied computing solutions to the embedded, industrial, and digital-out-of-home markets across the world. Headquartered in Stone, England and with offices in North America, our reach is truly global. Our impressive product portfolio includes a full range of Fanless Embedded Computer Systems, Digital Signage & Multimedia Computer Systems, Touchscreen Panel PCs, Human Machine Interfaces, Vehicle Mount Computers, Rackmount Computer Systems, Single Board Computers, Rugged Laptops & Tablets.