In this article:
Data to Decision with Net-Centric Fog Computing Defense Solutions
Assured Systems offers a vertically integrated set of technologies tailored specifically to the defense sector to modernise military cloud and IIoT infrastructure.
Introduction
Traditional tactics utilising large, fixed systems are no longer suffice in today's defense arena. A ground force unit might have only 20 minutes to deploy in a rugged, hostile environment, yet they must share data across a range of military devices with constantly changing connectivity to the global information grid. Now being part of the Industrial Internet of Things (IIoT) generation, flexible and intelligent use of data streaming gives way for huge advantages. The data-to decision principle of gathering quantitative, diverse data and merging it into actionable conclusions governs much of the military's current and future technology adoption policies.

For example, the Army Equipment Modernization Strategy of the U.S. Army calls for the military branch to "focus on the centrepiece of our formations: lethal, protected, situationally aware Soldiers and Squads. Mission Command modernization enables Soldiers and Squads by providing information to the point of need, at the right time, to make the best possible decisions. In turn, this information is provided to all echelons of command and when shared across the Joint network, gives Army formations access to Joint capabilities."
Assured Systems offers a vertically integrated set of technologies tailored specifically to the defense sector to modernise military cloud and IIoT infrastructure.
Utilising the Data Distribution Service (DDS) Standard through Vortex Cloud Computing

Data Distribution is an open source middleware standard that enables the sending and receiving of data, commands, and events between network nodes regardless of location, host OS, programming language, or host hardware platform and was designed to support the requirements of the Global Information Grid (GIG) and network-centric systems.
In late 2015, Assured System's defense technology partner, ADLINK, acquired PrismTech who are known for their Vortex DDS solution stack providing next generation network-centric military systems with native support for cloud and edge, fog, and cloudlet computing. Vortex can deploy across a range of public, private, and hybrid cloud configurations, unicast and multicast networks, and any number of third-party or legacy applications.
Vortex operates within a wide range of both commercial and military applications. This includes industrial automation, smart energy, air traffic control, and naval combat management systems. It is the robust quality of service (QoS) management, distributed fault tolerance, and high degree of functionality across a modest set of resources that makes it thrive in such critical environments requiring fast, flexible, secure and scalable data management across a multitude of parallel input and output systems.

Cloudlet Architecture Providing Ground-Level Flexibility
The DDS platform enables analysis and distribution of data across cloudlets which is effectively a small, mobile data centre at the edge, otherwise known as fog computing. This enables applications where network latency and connectivity to the internet may be limited or interactive programs demand local processing beyond the cloudlet client's capabilities.
An example cloudlet application is augmented reality (AR), in which graphical data overlays real world images. The DARPA funded ARC4 system, for instance, uses a helmet-attached display to add information such as enemy locations, satellite footage, route conditions, and mission objectives into the user's field of view. To be practical, AR systems must have well below 30 ms of latency between controller input (head turning, for example) and display output. Otherwise, the experience becomes unnatural and frustrating. Pulling overlay data from the cloud, especially from remote areas, often introduces too much lag. Near-proximity cloudlets can solve this problem.
Cloudlet Servers manufactured by ADLINK and configured by Assured Systems for Data Domination
A server, or network of servers, stands at the heart of every cloudlet. As with every other type of server, the desirable attributes of a cloudlet server will depend on the specific circumstances and applications. Key features include virtualization-friendly processors, manufactured to extreme ruggedness, and scalability.
Our edge computing partner, ADLINK, have solutions specifically for demanding outdoor conditions. The Seto-1000 outdoor edge server is smaller than a pizza box and houses up to two 10-core Intel Xeon E5-2500 CPUs. It's headless design minimised power consumption and configuration complexity whilst offering ample bandwidth up to 10G SFP+. Constructed from an aluminum conduction cooled chassis and utilising fanless technology this edge server dissipates heat evenly whilst maintaining IP65 specification ensuring all ports are both water and dust proof making it an ideal solution for outdoor deployment.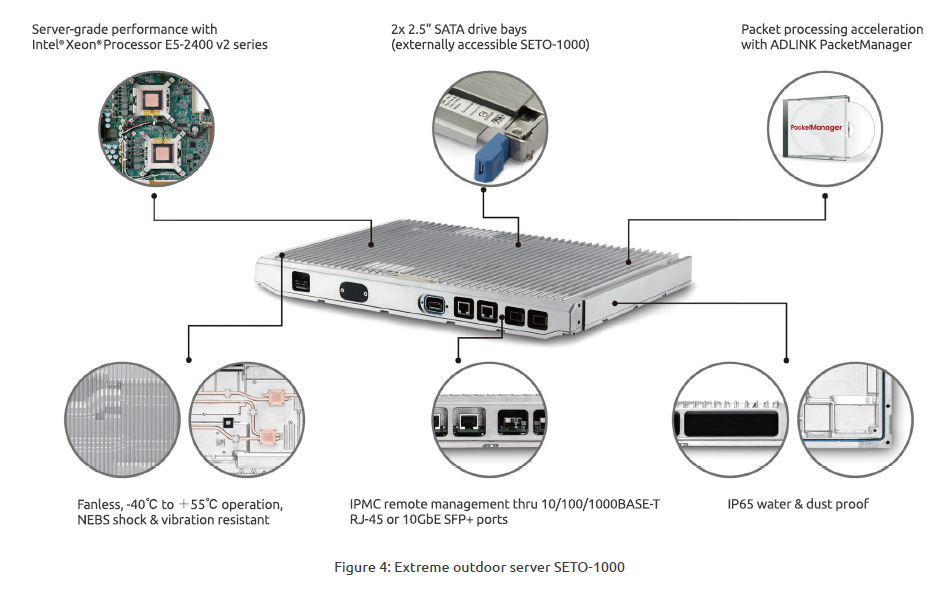 If you'd like to learn more about the strategic and tactical benefits of the industrial IoT and cog computing benefits of ADLINK's highly scalable military solutions speak to Assured Systems. These pursuits, all clearly in line with data-driven military objectives, can fulfill mandates that will make tomorrow's armed forces more nimble, responsive, and effective.
Assured System's sales team has former military recruits in both the UK & USA with years of experience in military applications. We thoroughly understand our products, our customers, and the applications in which our systems are being deployed. You can rely on our expertise to ensure you receive the right guidance resulting in a precise fit for your requirements every time, saving you time and effort, and ultimately money. To discuss further please call +44 1785 87 90 50 (EMEA) or +1 864 421 6991 (USA) or use the contact form to send us your requirements.