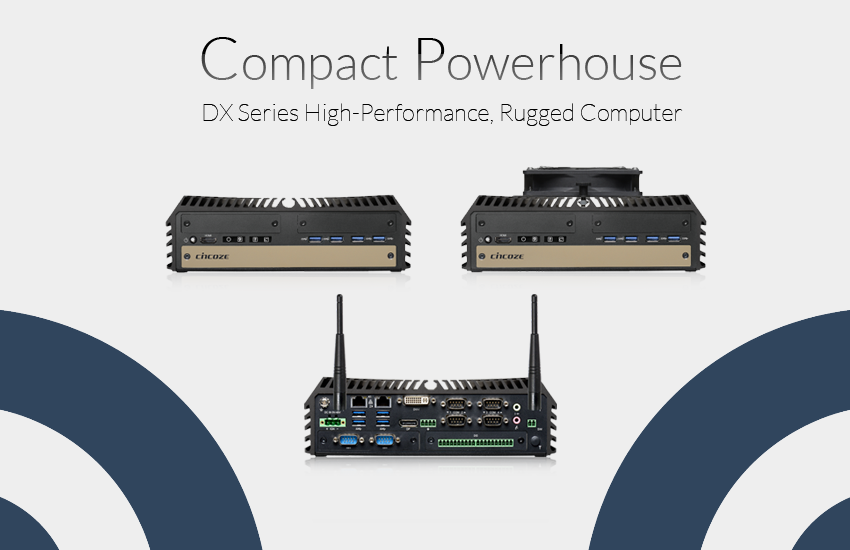 First launched in October 2017 with the DX-1000, then followed by the DX-1100 in March 2019, Cincoze's DX Series, stands for "Diamond Extreme" and it is an extreme performance and compact workstation powered by Intel Xeon and core processors, bringing outstanding system performance for high-end applications and a wide range of processors for selection.
The DX series is the most compact workstation with highly modular design, supporting flexible modular I/O expansion, 2x front accessible HDD trays and unlimited combinations for space-limited requirements.
The Cincoze DX-1100 is a rugged powerhouse of a workstation specifically designed to satisfy demands for the high-performance computing platform, that tackles heavy multitasking while driving up to three independent displays. Based on LGA 1151 socket and Intel C246 chipset, the system supports 9/8th generation Intel Xeon and Core processors (formerly codenamed Coffee Lake S) with up to 8 cores and 64GB memory capacity.
Industry Leading Versatility
The also remarkably compact DX-1100 delivers the maximum flexibility of modular I/O expansions and provides dual hot-swap 2.5″ HDD/SSD tray with RAID function, taking functionality even further along with it's three full-height mPCIe/mSATA slots for wireless, I/O, or high-speed storage drive.
With its' six USB 3.0, four COM, dual Gb LAN, and dual USB 3.1 ports, the DX-1100 easily integrates into a range of applications. Cincoze Combined Multiple I/O (CMI) modules allow for further I/O customization with options for RJ45/M12 Gb LAN, additional COM and DIO, while a Control Function Module provides power ignition sensing or PoE functionality, enabling it be configured and implemented in many industrial applications, such as machine vision, in-vehicle transportation, and mobile surveillance.
The system can also drive triple independent displays with DisplayPort, HDMI, and DVI-I ports that support a wide range of connectors.
Rugged Reliability
The DX-1100 is a rugged and compact workstation ready for the toughest environments, with it's extruded aluminum fanless/cable-less/jumper-less design, wide operating temperature (-40 to +70°C), wide range DC power input (9~48 VDC), high tolerance to vibration and shock (5/50 Grms), the DX-1100 is maintenance-free and ideal to be deployed in harsh environments, protected from dust, debris, chemical, and moisture ingress, increasing the reliability and lifespan of the system, enabling it to thrive in challenging applications.
Combined with flexible mounting options, the DX-1100 is a high-performance rugged computer that withstands the rigors of industrial environments no matter where you put it.
For remote installations or network redundancy, the DX-1100 is available with 4G LTE connectivity.