Cincoze launch their 2022 DIAMOND Product lines featuring their Rugged Embedded Fanless Computers.
Here we take a look at the latest machine in the series – DS-1300.
Cincoze the rugged embedded computer brand that provides diversified embedded computer solutions tailored to market needs, releases for 2022, it's DIAMOND Product Lines of rugged embedded computers, including DS, DX, DI, DC, and DA Series'.
Cincoze products meet various vertical markets' application needs, especially factory automation, mechanical automation, machine vision, AIoT, robotics, in-vehicle computing, smart transportation, smart warehousing, and logistics. Over the years, Cincoze has launched many innovative products and won several patents, awards and international certifications.
DS Series
Cincoze DS Series high-performance fanless embedded PCs, with socket-type Intel Xeon or Core CPU and two memory sockets up to 64 GB, fulfill all kinds of high-end computing requirements. The DS Series supports a maximum of two PCI/PCIe expansion slots with different combinations of interfaces for expanding all kinds of application add-on cards. Rugged features of the DS Series include wide operating temperature, wide range DC power input (from 9V to 48V), high tolerance of shock and vibration, and high-standard industrial protection.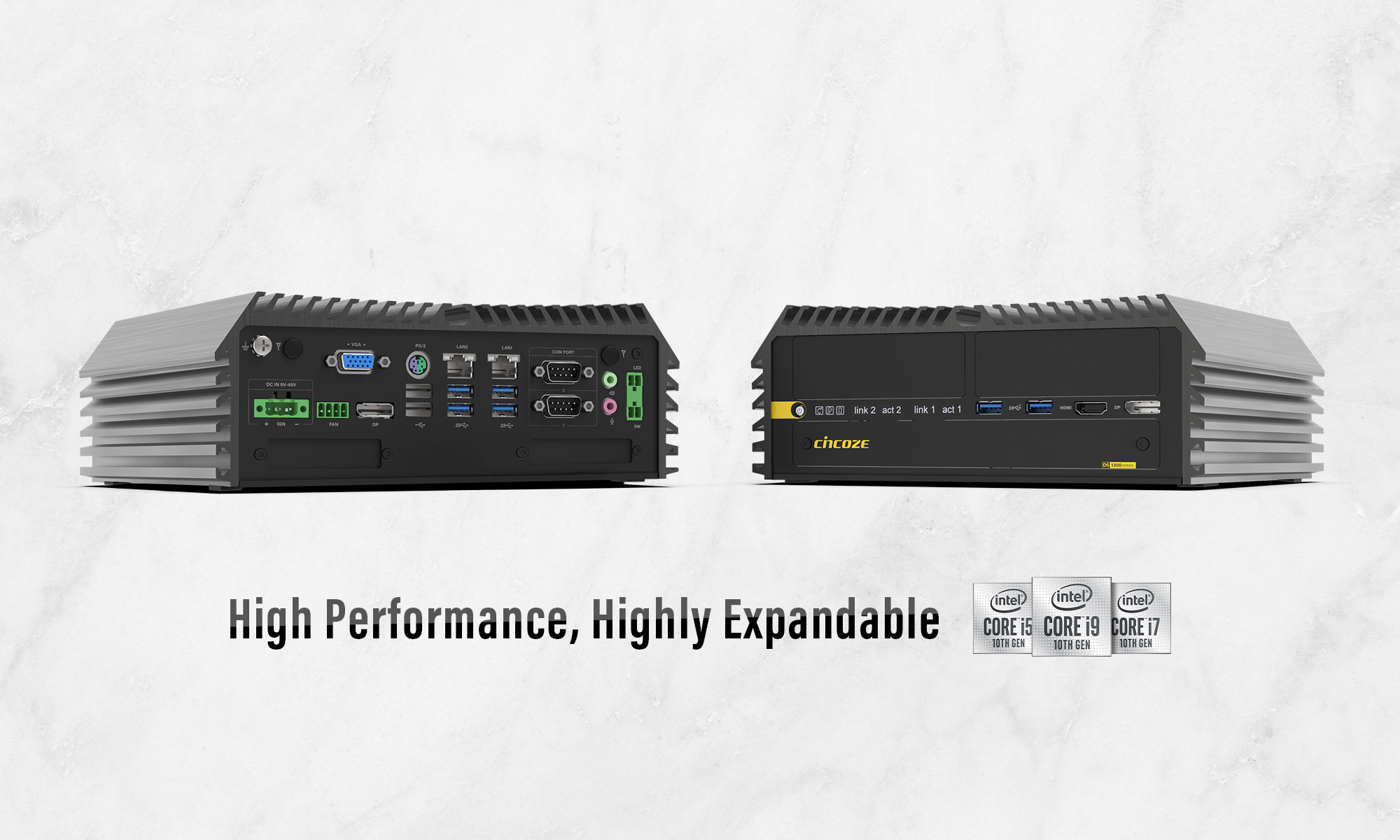 DS-1300 Series (DS-1300, DS-1301 and DS-1302)
The latest machine in the series is the DS-1300 range, a powerful embedded computer that brings unrivalled performance.
It has versatile functionalities and rich industrial I/O. Equipped with Cincoze's CMI, CFM, MEC modular expansion, customization for additional I/O or other functionality to fulfill different applications couldn't be easier.
The DS-1300 meets the requirements of industrial environments and is certified with industry standards. It delivers ultimate and reliable performance for factory automation, industrial automation and rolling stock applications.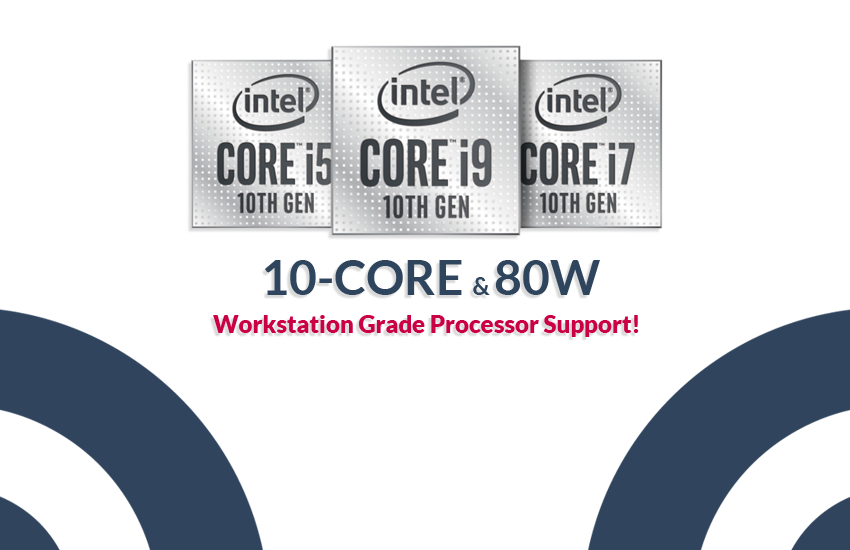 10-Core, Up To 80 W CPU
The DS-1300 range, powered by a workstation-grade 10th-gen Intel Xeon or Core i9/i7/i5/i3 CPU with up to 10-core architecture, provides superior processing performance. The DS-1300 supports Xeon CPU up to 80 W TDP.  It incorporates DDR4 2933/2666 MHz memory up to 128 GB, delivering unparalleled performance in a rugged, fanless system.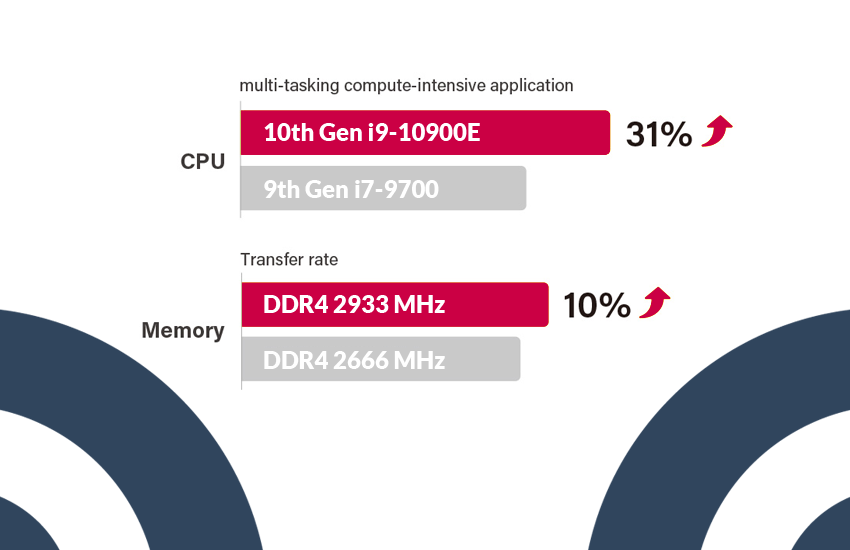 More Powerful & Faster Multiplies Productivity
The DS-1300 10th-gen CPU brings to 31% better integer multi-tasking for compute-intensive application performance than 9th-gen CPUs*. DDR4 2933 MHz memory further increases speed by 10%**. The processing platform delivers the performance required to consolidate multiple workloads for intelligent devices and applications.
* 31% increase for 10th-gen i9-10900E 65W vs 9th-gen i7-9700 65W CPU** 10% increase for 2933 MHz of DS-1300 vs 2666 MHz of DS-1200.
Flexible PCI and PCIe Expansion
The DS-1300  supports up to two PCI/PCIe expansion slots, a 110 W power supply capacity, and can be connected to various commercially available high-speed I/O cards, image capture cards, motion control cards, or GPU cards. In order to strengthen the stability of the expansion card, Cincoze's patented "Adjustable PCIe Retainer" utilizes a two-stage precision adjustment mechanism that can be tightly adjusted and strengthened according to the size of the external card (up to 235 mm x 111 mm), providing reliable support under high-vibration environments, and maintaining safe and reliable continuous operation at the site.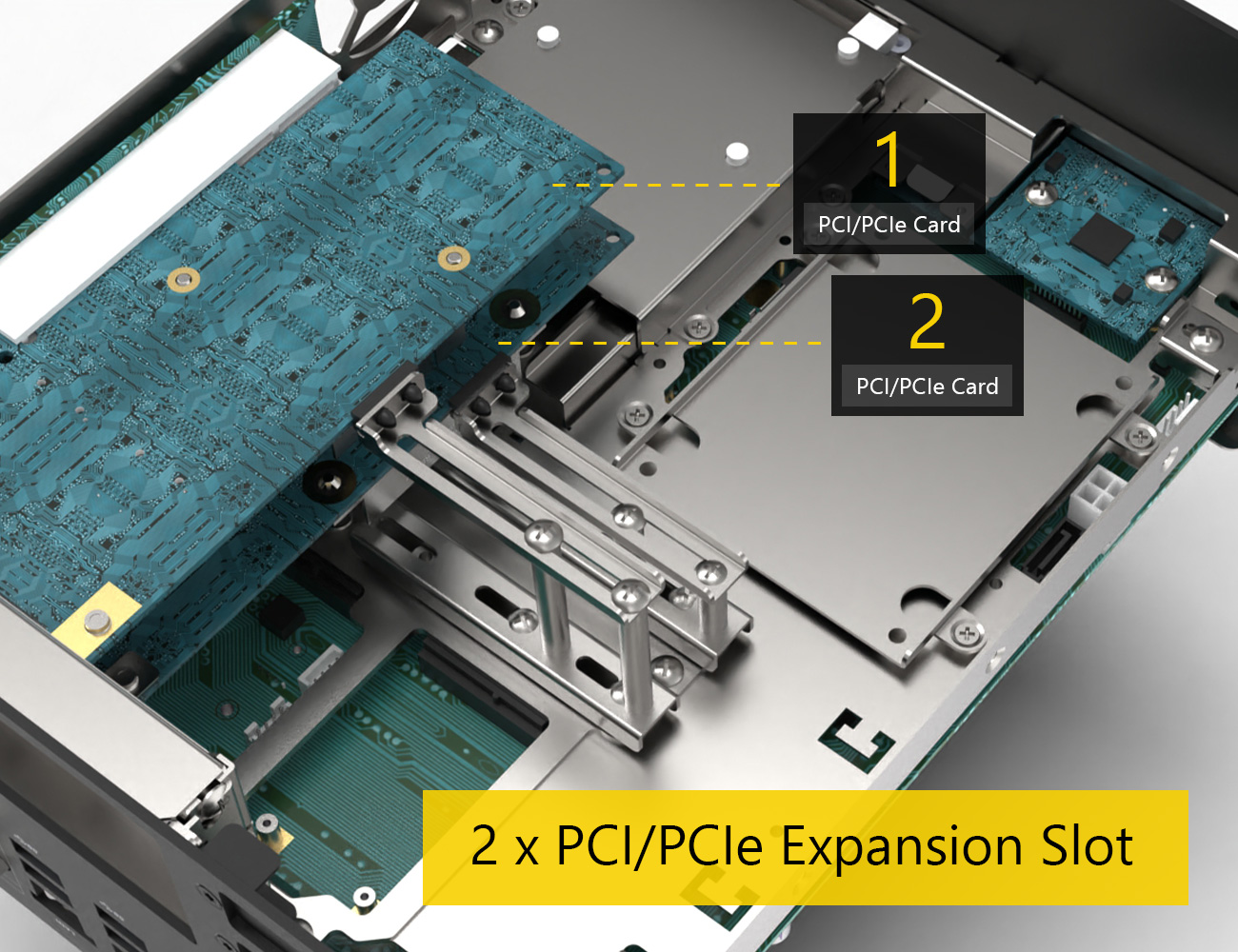 Modular Design Freedom
The DS-1300 machines have an array of native high-speed I/O, including 2x GbE LAN, 2x COM, 6x USB3.2, 2x USB2.0, and more. It can also be used with Cincoze's modular design CMI, MEC, and CFM, for additional functions. CMI and MEC provide up to 12x GbE LAN, 2x 10GbE LAN, 32x Digital I/O, 8x M12, 4x COM, or 4x USB3.2. CFM modules can add power ignition sensing and PoE functions. In addition, there's a built-in MiniPCIe expansion slot that supports commercially available Wifi/4G/GPS modules—just install the card, plug in up to two SIM cards, and it's ready to go.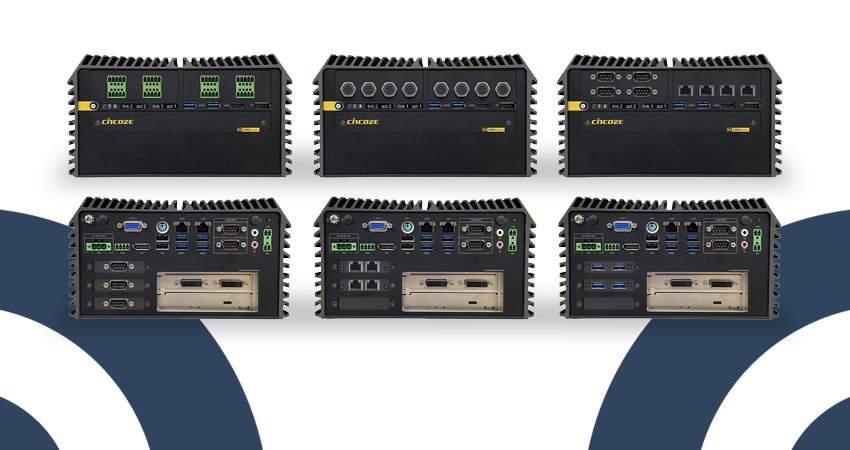 Tough and Rigorous Military Standards
In order to provide ever more trustworthy products, Cincoze continuously improves its self-requirements. The full DS-1300 range is certified against shock and vibration, adhering to the stringent MIL-STD-810G military equipment standard. It also meets the specifications of rail standard EN 50155 (EN 50121-3-2 only) and maintains the tough design of the rest of the DIAMOND series. It supports wide operating temperature (-40 to 70℃), wide voltage input range (9–48VDC), and boasts overvoltage, overcurrent, and electrostatic discharge protection. Together, these mechanisms provide the most stable and reliable core for edge computing in field-side applications.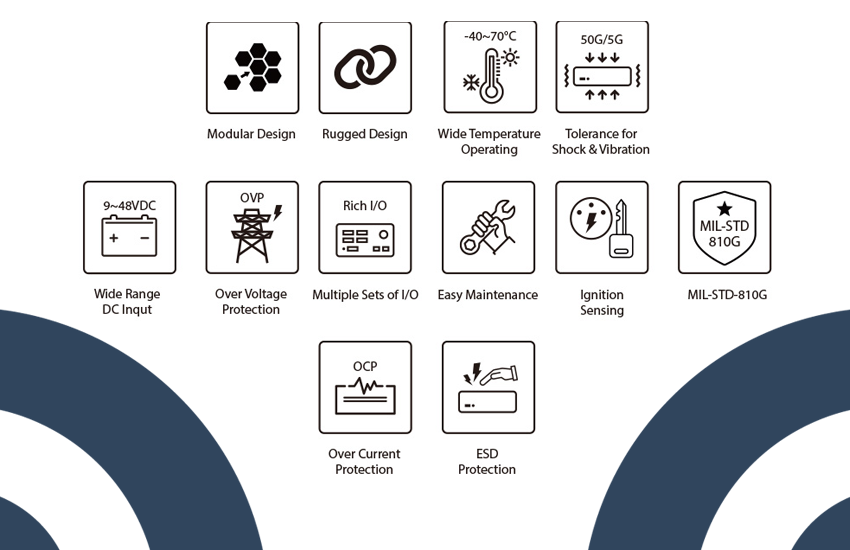 Rugged Reliability Against Rigorous Environments
The DS-1300's fanless and cableless industrial-grade design can withstand rigorous environments. Its unique thermal design supports an extended operating temperature range from -40°C to 70°C. It has also passed stringent industry standards, including MIL-STD-810G military standard and EN50155 (EN 50121-3-2 only) for rolling stock environments.

The DS-1300 range consists of the DS-1300, DS-1301 and the DS-1302 with the DS-1301 having 1 x PCIe and the DS-1302 has 2 x PCIe slots.