In this article:
Choosing a Digital Signage Display – Assured Guide
This article aims to clarify the defining considerations when choosing digital signage displays for your chosen application.
This article aims to clarify the defining considerations when choosing Digital Signage Displays for your chosen application. The depth and breadth of signage systems available can seem overwhelming, but the scope of products have features and specifications designed to be fit-to-purpose for the many different signage project demands.
Where you are putting your digital signage and what you are wanting to achieve with it will define what kind of signage screen you choose. We've tried to categorize some of the major uses with links to products or sections below.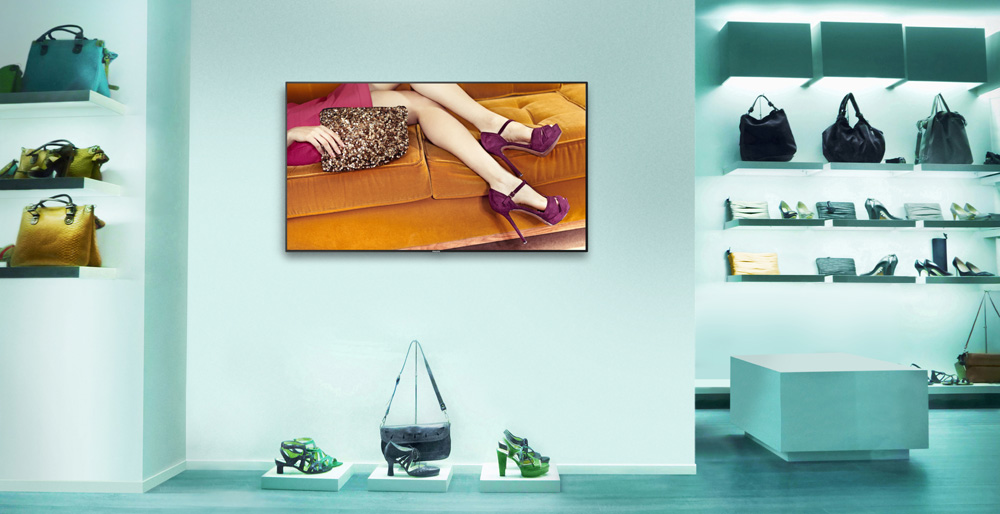 Depending on your application, you may want to consider the following features when choosing a screen:
Size: The obvious rule of thumb is the bigger the screen, the bigger the cost. If you have a large space to fill, there are multiple screen options available in our Video Wall Screens section. Many modern retail venues are mixing and matching screens of all shapes and sizes to fill an area with a mosaic, or if budget allows, a 98" 4K display is an impressive statement to make in any environment.
Resolution: HD screens have a resolution of 1920×1080, giving a sharp image. A smaller screen will look crisp, but as the size of the screen increases, 4K UHD has twice the amount of pixels to fill the space, keeping the image sharp. Many homes now have 4K TVs so audiences are used to that ultra-high definition. That's not to say HD doesn't still have it's place as the quality is still excellent.
Usage: Commercial displays are more resilient to long periods of usage than standard TVs, preventing screen-burn and component burn-out. For most applications, a 16/7 screen (16 hours a day, 7 days a week) will suffice, providing they are powered down for periods between use. If you are a 24 hour business, such as a hotel, a 24/7 monitor will keep going constantly with a MTBF (Mean Time Between Failure) upwards of 50,000 hours.
Digital Signage Displays – main section. Here you will find standard shape screens from 32 inches to 98 inches in common formats. These screens may have simple media players built in for digital signage but also have inputs and outputs to receive TV or feeds from more powerful digital signage computers for more complex marketing displays or networking multiple displays.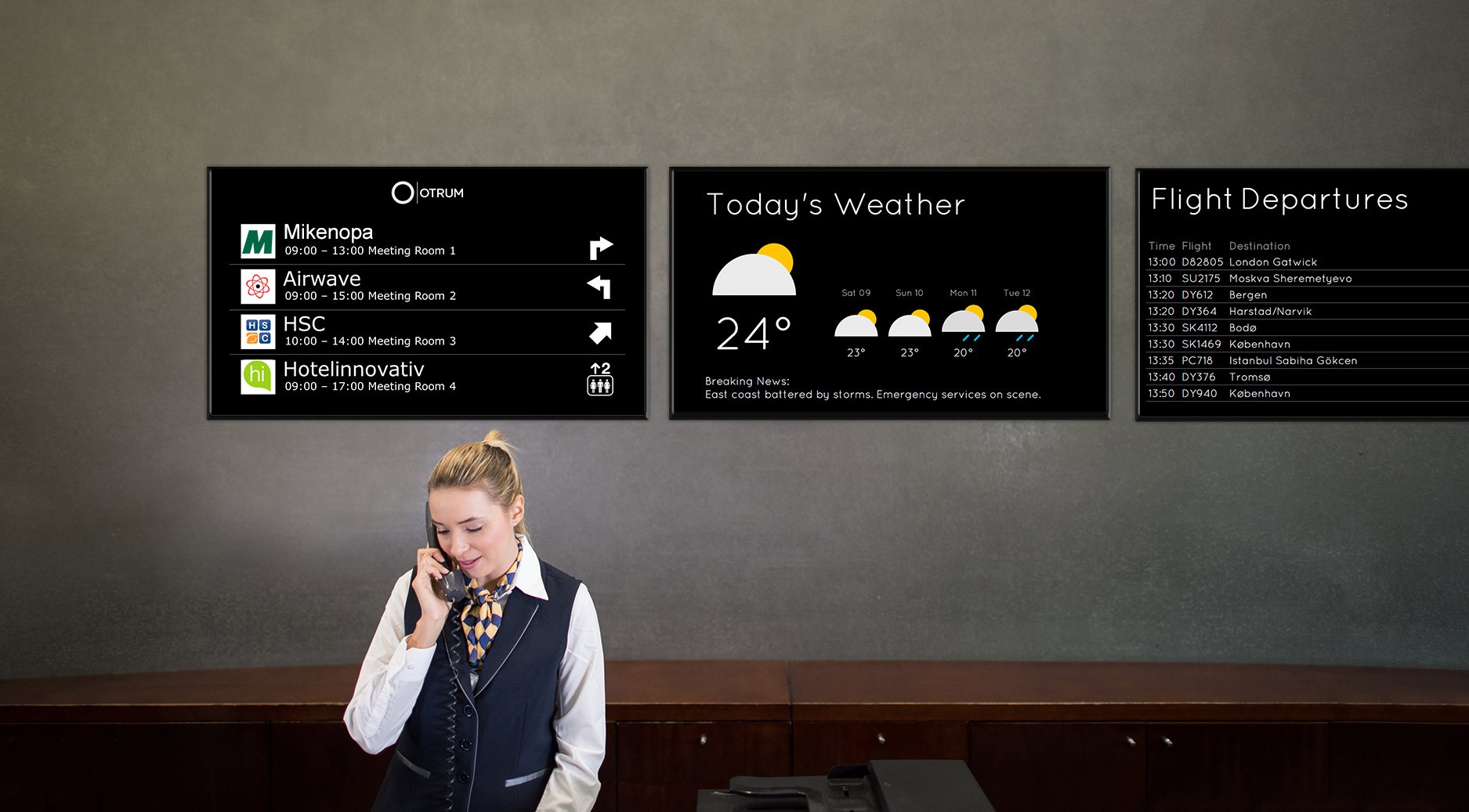 Freestanding Digital Displays – for advertising and public information indoors. We offer large slimline displays with plug-and-play capability which are perfect for hotel/leisure center receptions. Enclosed in protective metal enclosures, these displays are sturdy and smart looking. We also offer the very mobile SureSign-15 which is a modern looking battery powered system with a 15" screen that is designed for showrooms.
Slimline Wall Mount Digital Posters – for retail and leisure venue advertising and public information. These systems have simple content players built in for simple playback loaded via USB, some may be networked with other screens. They are designed to look purposeful, with deep black borders and aluminum edging, distinguishing them from standard TV looking monitors.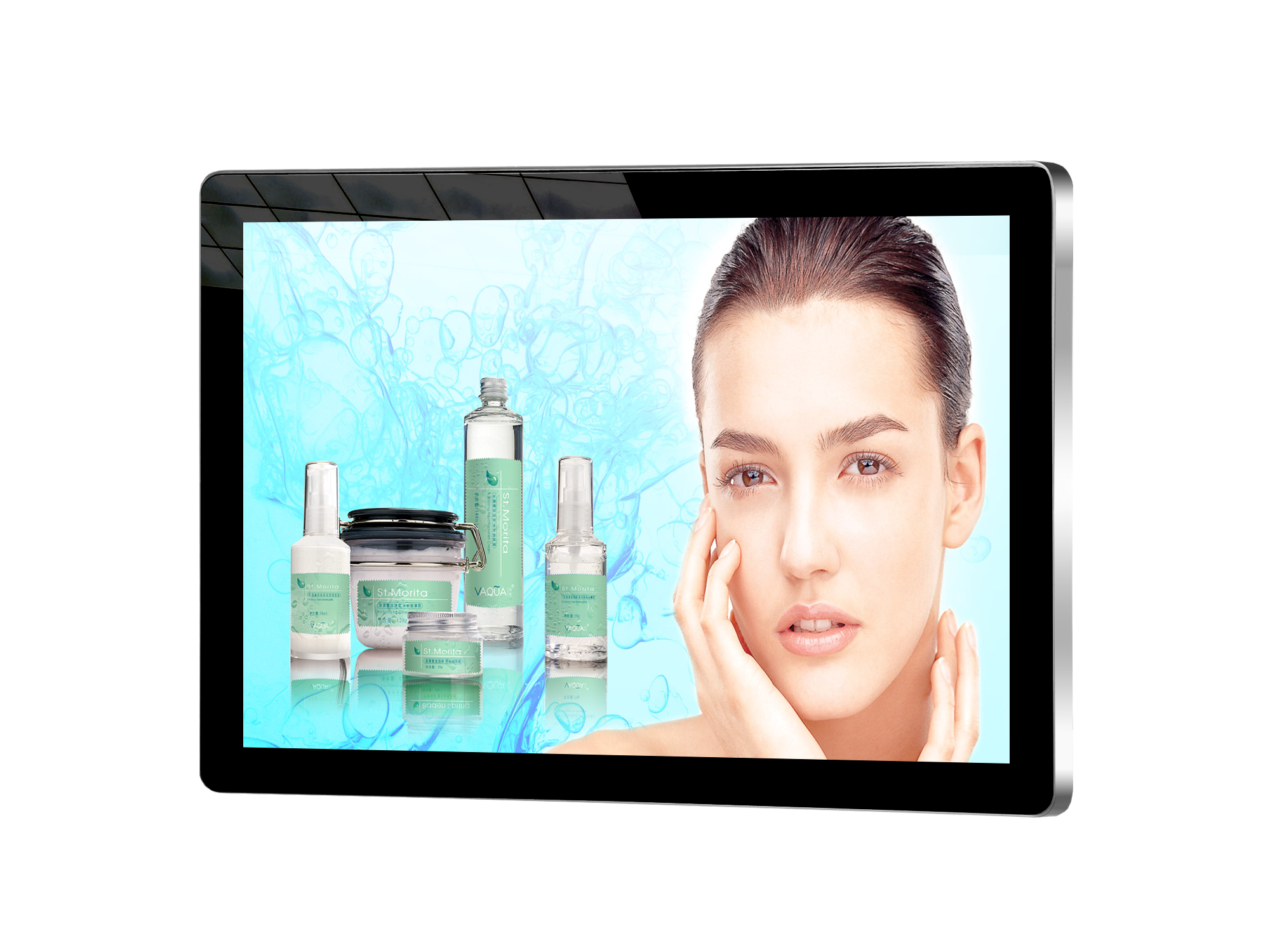 Stretched Bar Monitors – for menu boards, box office header boards, theatre subtitling, wayfinding. Stretched LCD Monitors are specially cut, offering a super wide display format which offers an innovative and fresh approach to grab the public's attention. These stretched format display products, also known as BAR displays, are available in a variety of sizes and aspect ratios, with sunlight readable options, open frame models, making them an ideal solution for digital signage, gaming and wayfinding style applications.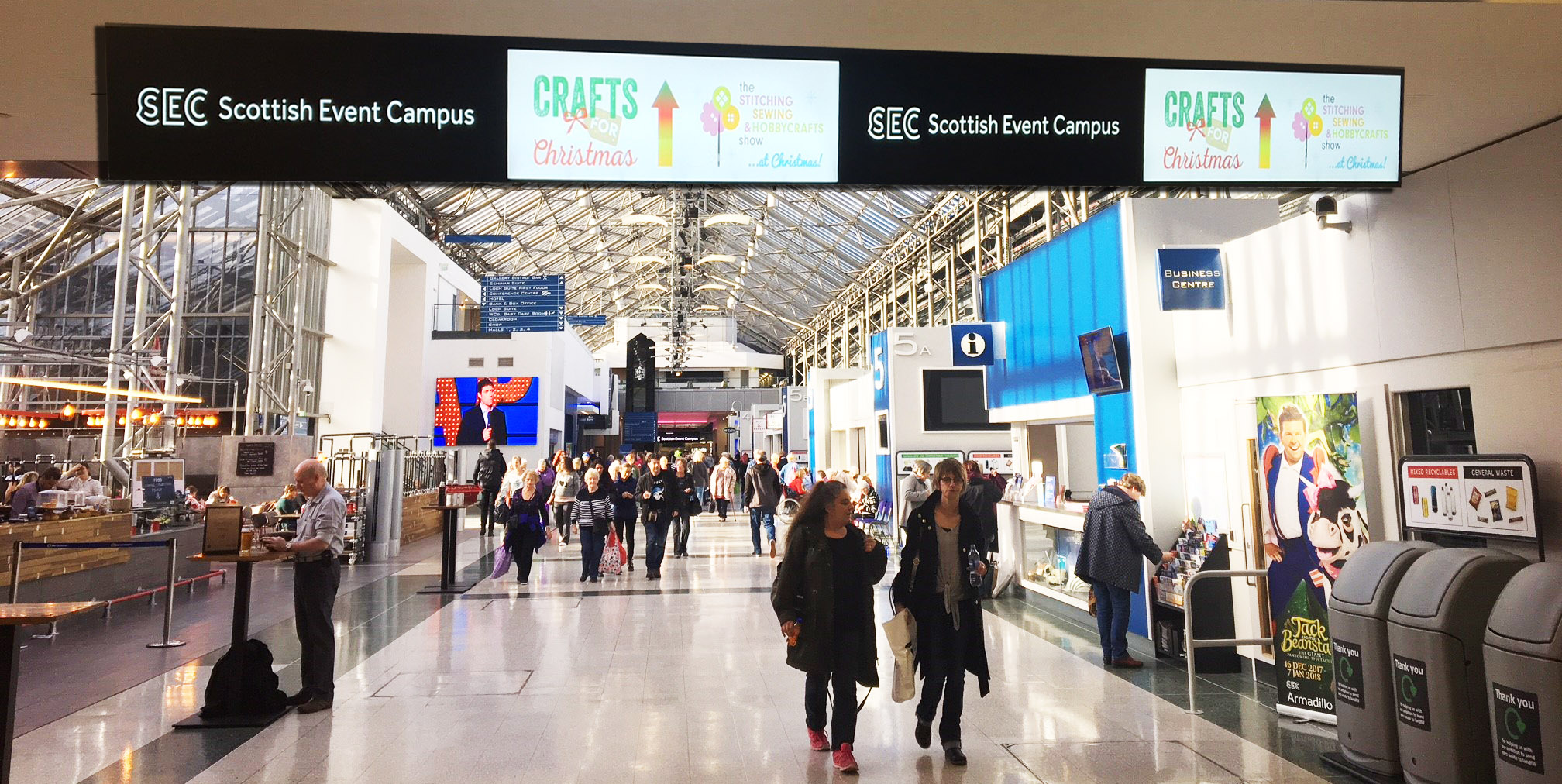 Square LCD Monitor – for bespoke or unusual displays such as art installations and mosaic projects.
Video Wall Screens – to be mounted in multiples and networked to create large format multi-screen displays. These screens have ultra-narrow bezels and flat depth extrusions to minimize dead space when they are combined for multi-screen walls. Available with differing sizes, brightness options and resolutions, we can supply the right solution for your project. Talk to us about professional mounting kits for multi-screen applications.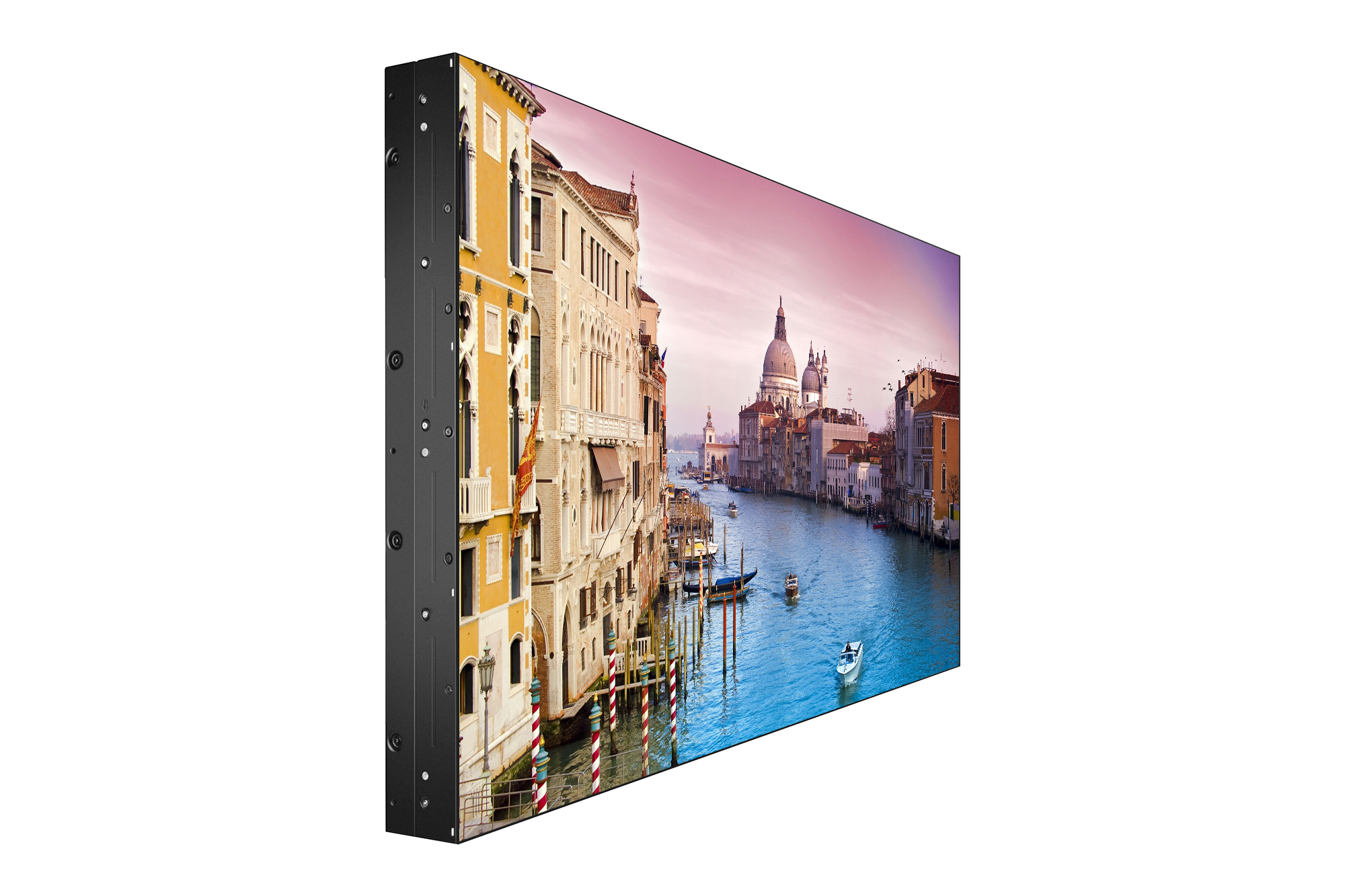 Flush Inset Screens – for incorporating into walls or panels. Certain bespoke interior designs for public leisure and retail require screens to be flush with a wall or panel. We offer Open Frame Monitors with mounting from the inside, offering a bezel free flush fitment for the OEM finish required by many clients. Alternatively, Panel Mount Monitors will slide into an aperture in a wall or panel to give a similar look, but with a bezel surrounding the screen. A wide range of display sizes, video inputs and touchscreen options ensure we have a product for every application.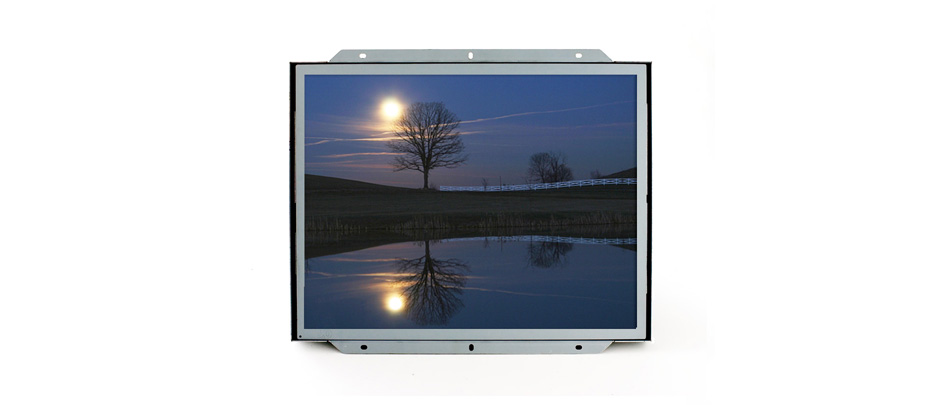 Outdoor Freestanding advertising displays – for advertising and public information. Often used outside leisure facilities such as country clubs to display advertising, what's on or wayfinding information. Encased in weather-proof metal enclosures, and displayed in portrait, these sleek units are versatile to move position around venues or can be bolted down for permanent fixtures.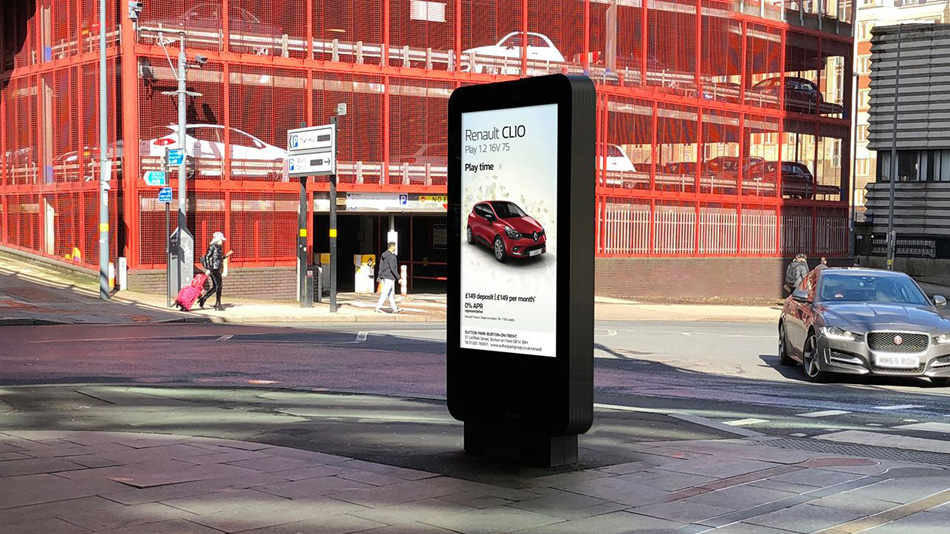 Wall mounted outdoor displays and screens – for advertising or TV. These could be for hotel terraces or pub gardens to show sporting events and/or marketing purposes with the ability to switch from one purpose to the other. Inbuilt media players allow for simple content to be scheduled via USB or remotely via wi-fi, as well as external I/O to hook up to TV sources or a professional digital signage computer to display more complex marketing campaigns.
Semi-outdoor displays – for advertising or TV. Semi-outdoor is a term used to describe displays which have the wide temperature operation and ingress protection to protect against dust and limited exposure to liquid. Such screens are perfect for covered terraces in bars, restaurants, hotels and covered transport hubs like train stations. You can find semi outdoor products throughout our product ranges.
Considerations for outdoor displays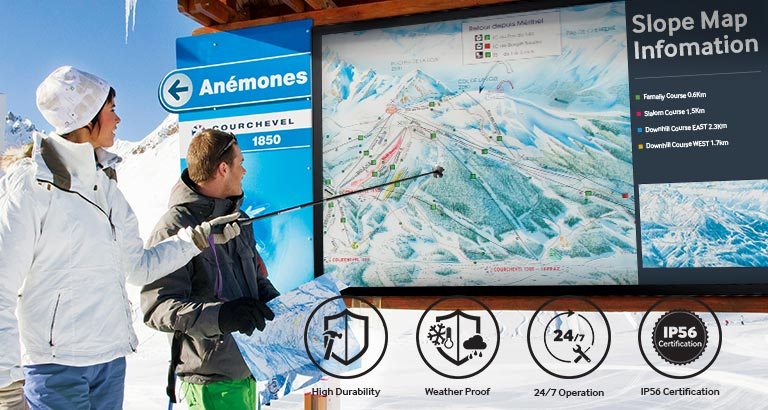 – Brightness: Outdoor signage will have a much brighter screen to enable viewers to see the screen against high levels of ambient light/sunshine. Standard TV screens will have anything between 250 NITS and 700 NITS brightness, an outdoor screen will be above 1500 NITS. Semi-outdoor screens are available with standard or high-brightness, depending on the needs of the application.
– Security: There are off-the-shelf displays available with IK10 certification to resist vandalism, the highest level of resistance offered in designated European strength tests for infrastructure used in the public realm. Assured supply the OH75F from Samsung, rated to IK10. Alternatively, we can design and manufacture extrusions to fit a particular application, talk to us about bespoke casings.
Whatever, your project, we can find the right display solution for you. We've supported some of the most viewed digital signage projects in the world, so you can be assured of our skills and experience in everything DOOH.

About Assured Systems
Assured Systems is a leading technology company offering high quality and innovative applied computing solutions to the embedded, industrial, and digital-out-of-home markets across the world. Headquartered in Stone, England and with offices in North America, our reach is truly global. Our impressive product portfolio includes a full range of Fanless Embedded Computer Systems, Digital Signage & Multimedia Computer Systems, Touchscreen Panel PCs, Human Machine Interfaces, Vehicle Mount Computers, Rackmount Computer Systems, Single Board Computers, Rugged Laptops & Tablets.