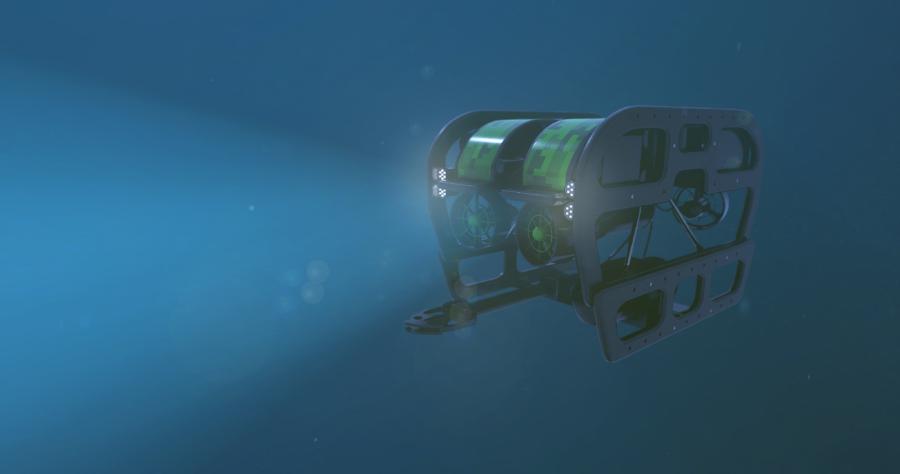 We were approached by one of the world's leading subsea engineering companies to provide a data acquisition and control system for Remotely Operated Vehicles (ROVs), primarily for installation and maintenance work on offshore wind turbine cables.
Remotely operated vehicles, or ROVs, allow exploration of  the ocean, without actually being in the ocean.
Usually by a person on a surface vessel, these underwater machines are controlled using a joystick in a similar way that you would play a video game. A Tether (a group of cables) connects the ROV to the ship, sending electrical signals back and forth between the operator and the vehicle.
Most are equipped with at least a still camera, video camera and lights, meaning that they can transmit images and video back to the ship. Additional equipment, such as a manipulator or cutting arm, water samplers and instruments that measure parameters like water clarity and temperature, may also be added to vehicles to allow for sample collection.
ROVs were first developed for industrial purposes, such as internal and external inspections of underwater pipelines and the structural testing of offshore platforms.  Now ROVs are used for many applications, many of them scientific. They have proven extremely valuable in ocean exploration and are also used for educational programs at aquaria and to link to scientific expeditions live via the Internet.
ROVs range in size from that of a small computer to as large as a small HGV. The larger ROVs are very heavy and need other equipment such as a winch to put them over the side of a ship and into the water.
ROV operations are simpler and safer to conduct than any type of occupied-submersible or diving operation because operators can stay safe and on ship decks. ROVs are often used to investigate areas that are too deep for humans to safely dive themselves and as ROVs can stay underwater much longer than a human diver, it expands the time available for exploration.
The project required a data acquisition and control system to monitor the subsea tool's performance and provide the necessary electrical outputs to control the tool.
The control inputs ran from a control panel inside a topside control cabin and operated the ROVs up to depths of 300m under the surface of the ocean.
The data acquisition requirement was for two systems; one topside and one subsea.  For this equipment the Dataforth MAQ20 was chosen, providing a range of both digital and analogue inputs along with outputs, communicating over Ethernet from the control cabin to the sea floor.
The solution provided was a combination of off-the-shelf hardware components with in-house HMI software, using the Open Platform Communication (OPC) server provided within the MAQ20 systems.
The modular nature of this set up provided for easy expansion and implementation of the changing requirements during the research and development process. The industrial ruggedness of the system was also important to the environment it was being used in, together with the wide temperature range of operation.
Short delivery timescales and good technical support featured strongly in the decision to use this equipment. The in-house HMI software talks to the two systems over Ethernet using industry standard Modbus protocol, which runs on our EC700 rugged embedded PCs fitted to the rear of our RM1905 19″ rackmount monitor with touchscreen interface for easy operator use.
About Assured
Our sales team has over 15 years experience in the industrial and embedded marketplace. We thoroughly understand our products, our customers, their markets, and the applications in which our systems are being deployed. You can rely on our expertise to ensure you receive the right guidance resulting in a precise fit for your requirements every time, saving you time and effort, and ultimately money. If you have an application you would like to discuss, please call +44 1785 87 90 50 (EMEA) or +1 864 421 6991 (USA) or use the contact form to send us your requirements.