Rugged Edge AI Computer Deployed with Object Tracking Engine
Effective service delivery and business improvement can be challenging in today's financial climate. Local authorities demand efficient, scalable and low-risk approaches when introducing new services.
Assured was approached by a leading software developer for state-of-the-art detection and single object video tracking, which uses multiple Deep Neural Networks to detect and maintain an accurate "lock" onto objects of interest.
The patent-pending technology uses Artificial Intelligence to detect vehicle-based littering offences remotely. The platform then securely transmits this footage for human validation before an automatic request is made to the DVLA for details of a vehicle's registered keeper so a penalty charge notice can be issued.
Looking to deploy their object tracking software at the edge, including in-vehicle use cases, they were looking for a ruggedized computer designed to meet the following prerequisites:
High-performance edge AI capabilities.
Low-latency video input and PTZ camera control via serial RS-485.
Open architecture to allow additional third-party apps.
Ignition control to support delayed system power shutdown.
Shock and vibration resistant with a wide operating temperature for cold system start-up.
Encrypted cellular radio communication with GNSS for AIoT applications.
Looking towards our range of rugged NVIDIA Jetson computers, a couple of candidates stood out as viable options for the application whilst offering complete flexibility on embedded video capture.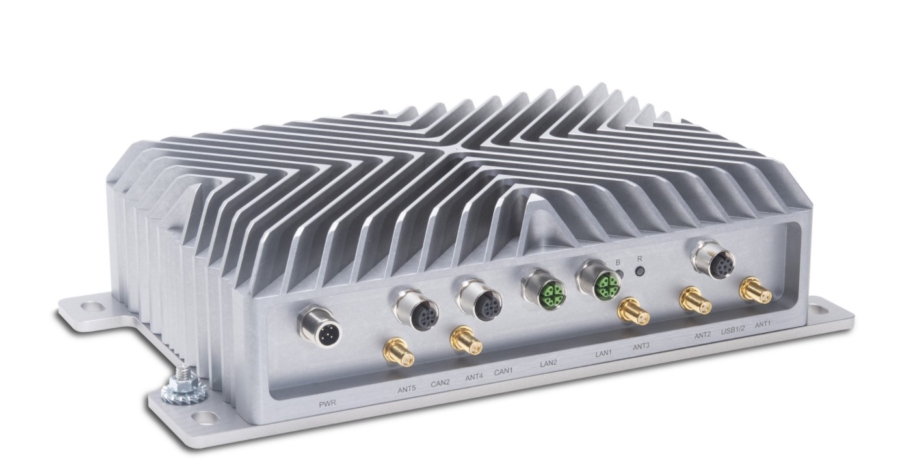 Based on the NVIDIA Jetson AGX Xavier SOM, the RSLA3 Transport PC from Syslogic was selected to handle the large amounts of data and process in parallel with virtually zero latency. With up to 32 TOPS AI computing power, AI algorithms independently derive intelligent decisions from this data, making the system perfect for intelligent video analysis.
Syslogic combines NVIDIA's embedded AI module with its carrier board and integrates inside robust housing. Designed for true fanless operation, the rugged edge AI PC is passively cooled and relies on SSD technology to obtain the status of having no moving parts on board. All the electronics are selected for reliable long-term operation in harsh environments and can withstand wide temperature swings and vehicle deployment.
Having no moving parts and featuring M12 screw-on connectors for power, serial, and Ethernet interfaces, the RSLA3 makes easy work of shock and vibration and guarantees long-term operation at the edge. Accordingly, the AI Transportation Computer meets UNECE-R10 (E-Mark) type approval and supports wide voltage input with ignition control for deployment in-vehicles.
Supporting additional mPCIe and M.2 expansion, the system could be fitted with a range of embedded video capture cards or optional onboard radio communication, including LTE and Wi-Fi, making the rugged transport PC suitable for vehicle-to-vehicle communication.
Raw Video Inputs with Supreme Image Enhancement
When every second counts, impaired performance caused by external factors such as heat turbulence, fog and platform movement cannot undermine system performance and result in undetected threats or delayed response; the onboard NVIDIA Jetson AGX Xavier system-on-module achieves 40ms low latency video capture on local 1080p video and allows the integrated object tracking software to reduce image degradation without ever compromising on detection accuracy and tracking capability.
Compatible with a Multitude of Analog and Digital Video Inputs
The RSLA3 AI transportation PC provides dual LAN ports for connecting with the current IP camera infrastructure onboard vehicles and those already on roadsides. Subject to requirements, the industrial AI platform can stack an additional four-gigabit power over ethernet ports giving the user complete flexibility for further expansion.
With further onboard expansion via mPCIe and M.2 PCIe lanes, the AI edge systems are configured with industrial-embedded video capture cards manufactured by an industry leader, Yuan Technologies. This provides complete flexibility on the rollout with further video inputs from Analog HD (AHD) and SDI composite BNC/SMA inputs.