In this article:
The Client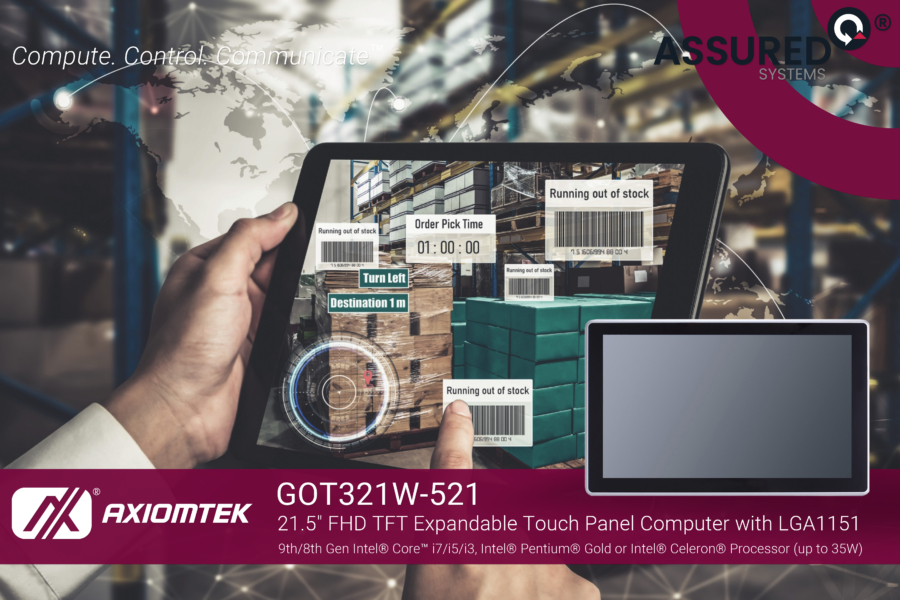 The client was looking for a Human-Machine Interface solution for pallet control in distilleries and warehouses.
For large distilleries that produce a variety of alcoholic beverages, managing the warehouses and logistics is a challenging task; in such a fast-paced workplace, executives turn to Human-Machine Interface (HMI) for more efficient management.  The HMIs enable the visualisation of the warehouse operation status, and the workers can quickly identify the location of the pallets and ensure pick up the right goods and drop them off at the correct locations with connected tags and sensors.
In today's fast-paced logistics and supply chain management landscape, warehouses play a vital role in ensuring smooth operations and timely delivery of goods. The integration of human-machine interfaces (HMIs) has revolutionized warehouse management, enabling seamless communication and collaboration between humans and machines.
Enhanced Inventory Management for Efficient Warehousing:
Efficient inventory management is a critical aspect of warehouse operations.  HMIs facilitate real-time tracking and monitoring of inventory, reducing manual errors.  By employing barcodes, RFID tags, or advanced computer vision systems, HMIs automatically scan and update inventory levels as goods enter or leave the warehouse. This streamlines processes, minimises errors, and provides valuable insights into stock levels. Warehouse managers can make informed decisions regarding replenishment, stock rotation, and order fulfillment.
Improved Order Picking and Fulfillment Process:
Order picking is a crucial task in warehouses, directly impacting customer satisfaction.  HMIs have transformed this process by providing intuitive interfaces that guide warehouse workers in locating and picking items accurately and efficiently.  Wearable devices such as smart glasses or voice-controlled headsets integrated with HMIs offer real-time instructions, eliminating the need for paper-based instructions or handheld scanners. This results in reduced errors, faster order fulfillment, and improved customer satisfaction.
Optimized Warehouse Layout and Navigation:
HMIs have proven invaluable in optimizing warehouse layouts and navigation, especially in large-scale facilities. With HMI-driven software or mobile applications, warehouse managers can visualise the entire warehouse space and plan the most efficient placement of inventory, machinery, and workstations. HMIs also provide navigation assistance to workers, guiding them through optimal routes to pick, pack, or store items. This reduces travel time, minimises accidents, and creates a safer working environment.
Efficient Equipment Management for Smooth Operations:
Warehouse operations rely on a range of equipment, including forklifts, conveyors, and automated guided vehicles (AGVs). HMIs enable seamless integration between humans and machines, allowing operators to control and monitor equipment effectively.  Touch screens, tablets, or mobile devices with HMIs provide real-time equipment status updates, performance metrics, and prompt fault diagnosis. HMIs also offer intuitive interfaces for equipment control, reducing the learning curve for new operators and enhancing overall operational efficiency.
Real-time Data Analytics and Predictive Maintenance:
HMIs facilitate the collection of vast amounts of data within the warehouse environment. Real-time data analytics provide valuable insights into operational performance, inventory patterns, and worker productivity. These insights empower warehouse managers to make data-driven decisions, optimize processes, and identify bottlenecks for improved efficiency.  HMIs also enable predictive maintenance by monitoring equipment health and issuing timely alerts for maintenance or repairs. This proactive approach reduces equipment downtime, enhances reliability, and extends asset lifespan.
The Demands of The Application
The customer was looking for a 21.5-inch all-in-one touch panel PC to build a Human-Machine Interface for pallet control in distilleries and warehouses. The industrial-grade panel PC had to support the high-performance Intel® Core™ processor and be equipped with a multi-touch projected capacitive widescreen. Since the touch panel PC was to be used for alcoholic beverage processing, an IP65-rated front bezel was required to protect screens from liquid splashes. Moreover, it needed to support a panel mount for seamless integration into the forklifts.
Main Requirements
21.5″ FHD 1920×1080 TFT LCD panel with multi-touch
Fanless design with high-performance Intel® CoreTM processor
High quality and product long-life cycle
IP65/NEMA 4-rated front bezel for harsh environments
Supports panel mount
The Solution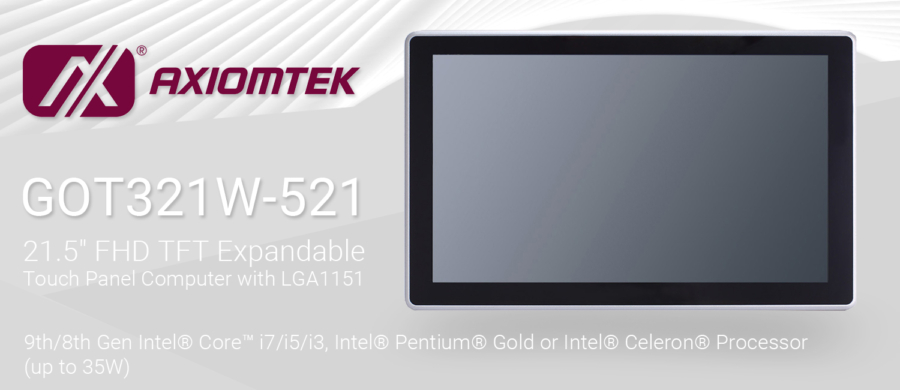 The Axiomtek GOT321W-521 was proposed, which is a 21.5-inch multi-touch FHD TFT expandable panel computer, powered by the Intel® Core™ i7/i5/i3 processor, Intel® Pentium® Gold or Celeron® processor with the Intel® H310 chipset. The slim-type industrial panel PC adopts an FHD TFT LCD display with 10-point multi-touch, 250 nits brightness, and 178°/178° wide-viewing angle. It also scales with IP65/NEMA 4-rated protection against water and dust. The rugged touch panel PC features rich I/O including four USB ports, two LAN ports and two COM ports. With an M.2 Key E slot, the panel PC can connect with other field-site devices to receive real-time data.

One of the most pain points in warehousing is finding the location of finished goods that have been stored in the warehouses. In this solution, the customer installed the tag sensors, antenna and Axiomtek's 21.5-inch high-performance GOT321W-521 on the forklifts to identify different pallet tags. Through the pallet control HMI, the operators can easily identify a pallet storage location and pick it up or drop it off at the designated location. Meanwhile, it will also send the inventory data back to the monitoring centre.
Overall, the solution optimizes inventory management and makes the work of forklift operators more efficient. It speeds up the delivery to distributors and helps increase profits.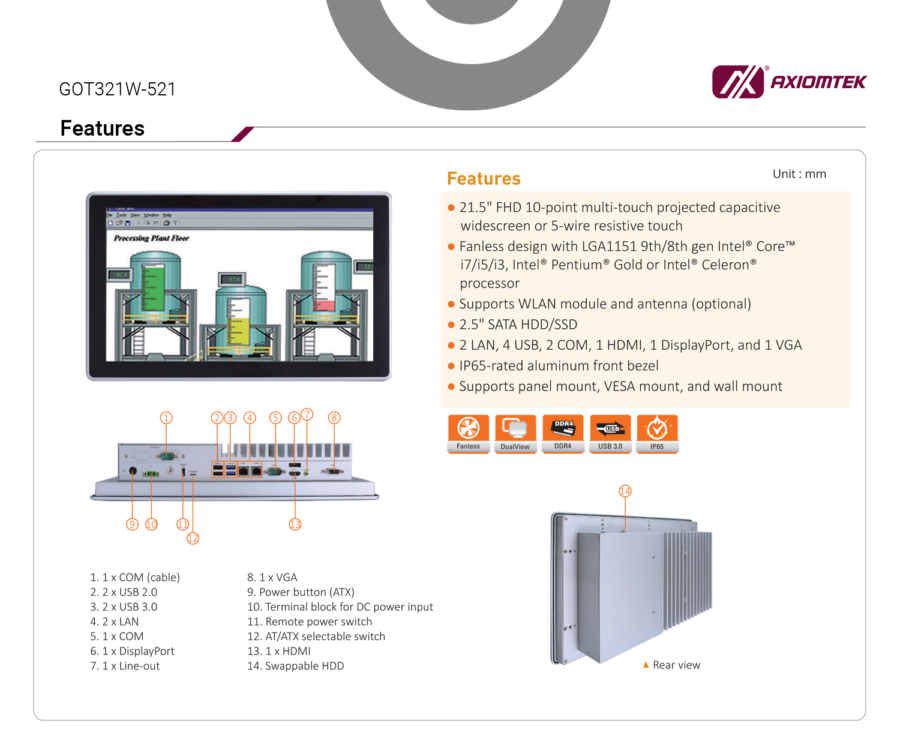 System Configurations of the GOT321W-521
21.5″ FHD 10-point multi-touch projected capacitive widescreen
LGA1151 socket Intel® Core™ i5 processor (code name: Coffee Lake)
8GB DDR4-2400 system memory
One 128GB SATA SSD for storage
IP65/NEMA 4-rated front bezel
250 nits of brightness
Supports WLAN module and antenna
Two LAN, four USB, two COM, one HDMI, one DisplayPort, and one VGA
Panel mount
Built-in speakers and swappable hard drive design
Supports Windows® 10 IoT operating system
Technical Drawings