About Cincoze
Cincoze are a system provider in the broad industrial computing field; designing, manufacturing and marketing highly engineered and innovative products to meet the demanding industrial applications.
Cincoze specialize in the product development processes that are essential to implementing a complete solution. These processes involve product feasibility study, design, verification and manufacturing to extended life cycle services.
With innovative design, high-end component selection and the precision manufacturing, Cincoze offers high quality, long lifecycle products that meet the most demanding requirements.

Embedded Computers Technologies
Rugged
Cincoze converts the word "Rugged" into real product specifications, such as fan-less, cable-less, wide operating temperature, high tolerance for shock and vibration.
The rugged mechanical design of Cincoze Embedded Computers can withstand extremes of shock, vibration, humidity and temperature. The rugged-design concept of Cincoze Embedded Computers also applies in component selection, circuit design, PCB layout, material thermal solutions, critical test criteria, and manufacturing process. Beyond that, high-quality industrial-grade components are adapted to guarantee a steady system operation even in harsh environments.

Reliable
Cincoze Fanless Embedded Computers are designed for flexibility across a wide range of applications, with a focus on reliability, performance and longevity. They are built with industrial grade components, special heat dissipation, reliable DC power input, power protection and ESD protection to minimize the possibility of failures in harsh environments.
As a professional manufacturer of embedded computers, Cincoze's major goal is to develop safe, sustainable and reliable solutions.
Their full range of products, such as embedded computers are passed through rigorous certifications and integrate varied range of industrial-grade protections to fulfill the evolving industrial market requirements.

Modular
Cincoze's unique CMI (Combined Multiple I/O), CFM (Control Function Module) and MEC (mPCIe Card) technologies allow users to flexibly expand additional functions according to their specific requirements.
The options of add-on modules include M12 PoE, multi-LAN, power ignition sensing and a variety of I/O interfaces.

Application-driven
The usage of industrial embedded computers over the last decade has extended into an enormous range of applications. Many of these require more than standard computing functionality; transportation, digital signage, factory automation, POS/KIOSK, surveillance, in-vehicle, medical and many others.
By using built-in micro-processors, extended I/O modules, dedicated ASIC and add-on circuit boards, Cincoze are able to offer advanced functionalities that makes the required applications easy to apply and ready to run.
The target of advanced embedded computers is to be an intelligent and cost-saving solution for the increased demands of today's market.
Cincoze's embedded computers are specifically integrated with many application-ready functions, including digital I/O, power ignition, Power over Ethernet, power over serial, RAID and multi-LAN.
By using those ready-to-use functions, it can speed up your application deployment and minimize project development cost.
Cincoze offer embedded fanless PCs which are designed to be rugged, fanless and cable free and are subjected to rigorous testing for verification of their suitability to operate under harsh environmental conditions, designed for wide temperature range of -40–70 ℃, shock resistance of 5/50 Grms and have safety mechanisms such as electrostatic discharge, overcurrent and overvoltage protection.
All of their fanless PCs are extremely reliable and suitable for a wide range of industrial applications.
This fanless PC product line that includes six series; Extreme Performance (DIAMOND X), Superior Performance (DIAMOND S), Intelligent (DIAMOND I), Power Efficient (DIAMOND E), Compact Size (DIAMOND C) and Affordable (DIAMOND A), all offer a rugged, reliable and comprehensive fanless PC solution for critical industrial environments.
Extreme Performance & PCIe Expandable (DS Series)|Fanless PC
Cincoze DS Series high-performance fanless embedded PCs, with socket-type Intel Xeon or Core CPU and two memory sockets up to 64 GB, fulfill all kinds of high-end computing requirements.
The DS Series supports a maximum of two PCI/PCIe expansion slots with different combinations of interfaces for expanding all kinds of application add-on cards.
Rugged features of the DS Series include wide operating temperature, wide range DC power input (from 9V to 48V), high tolerance of shock and vibration with high-standard industrial protection.
Extreme Performance & Powerful (DX Series)|Fanless PC
Cincoze's first rugged embedded workstation, DX Series, stands for "Diamond Extreme" and it is an extreme performance and compact workstation powered by Intel Xeon and core processors.
These can bring outstanding system performance for high-end applications and a wide range of processors for selection.
The DX series is the most compact workstation with highly modular design, it supports flexible modular I/O expansion, 2x front accessible HDD tray and offers unlimited combinations for space-limited requirements.
High Performance & Power-saving (DI Series)|Fanless PC
Cincoze DI Series "DIAMOND Intelligent" embedded systems pack the punch of a high-performance, low-power Intel Core i7/i5/i3 CPU (TDP 15W) in a lightweight, compact and fanless extruded aluminum package.
The DI Series is ideal for harsh, space-limited applications that demand uncompromised performance, such as factory automation, machine vision, in-vehicle computing and mobile surveillance.
Power Efficient & Compact Size (DC Series)|Fanless PC
Cincoze DC Series is a power efficient & compact size system, designed with a onboard low-power Intel Quad Core processor, rich I/O, a unique expansion capability and supports wide range (9~48V) DC power input.
The DC Series are very small and efficient, with low power consumption, ideal for embedded applications where space is limited.
Power Efficient & Basic (DA Series)|Fanless PC
DA series is an ultra-compact size fanless embedded PC powered by Intel Atom/Celeron/Pentium Processor, bringing economic advantages on budget whilst also fulfilling the needs for industrial computing tasks.
The DA series supports Combined Multiple I/O (CMI) interface and modules which are specially designed for flexible I/O expandability; allowing its users to extend various I/Os according to their needs.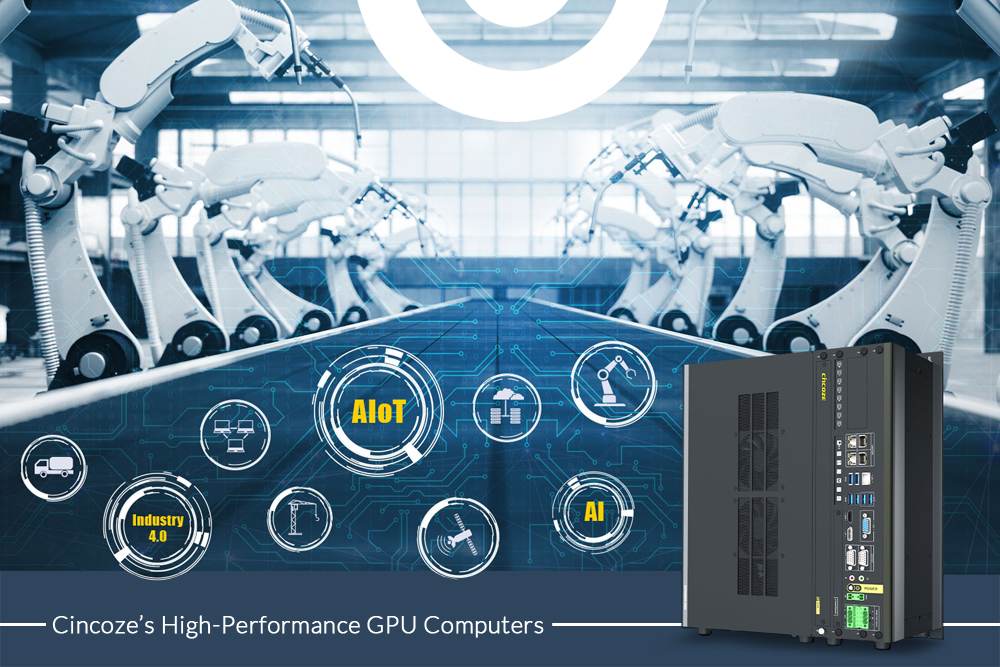 Embedded GPU Computer
To fulfill the demands of growing advanced industrial applications, embedded systems are increasingly relying on heterogeneous platforms that take advantage of different types of processing units such as CPUs and GPUs.
CPUs execute multi-task operations through serial processing and multiple processing cores with high clock speed are now standard in high-end computing.
GPUs have hundreds or thousands of small cores focusing on a specific task in massive parallel processing, such as image processing and data analysis.
Nowadays, the GPU computer, which is a combination of CPU and GPU, will fulfill specific industrial applications like face recognition, video surveillance, autonomous drive, automated optical inspection, machine learning and other edge AI computing.
The GPU computer on the field side will help the smart factory to improve efficiency, reduce unexpected downtime and reduce product costs.
Cincoze's 'GOLD' Product Line GPU computers provide powerful computing performance and support various form factors of GPU expansion cards such as Mobile PCI Express Module (MXM), PCIe and even full-length PCIe. Built with a high power budget with optimized thermal design, these GPU computers can operate under 100% loading of CPU and GPU stably.
Together with its rugged design and compliance of industry certifications, Cincoze's GPU computers can be used in harsh environments.
Dual Full-length GPU Expandable Computer (GP-3000 Series)
GP-3000 is an expandable high-performance GPU computer. An Intel workstation-grade processor and up to two 250W full-length graphic cards, provide unparalleled performance within a total 720W power budget.
The GP-3000 features the unique GPU Expansion Box (GEB) design, whereby a single- or dual-GPU GEB is attached to the main embedded system to add GPU processing power. The additional GPU performance massively accelerates complex industrial AI and machine vision tasks.
Engineered to deliver superior performance, fast data storage and high-speed I/O connectivity, the GP-3000 Series delivers a combination of high-quality mechanical design and industrial ruggedness (MIL-STD-810G compliance) bringing new possibilities and innovative transformations for AI applications at the edge.
Embedded MXM GPU Computer (GM-1000 Series)
The GM-1000 is a rugged, compact and high-performance GPU computer with embedded GPU expansion capability. It supports Intel Xeon/Core socket type processors and Mobile PCI Express Module (MXM 3.1 Type A/B form factor) in a small footprint (260 mm x 200 mm x 85) and is ideal for applications requiring high GPU processing power and to be installed in space-limited environments.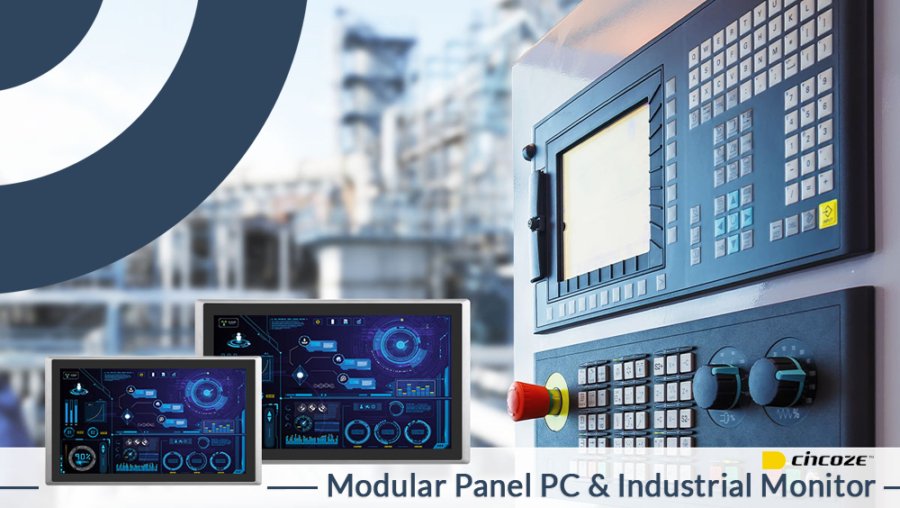 Modular Panel PC & Industrial Monitor
Cincoze 'CRYSTAL' Product Line industrial panel PCs and monitors are available in a wide selection of display size, backlight brightness, touch type and computer performance. The 'CRYSTAL' panel PCs and monitors are offered in sizes from 8- to 24-inch, in 4:3 and 16:9 aspect ratios, and with optional multi-point projected capacitive (P-CAP) or single point resistive touchscreen.
All processor options are covered by our industrial panel PCs, ranging from low-power Intel Atom through the Pentium range and up to the high-performance Intel Core series.
Our industrial panel PCs and monitors are designed with innovative technologies, to the highest industrial standard and with extensive functionalities that fulfill the needs for a wide range of applications.
The 'CRYSTAL' Series both of industrial panel PCs and monitors are ideal for human-machine interface applications like machine operation monitoring, materials planning management, and plant environmental controls.
Thru Cincoze's patented CDS (Convertible Display System) technology and modular design, on-site maintenance and future upgradability are easier than ever by deploying our panel PCs and monitors.
High Performance Modular Panel PC (CV-100/P2000 Series)
The Cincoze CV-100/P2000 Series is a high performance fanless and jumperless rugged touch panel PC powered by Intel Core processor U series, offering more computing power, faster data processing and enhanced graphics performance, while consuming only 15W of power.
A wide selection of display sizes are available from 12.1" to 24" with a format aspect of 4:3 and 16:9.
The CV-100/P2000 Series supports CFM (Control Function Module) Technology, Cincoze own defined interface with integrated power boost and control signal that allows you to extend PoE and ignition sensing functions with additional CFM boards.
Power Efficient Modular Panel PC (CV-100/P1000 Series)
The Cincoze Convertible Panel PC includes all-in-one devices that integrate a high-resolution screen, a touch screen and a computer. A wide selection of display sizes are available from 8.4" to 24" with a format aspect of 4:3 and 16:9, and selected computer performance.
Sunlight Readable High Performance Panel PC (CS-100/P2000 Series)
Sunlight Readable Power Efficient Panel PC (CS-100/P1000 Series)
Industrial Monitor (CV-100/M1000 Series)|Panel PC
The Cincoze Convertible Touch Monitor includes all-in-one devices that integrate a high-resolution TFT-LCD and a resistive 5-wire or a projected capacitive touchscreen.
A wide selection of display sizes are available from 8.4″ to 24″ with a format aspect of 4:3 and 16:9, and selected touch type.
Cincoze Convertible Display Systems can provide the same look and feel by changing the appearance. Logos, colors of aluminum front bezel, Mylar and back cover can be customized to fit in customer's equipment or surroundings.
Sunlight Readable Industrial Monitor (CS-100/M1000 Series)|Panel PC
The CS-100/M1000 Series is the Sunlight Readable monitor with projected capacitive touch screen. It offers resolution up to 1280 x 1024 (SXGA) and high brightness up to 1600 nits. It supports flat surface and has a IP65 dust / waterproof front panel.
The CS-100/M1000 Series is a rugged and reliable solution with aluminum die-casting front frame dedicating to outdoor industrial applications.

Revolutionary Convertible Display System
Cincoze's 'CRYSTAL' series are all able to take advantage of their patented Convertible Display System (CDS); a standardized "All-in-one" system that is composed in two major parts, display and system. They are interdependent and can be operated together. The advanced electronic design integrates display, touch and computer signal in an embedded circuit board, which provides the most reliable display computing operation.
Moreover, the unique mechanical design unifies connection, form factor and fixation to ensure a seamless hardware integration. This technology together offers possibilities of changing the display size of a system, upgrading computing performance and I/O connectivity depending entirely on the requirements of the application.
Configure by Demand
CDS supports the "configure by demand" function that allows users to configure their own panel PC or touch monitor by selecting the desired display (LCD size, resolution, formats) and system (computing performance, I/O connectivity).
Easy Maintenance
The CDS is very easy to maintain and does not require a specialist. The plug-in design means only three steps are needed to exchange or maintain a system. This results low cost on-site maintenance and allows operations to continue without interruption.
Upgrade Capability
Thanks to the standardized electronic specification and unified mechanical design of CDS that can be upgraded easily and thus your investment is protected.