About C & T Solutions Inc.
Established in 2011, Taipei, C&T Solution Inc. has emerged as one of the fastest-growing companies in the Industrial Computing Systems field. As a leading provider of world-class industrial embedded systems, C&T obsessively focuses on creating the best rugged edge computers that form the core of exceptional industrial solutions.
As a global solutions provider specializing in industrial computers and embedded fields, C&T is dedicated to developing and manufacturing a range of products including rugged edge computers, industrial panel PCs, industrial display systems, and industrial motherboards. C&T's unwavering commitment to innovation and technology ensures they stay at the forefront in terms of design, technology, reliability and versatility.
C&T teams work closely with customers, delivering high-quality and high-value robust embedded computers tailored to their specific needs. With expertise in engineering and agile manufacturing, they continuously push the boundaries of embedded IoT computers.
C&T strives to be your top choice partner for industrial computing solutions. We have an extensive customer base and a global network of distribution partners with offices located worldwide.
C&T proudly offers diverse industrial technologies to meet the needs of various applications and industries.
C&T application-ready solutions contribute to the advancement of industrial sectors, including:
Industrial Automation
Transportation
Food & Beverage
Military
Kiosk & Retail
Security & Surveillance
Intelligent Healthcare
Machine Vision & Robotics
C&T Fanless Embedded Systems
C&T's fanless embedded systems are extremely flexible and reliable to provide integrated solutions to meet different needs. With its superior features integration, exceptional system performance, flexible I/0 connections, wide range power input, smart management functions and rugged reliability, C&T fanless embedded systems deliver a compelling platform that is needed in today's demanding workloads and industrial needs.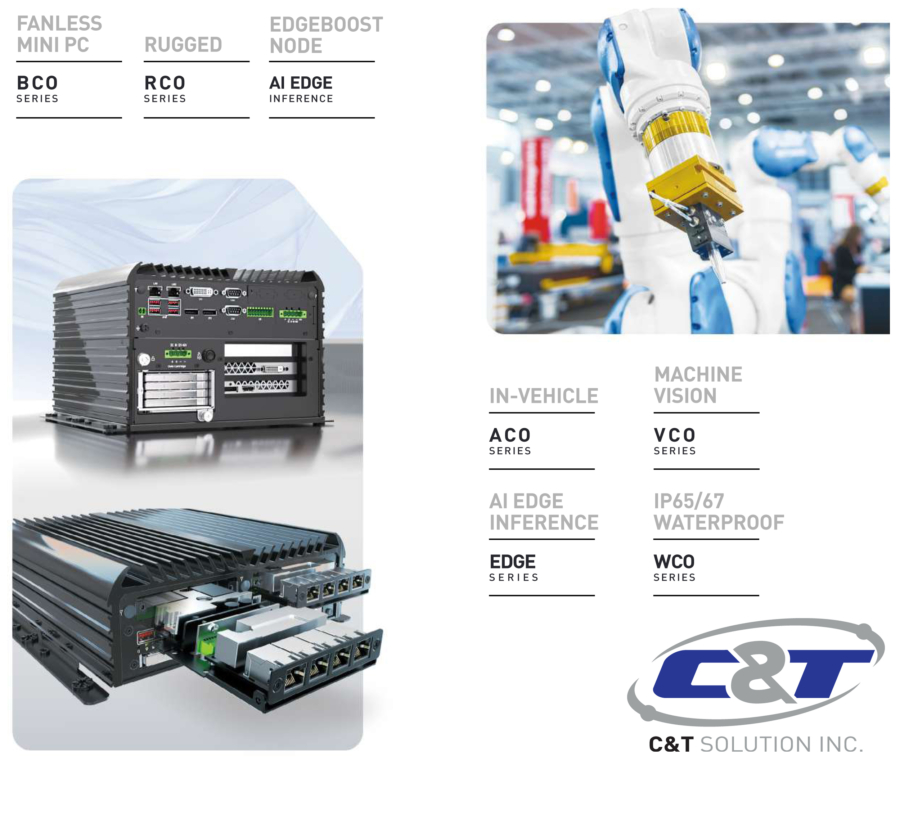 C & T Module Series
C&T provides ethernet daughterboard modules that integrate easily into C&T embedded and edge computers through standard PCIe protocols. These flexible add-in modules provide additional ethernet I/O ports and scalable connectivity for IoT deployments that require ethernet connections in multiple RJ45 and M12 locking connectors.
C & T Industrial Display Systems
C&T's Industrial Panel PCs and Touch Monitors are purpose-built for the toughest embedded deployments requiring mission-critical reliability. System integrators and automation engineers can easily deploy C&T industrial panel PCs and touch monitors as human machine interfaces to achieve better productivity and operational efficiency in their enterprise projects.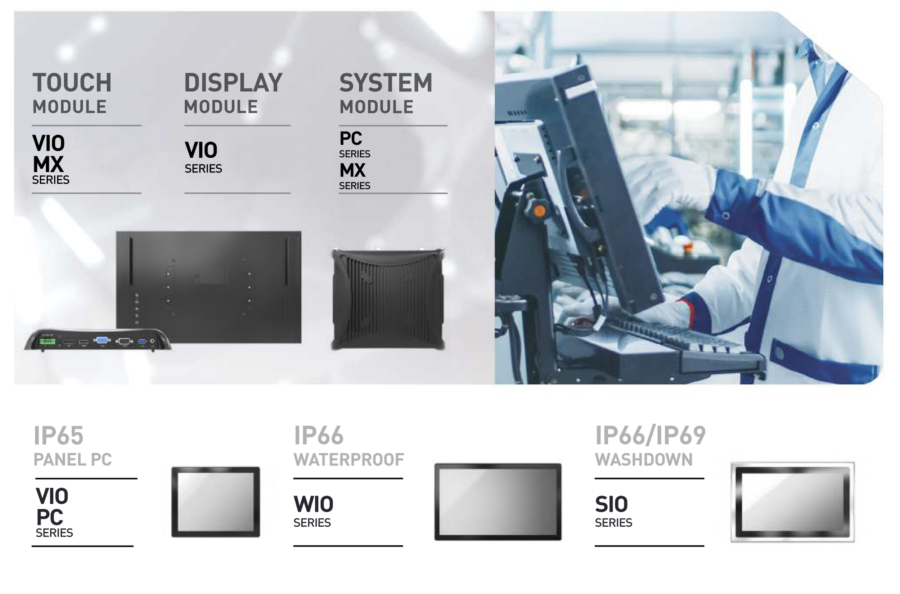 Mix-and-Match Solution
The VIO Series supports various monitor and PC modules that provide mix-and-match flexibility for HMI automation, information, and communication applications for industrial deployments.  This plug-and-play design enables scalable and upgradable solutions for the VIO to be configured into an industrial panel PC or a rugged touch monitor.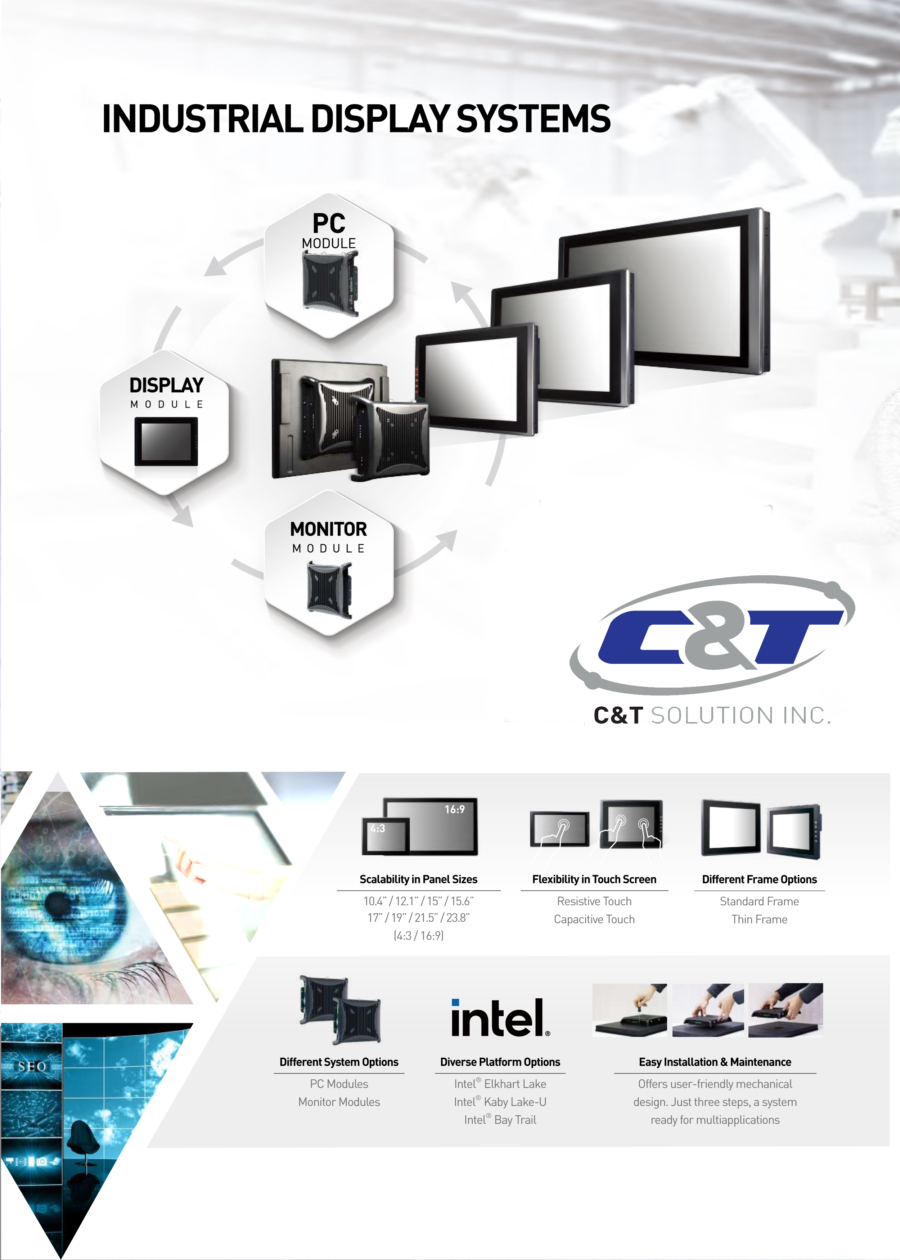 C & T Motherboard Systems
C & T offers industrial-grade scalability with standard motherboards and OEM system design. Standard form factors include:  Single board computers (1.8" FEMTO-ITX, 2.5" PICO-ITX,
and 3.5" SBCs); Mini-ITX; and Micro-ATX.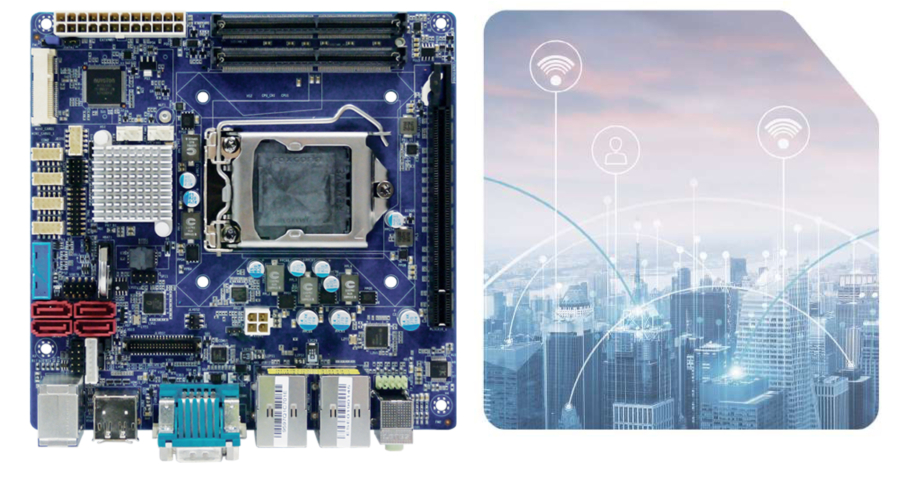 2023 Featured Industrial Solutions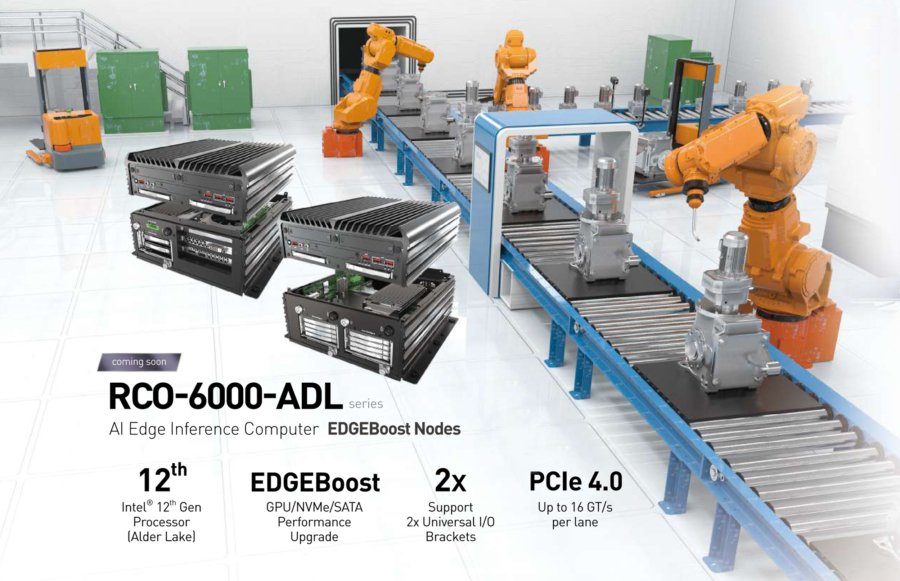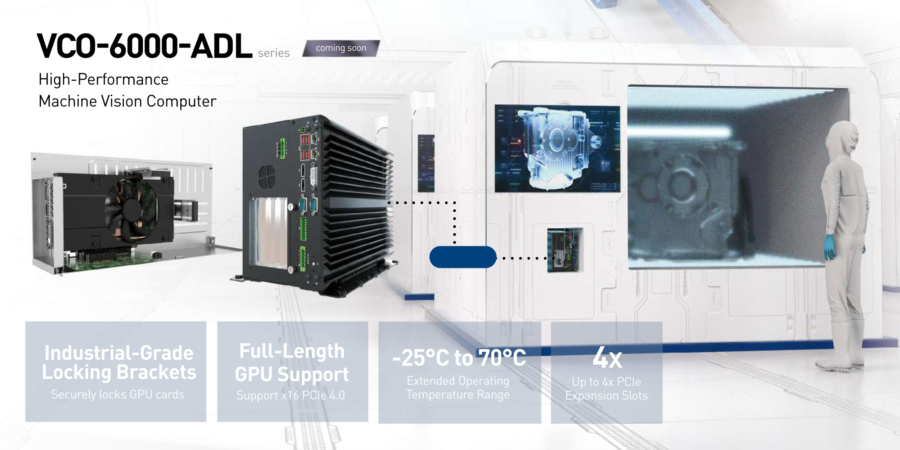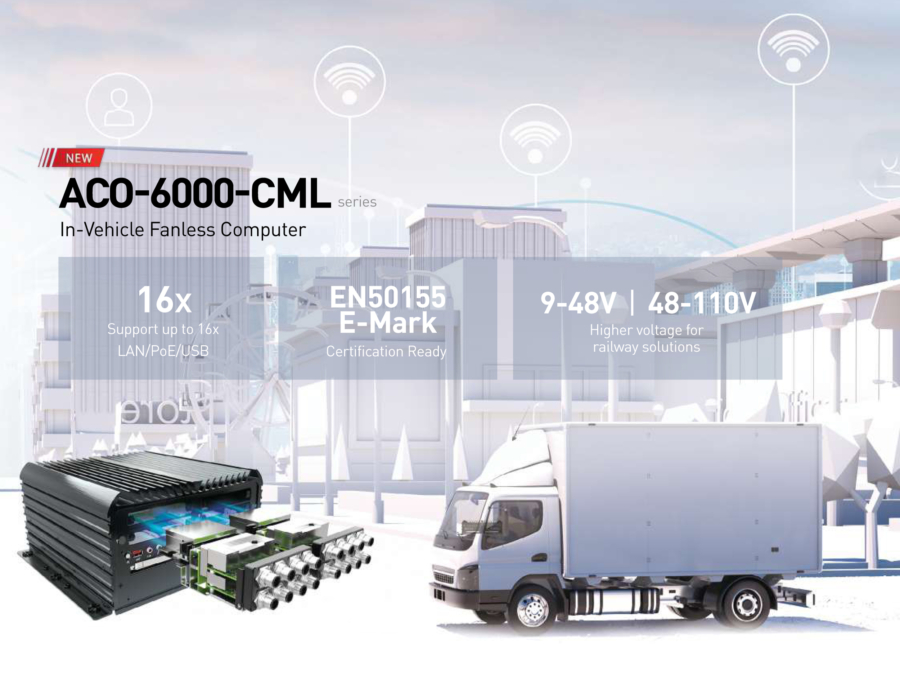 5G & AI MODULE SERIES Expandable Performance Accelerators
Configure 5G, AI and NVMe accelerator modules with various industrial computers through universal I/O brackets. The innovative expandable modules enable industrial solutions to unlock intelligent computing at the rugged edge.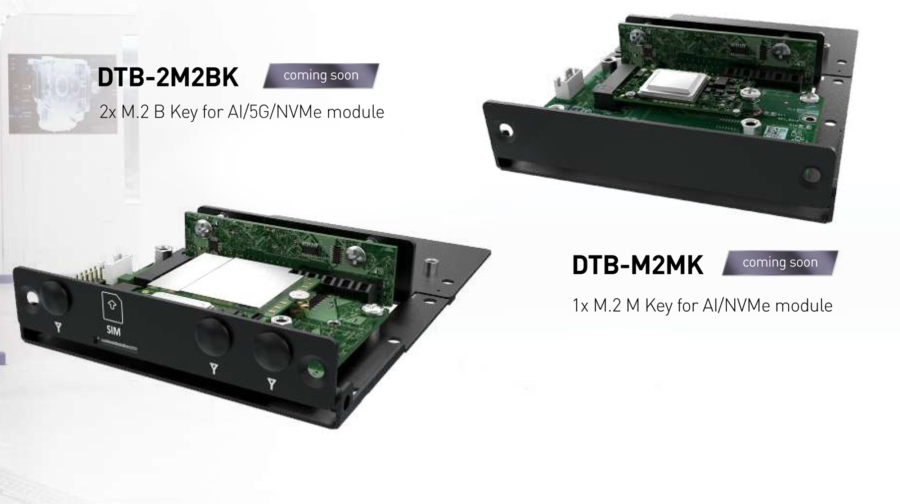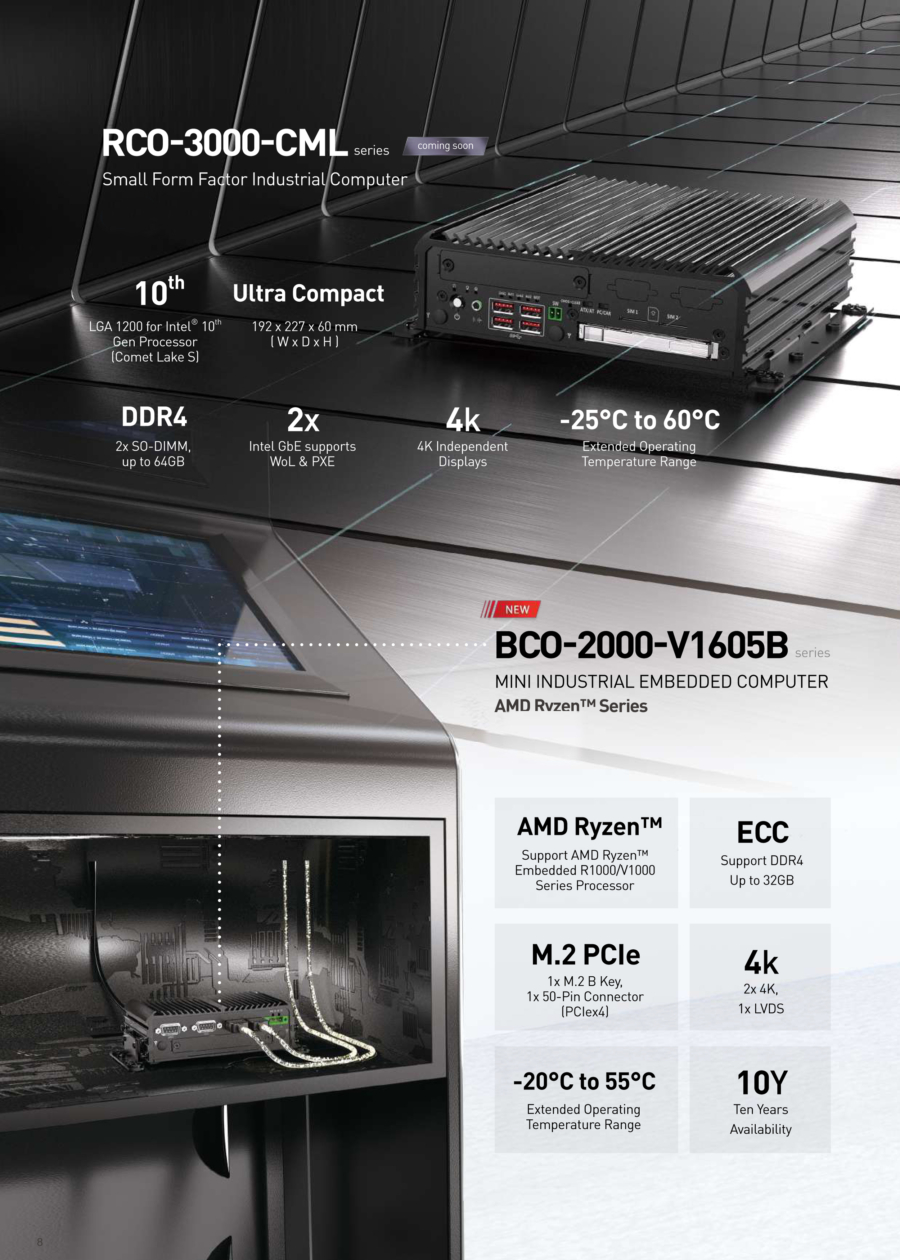 The ECO Series is a power backup module that ensures power-reserve management in mission-critical applications.  This standalone module leverages high-density, industrial grade supercapacitors for stable backup power during unforeseen power outages. The ECO Series uses supercapacitor technology that enables power management for extended operations in harsh environments, providing wider operating temperatures and longer operating life.
This makes the ECO series incredibly durable and reliable for your embedded computing (such as the RCO-1000-EHL Series) systems that require zero downtime.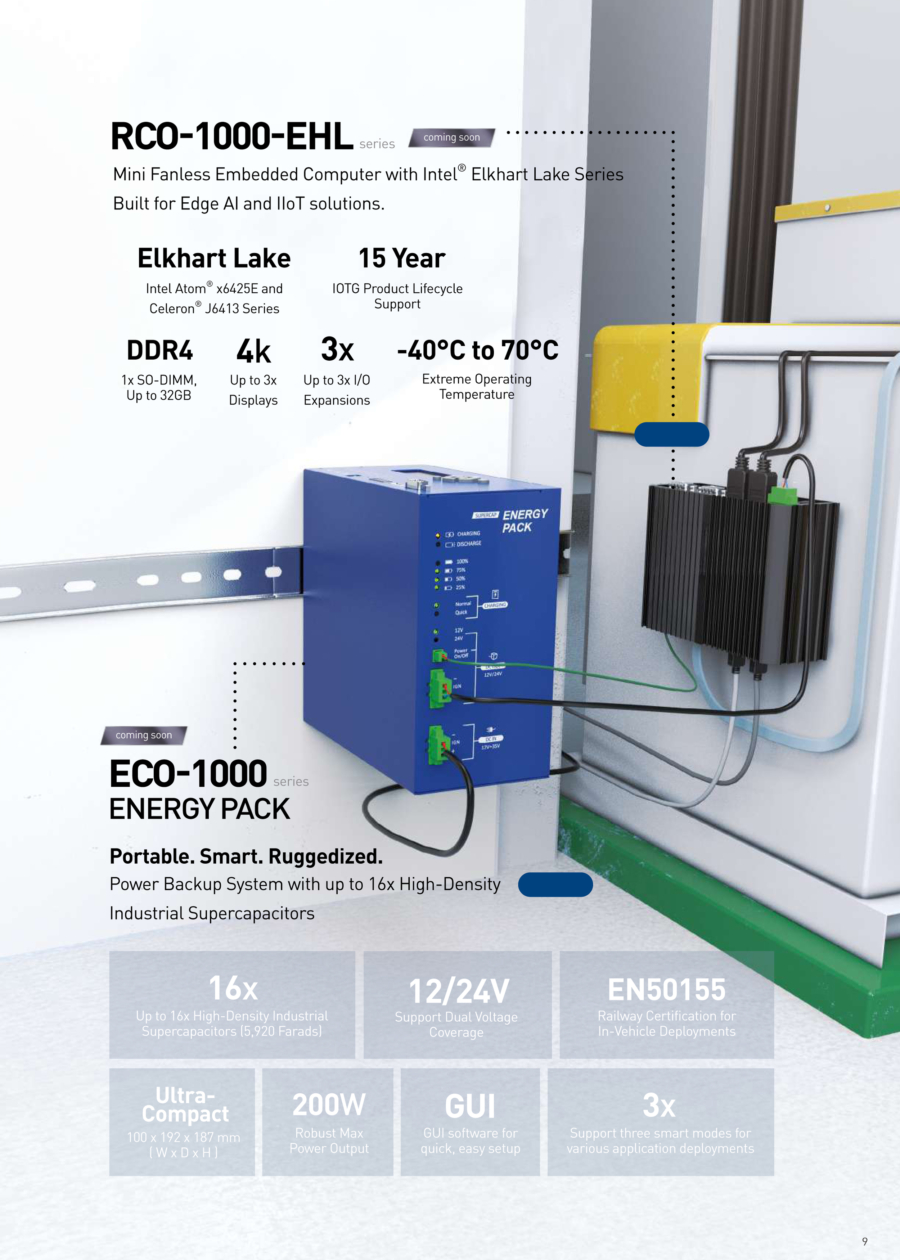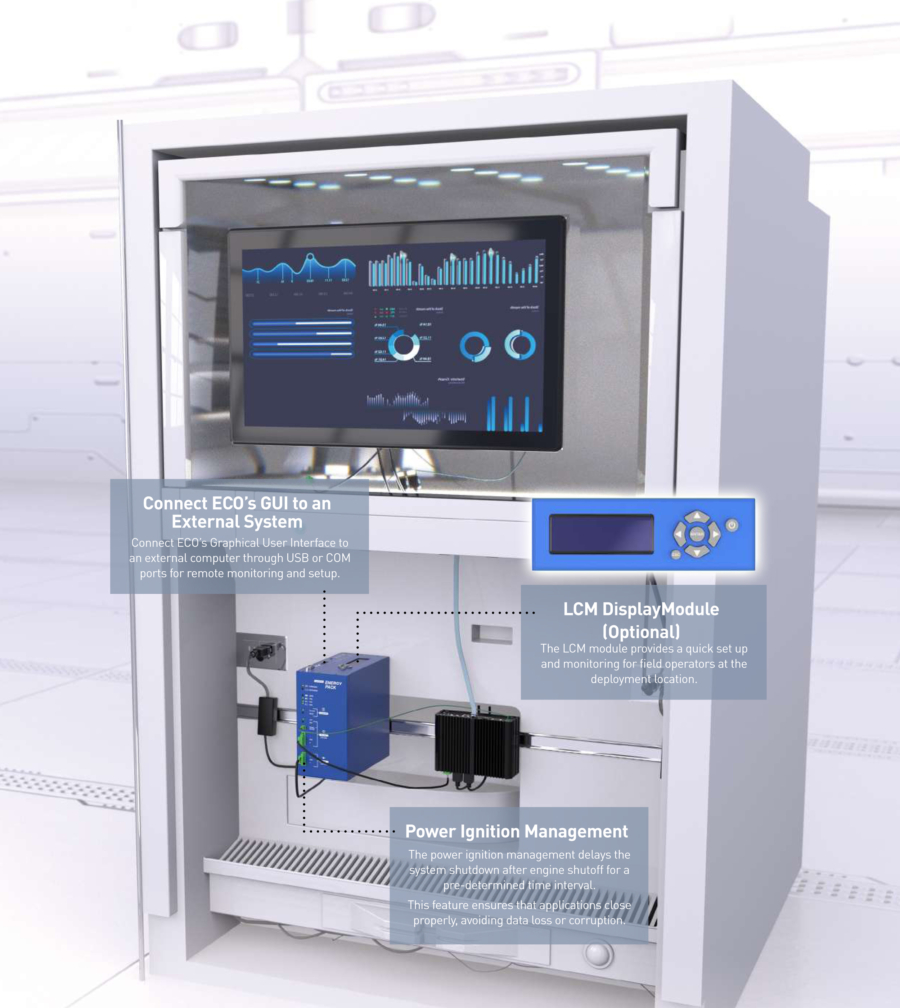 24" Industrial Panel PCs
The VIO and SIO Panel PCs Series are now available in 24" sizes for enhanced productivity
and immersive view experiences. In addition, our Industrial Panel PCs come with an IP rating and corrosion-proof materials to ensure smooth operations in various kinds of industrial environments.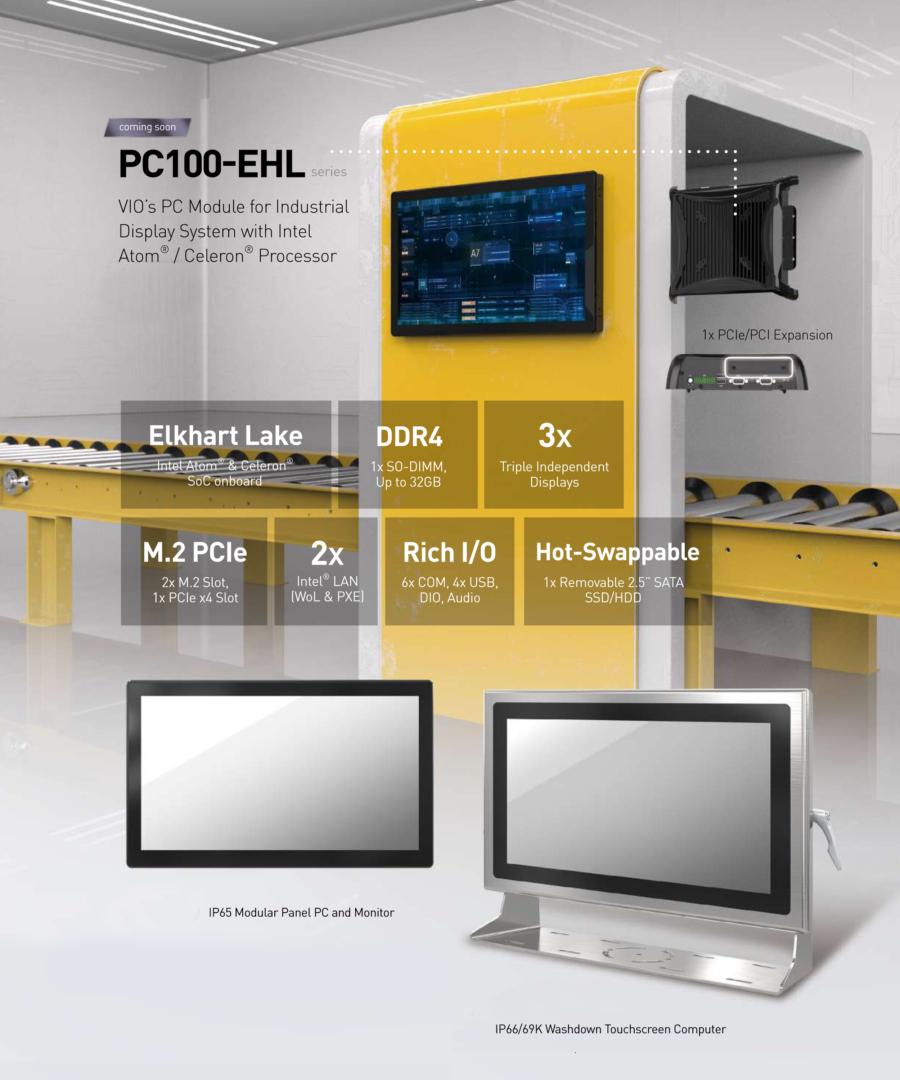 AMD Ryzen Embedded
C&T introduces a 1.8" and 3.5" single board computer powered by AMD Ryzen R1000/V1000
Processors.  The AMD CT-DR101 and CT-NR101 are industrial-grade motherboards that are small, compact and provide power-efficient performance in a system-on-chip design (SoC). Despite their small form factor, they provide a balance between performance and cost -effectiveness for intelligent industrial applications.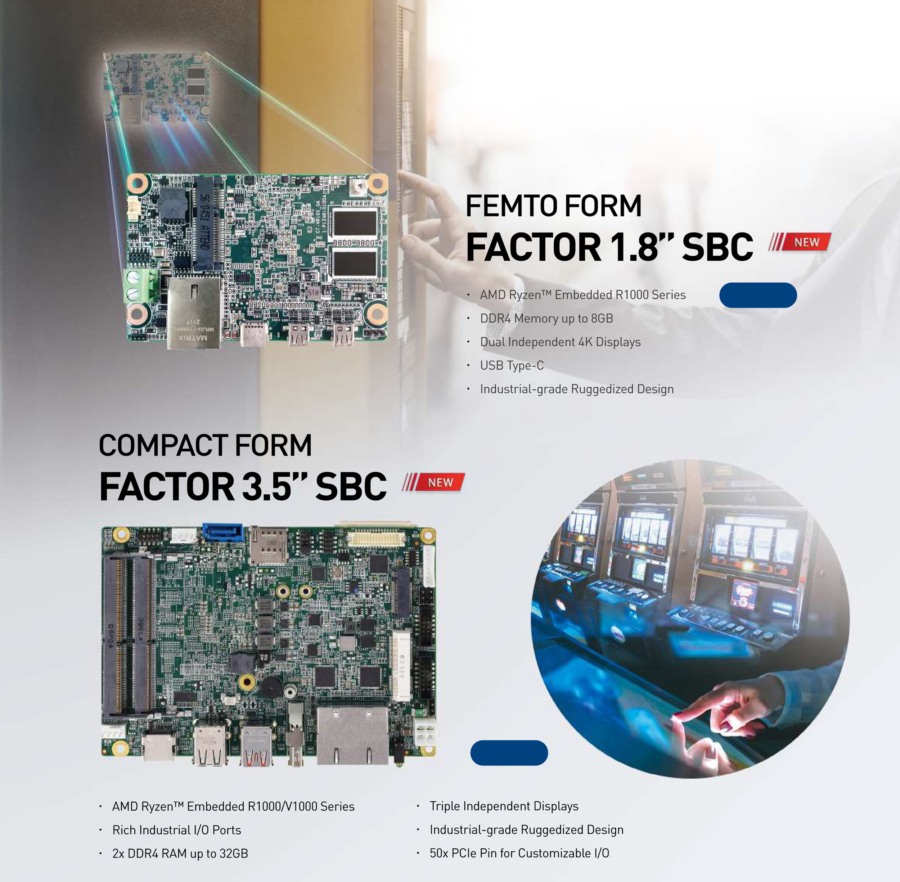 C & T Fanless Embedded Systems - Design Features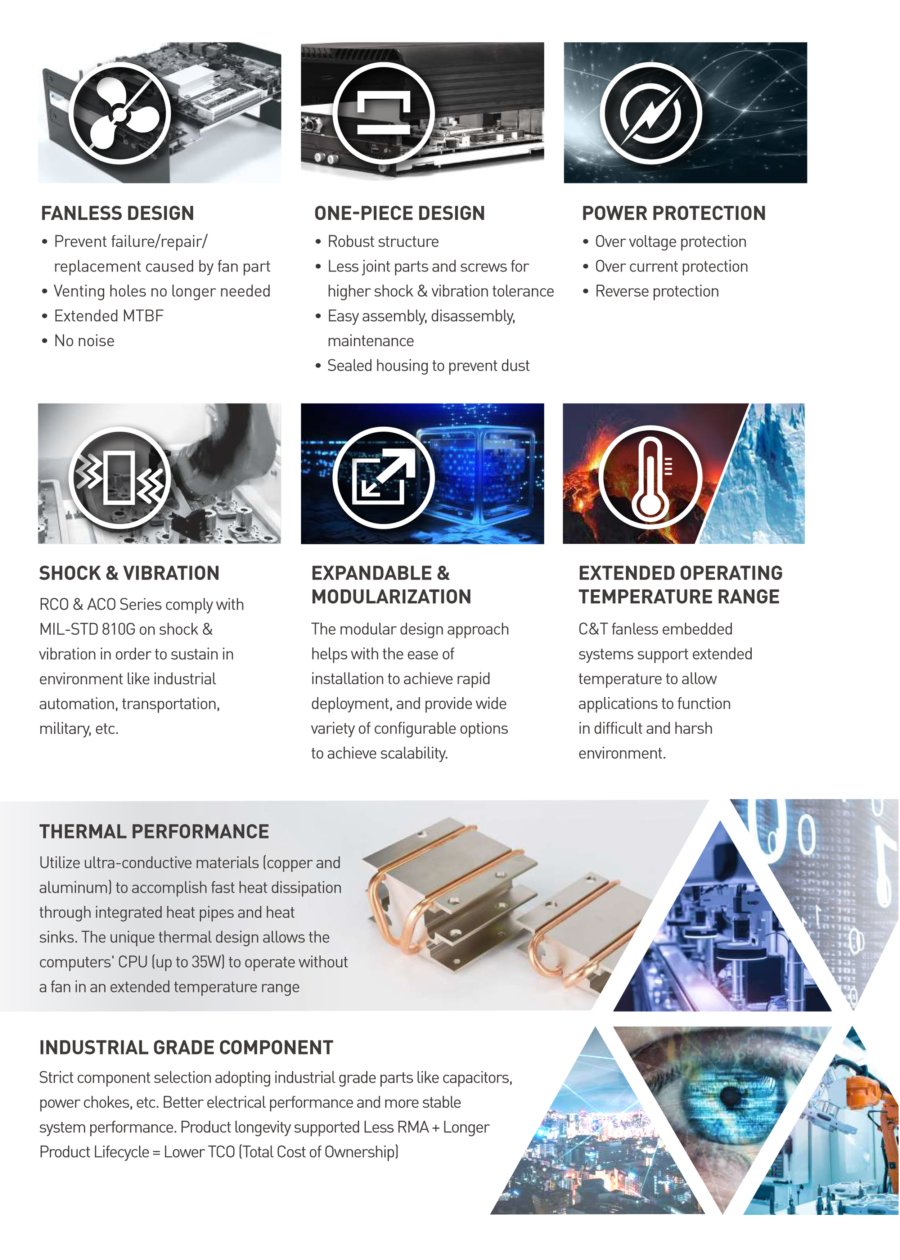 Mix & Match EDGEBoost Nodes Performance Accelerators Upgrade
The AI Edge Inference Computers support modular add-on nodes through a two-piece modular design that allows the EDGEBoost Nodes to easily attach to the lower portion of the RCO-6000-(CFL/CML/ADL) for more performance accelerators.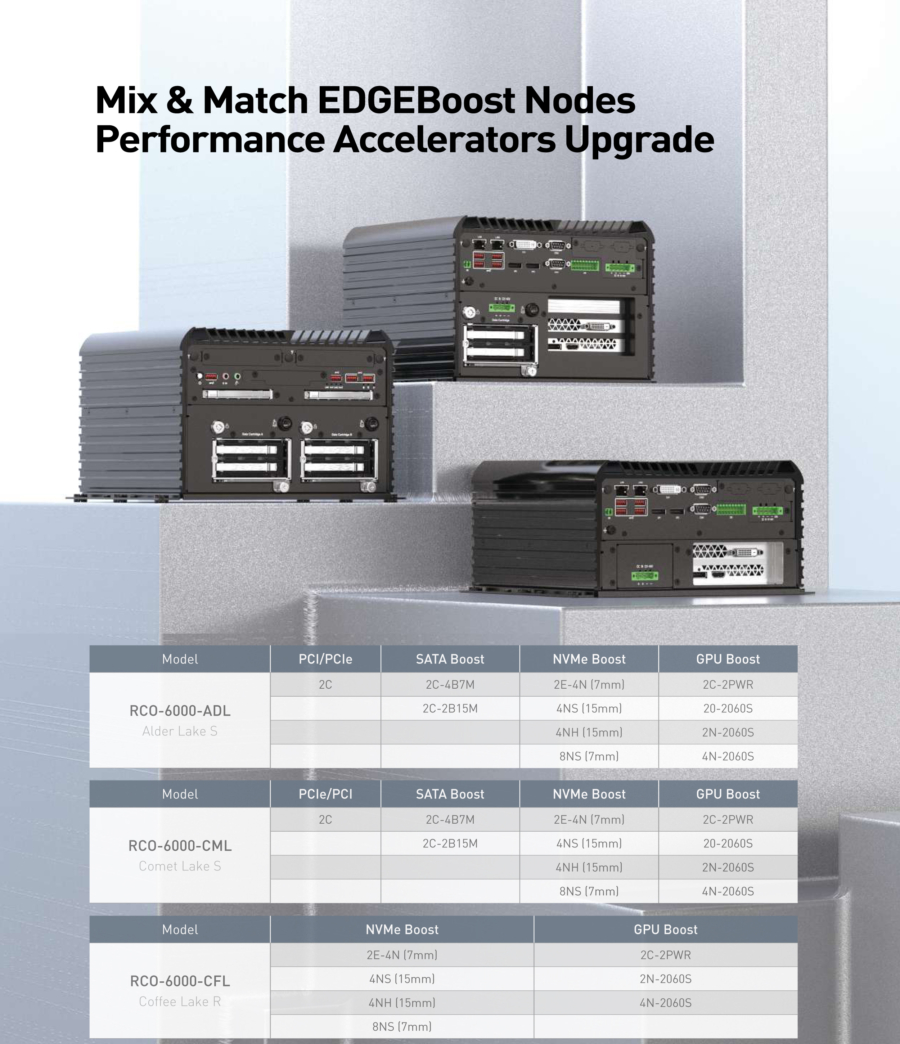 MIX & MATCH EDGEBoost Nodes
EDGEBoost nodes are highly configurable performance boosters designed to meet the demand for complex applications that require powerful data processing, high-speed data storage, and inference capabilities at the edge.  EDGEBoost nodes attach to the lower portion of the AI Edge Inference Computers, providing SATA, NVMe storage, and GPU acceleration for complex edge workloads.
Here are the different EDGEBoost Nodes C&T offers: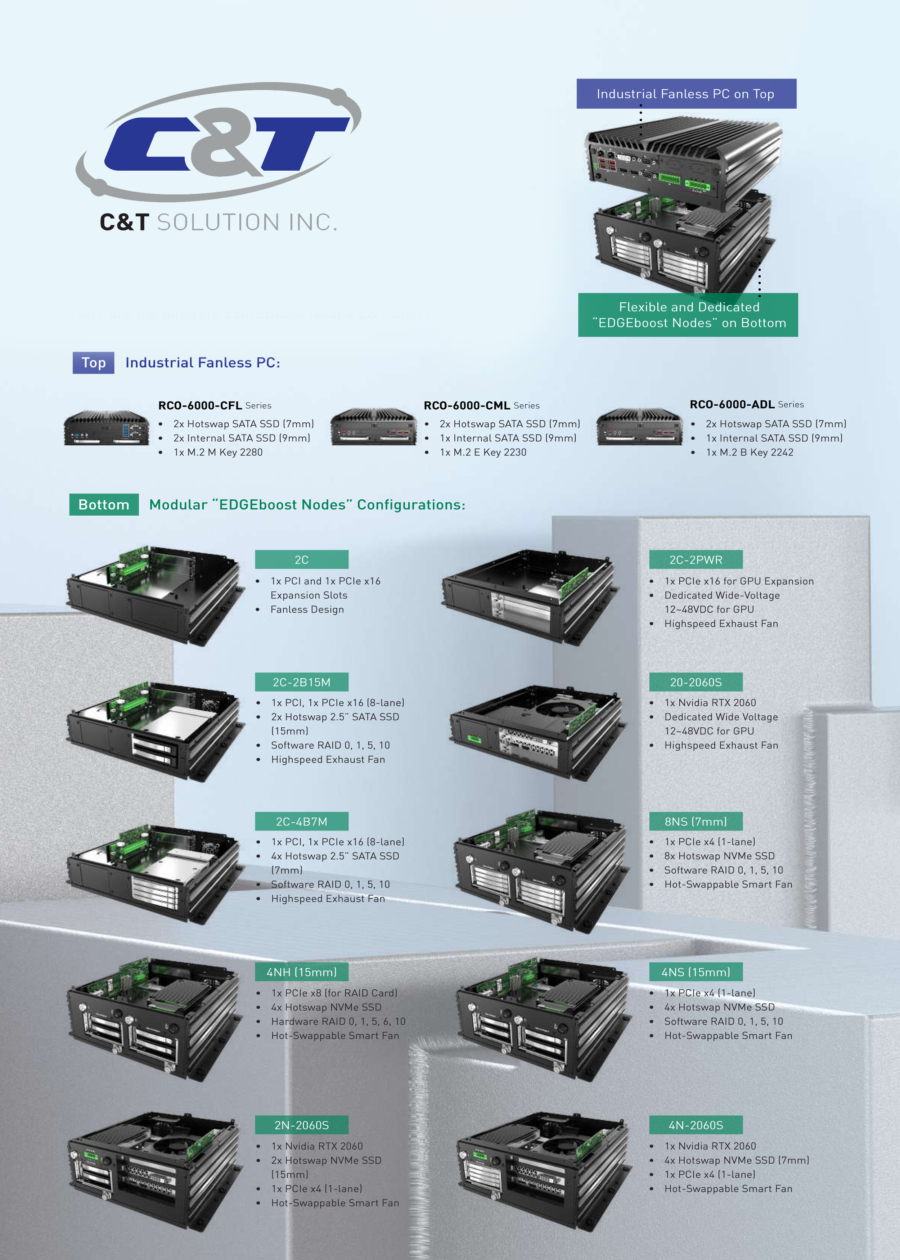 GPU Series Industrial Edge Computer
C&T's GPU Series Industrial Computers support robust AI accelerators for inference analysis and powerful machine learning at the rugged edge. The computers are tested and validated for their reliability and durability while performing real-time analysis in the harshest industrial environments.