Axiomtek's ICO300-83M is ATEX, Class 1 Division 2 (C1/D2) certified DIN-rail fanless embedded system, powered by the Intel Atom x5-E3930 processor with 8GB DDR3L-1866 RAM and for use in hazardous environments where ignitable concentrations of flammable gases or liquids might exist.
This IP40-rated DIN-rail fanless box PC has a wide operating temperature of -40°C to 85°C, 9 to 36 VDC wide voltage input with OVP, UVP, OCP as well as RPP, and up to 3G vibration endurance.
The anti-explosion ICO300-83M is specially designed for the oil and gas industry, chemical industry, steel industry, and distilling industry.
"Heavy-duty industries are some of the most dangerous and challenging work environments therefore in addition to operation in broad temperature ranges, the ICO300-83M has obtained the ATEX, C1/D2 certifications to mitigate safety risks in hazardous environments such as oil, gas and chemical manufacturing," said Mark Lu, the product manager of Product PM Division at Axiomtek. "This explosion-proof DIN-rail gateway system supports one M.2 Key B 3052 and one full-size PCI Express Mini Card slot for LTE or Wi-Fi modules to ensure superior connectivity for real-time communications. Besides, a half-size PCI Express Mini Card slot and two SIM slots also maximize efficiency."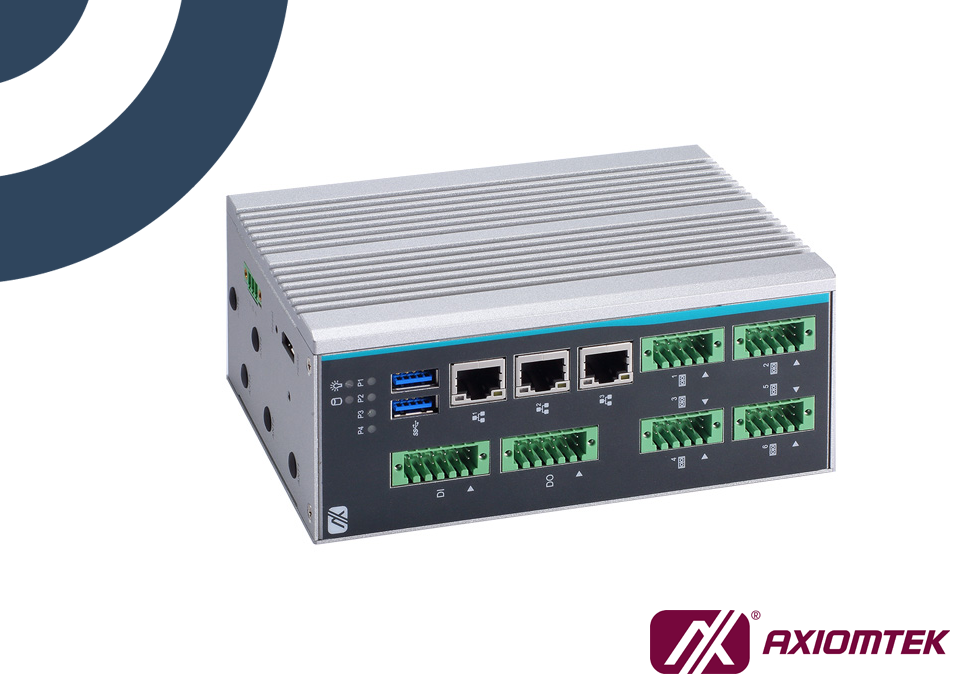 Combining flexible configuration and easy expansion design, the cost-effective ICO300-83M supports an array of functional I/O, including six isolated RS-232/422/485 serial ports, one HDMI port, two USB 3.0 ports, three isolated Gigabit Ethernet ports, one 8-in/8-out DIO port and five antenna openings for WLAN and WWAN usage.
For additional storage to expand functionality, the IIoT gateway system comes with one mSATA occupied with a PCI Express Mini Card slot, an internal 2.5" SATA drive and an optional eMMC on board.
The ICO300-83M is compatible with Windows 10, IoT and Linux. It also supports Axiomtek's AXView software to fulfill the requirement of remote monitoring. In addition, a cold boot at -40°C is available to help eliminate issues affecting the operational reliability of the system. A Trusted Platform Module 2.0 (TPM 2.0) is also available to ensure critical information security.
Advanced Features:
ATEX, Class 1 Division 2 (C1/D2), UL and CE/FCC certified
Fanless operation and rugged design
Intel Atom x5-E3930 processor (codename: Apollo Lake)
6 isolated COMs, isolated DIO (8-in/8-out) and 3 GbE LANs
Industrial-grade wide operating temperature range from -40°C to +85°C and supports cold boot at -40°C
9 to 36 VDC, typical 12/24V power input with OVP, UVP, OCP, RPP
Supports TPM 2.0 and AXView
Intel Atom x5-E3930 Processor
Windows 10 IoT Solution
Supports 4G & Wi-Fi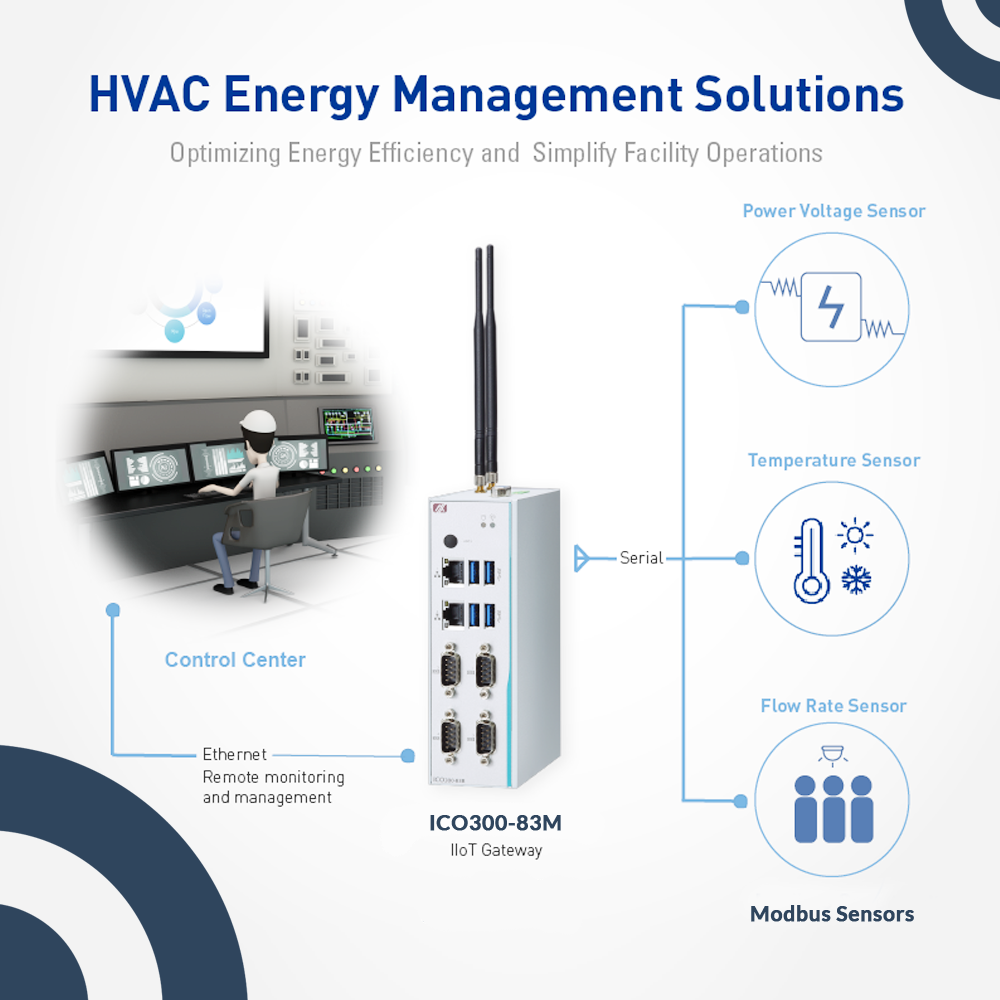 HVAC Energy Management Solution
The ICO300-83M can be utilized to help to manage and monitor the Heating, Ventilation and Air Conditioning (HVAC) within a structure.
The purpose of an HVAC system is more than just warming or cooling a space. Instead, it serves to improve indoor air quality and provide comfort for everyone inside a building/facility/structure. While there are several different types of HVAC systems, they all begin with the same essentials.
First, there is a source of fresh air intake from the outside or from within a structure. This process is called ventilation and it happens in two different ways.
Natural ventilation is present in most homes and refers to the way air typically moves in and out through windows, doors, vents, and other openings. This exchange of air is necessary to replenish oxygen, and to remove odours, carbon dioxide, and excessive moisture.
Mechanical ventilation uses a mechanical system ‐ the V in HVAC ‐ to move air in and out. Once the air is brought in, it is drawn into an air handling unit where the work begins. Here, air is drawn through filters to remove dirt, dust, allergens, and other particles.
The ICO300-83M can be utilized to obtain near-real-time data, enabling management and monitoring via the units 3 x isolated RJ45 GbE LAN ports and Modbus Sensors which can be connected to its RS485 Serial Ports enabling the Flow Rate, Temperature and Power Voltage to be captured 24/7.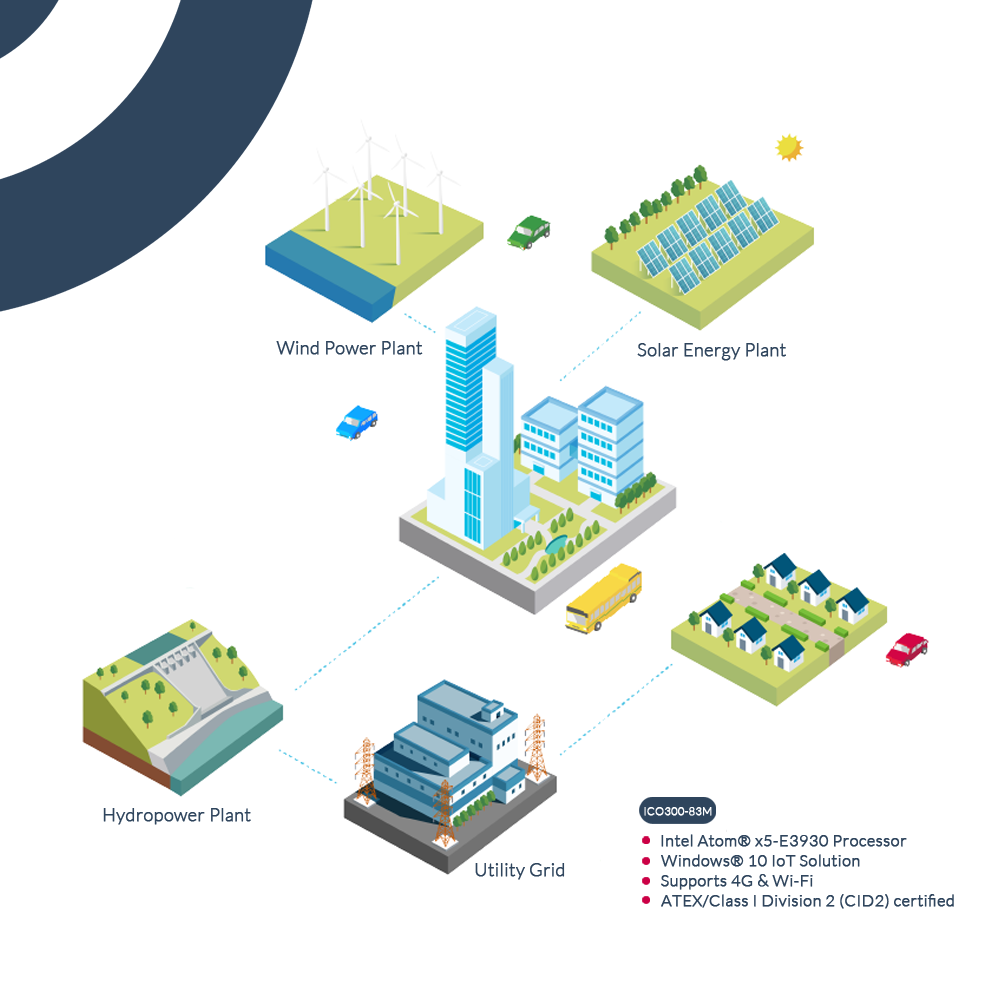 Solar Power Battery Management
Power and energy derived from Solar Panel Smart Grids can be stored in a battery for later use. This allows for programmable delivery during peak periods when electricity is the most expensive, reducing electrical bills. The smart battery can also be programmed as a backup power source in case of blackouts and help prevent grid surges to provide a steady stream of current for smooth operations.
Data on solar conversion, energy delivery, storage and programmed features is valuable and needs to be captured, reported, and transferred for analysis.
Near-real-time (NRT) information is instrumental for analyzing and predicting usage patterns. Prediction allows charging and discharging cycles to be scheduled to ensure a sufficient supply of power, especially during peak usage periods.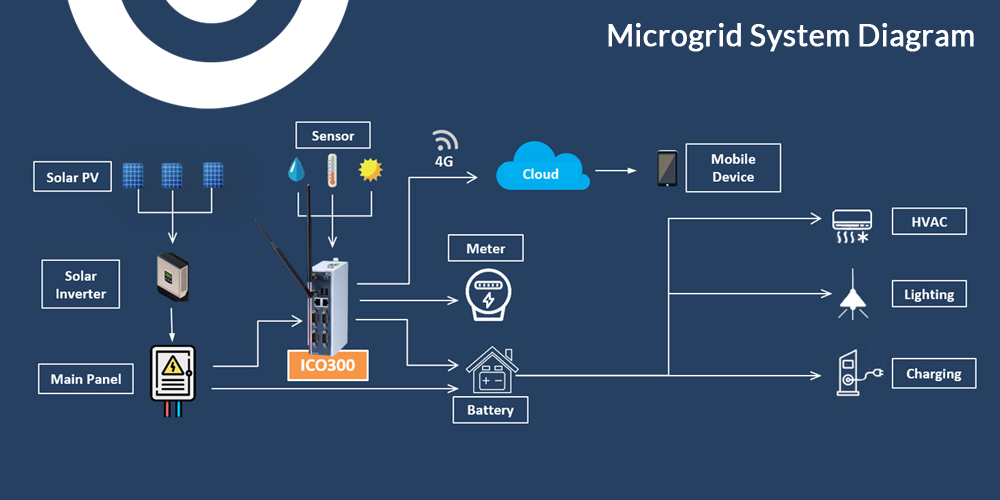 Optimizing the process and battery performance requires an intelligent gateway controller such as the ICO300-83M, able to perform all of the above requirements with high levels of reliability and flexibility.
Axiomtek offers multiple versions of the robust, smart controller, including the rugged ICO. The ICO product line is designed and manufactured specifically to serve the power utility and renewable energy market. Options based on Intel Core processors and Intel Celeron processors, as well as the low-power consumption Intel Atom processor, are offered for scalability and cost-efficiency.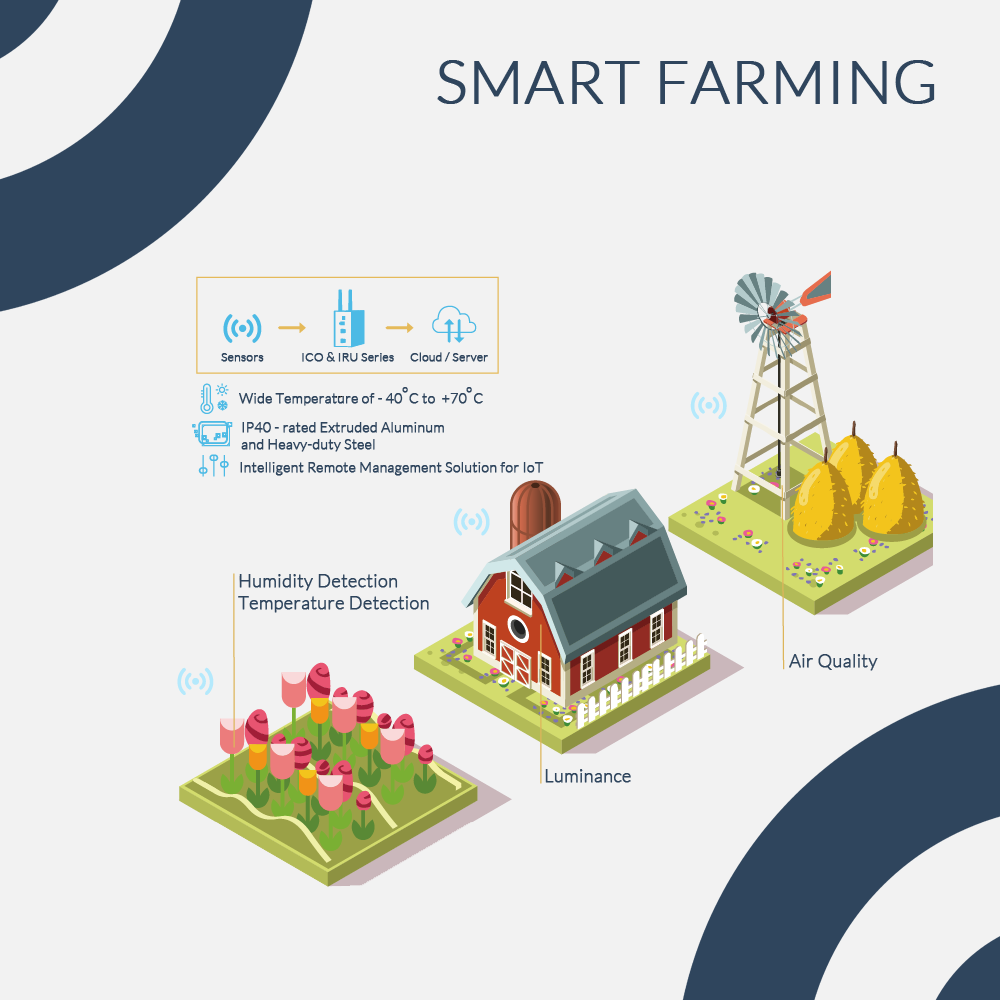 Realising Smart Farming
Axiomtek's ICO series including the ICO300-83M are both flexible an reliable when it comes to supporting the designs of IIoT-related applications, especially those that require a robust gateway device which can efficiently manage and control complex IoT environments.
By connecting with sensors, the ICO300-83M gateway can help farmers to collect environmental data like temperature and humidity.  With IIoT (Industrial Internet of Things) gateways, farmers are able to obtain immediate access to that data and control the farm's computerized operations from anywhere in the world, whilst also being able to compare, predict and share data for further insights into their operations.