In this article:
Apacer's Latest Industrial-Grade SSDs For High Performance
The global leader in industrial-grade SSD and DRAM modules, Apacer, is adding a new series to its comprehensive product line. The 3D TLC SV250 SSD is now available.
Apacer's Latest Industrial-grade SV250 SSD Series is Here
The global leader in industrial-grade SSD and DRAM modules, Apacer, is adding a new series to its comprehensive product line. The 3D TLC SV250 SSD is now available for buyers who expect the highest performance in industrial applications. Made with original ICs from Toshiba, it offers capacities from 30GB to 960GB, and up to 3,000 P/E cycles. It has impressive sequential read/write speeds of 560 and 520MB/s, respectively. It also functions smoothly in temperatures ranging from -40 to 85 degrees C. And its advanced data protection algorithm maximizes it durability and reliability, making it an ideal choice for factory automation applications, security monitoring systems and edge computing devices, etc.
Supports high-end LDPC ECC and DataRAID™ to improve system operation stability
Thanks to advanced algorithms including LDPC (Low Density Parity Check) ECC and DataRAID™, data reliability of Apacer's SV250 series is secured despite of being equipped with TLC NAND flash. Apacer's engineers also built in a variety of value-adding features, such as a power-saving mode, wear leveling, flash memory management, S.M.A.R.T. and Trim technology.
DataDefender™ double protection against data loss
In the case of an unexpected hard shutdown, the SV250 series devices are protected by DataDefender™. This combination of hardware and firmware technology is designed to improve data integrity. When power disruption occurs, the hardware mechanism will notice and trigger the controller to run multiple write-to-flash cycles to store data. Then the firmware will check that the data was correctly written to the NAND flash after the power disruption and rebuild the mapping table, preventing data loss.
Superior data security
More and more industrial manufacturers are realizing the value of adding encryption technology to their devices. Apacer's SV250 series devices are self-encrypting drives that are protected by TCG Opal 2.0, which uses the advanced AES encryption to prevent unauthorized access to data.
The 3D TLC SV250 series delivers an ideal balance of performance, reliability and cost. They are available in various form factors such as 2.5", M.2 2280, and M.2 2242, as well as being available in module form. Leading manufacturers are already adding them to their innovative devices to stay competitive and ahead of the market.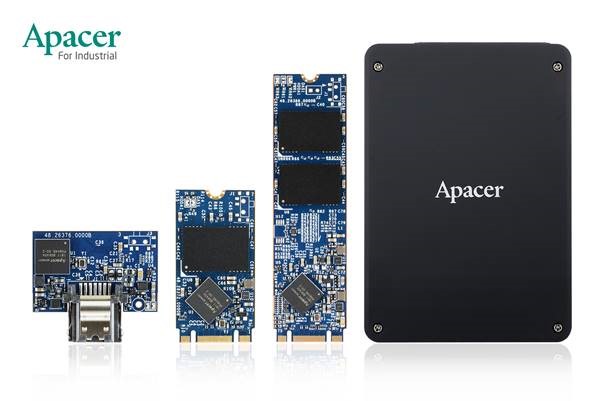 See our range of Industrial Grade Storage Solutions for more information.
About Assured Systems
Assured Systems is a leading technology company offering high quality and innovative applied computing solutions to the embedded, industrial, and digital-out-of-home markets across the world. Headquartered in Stone, England and with offices in North America, our reach is truly global. Our impressive product portfolio includes a full range of Fanless Embedded Computer Systems, Digital Signage & Multimedia Computer Systems, Touchscreen Panel PCs, Human Machine Interfaces, Vehicle Mount Computers, Rackmount Computer Systems, Single Board Computers, Rugged Laptops & Tablets.