Android Cloud Network Live TV
The Android Cloud Network Live TV Media Player (AC-LIVE) provides you with the capability to transform existing or new installations into cloud based digital advertising displays with the flexible opportunity to play live TV singularly or in a custom template alongside your adverts or content. The player will also allow you to run live feeds or stationary websites, which depending on your display solution can become an interactive exercise for your customers or prospective audience to engage with.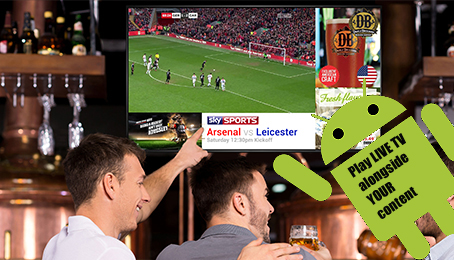 Our latest PCAP touchscreens are perfect accompaniments to entice existing or future customers and offer a automated point of contact and are available as all-in-one dual OS solutions for sleek, concise displays in sizes 22, 32and 42-inch variants.
Why Live TV?
Well deployment could not be simpler, the player connects via HDMI to your chosen set-top box, configure then with the cloud based CMS and allow your customers to not only see familiar TV broadcast, but your content alongside it!!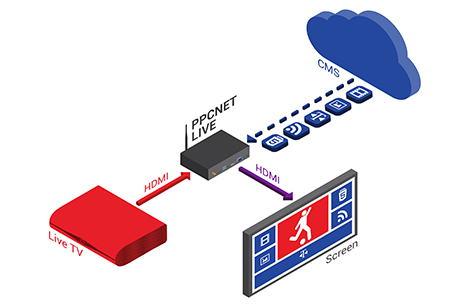 The Android based PC board enables super-fast processing speeds to allow instantaneous updates as well as seamless connection to a live website, broadcast, URL feed or social media profile. The Live TV media players are exceptionally versatile and should you possess your own CMS than it could not be easier to integrate.
The Cloud network solution will furthermore permit you to expand or build a network of devices and remotely manage them through the integrated CMS meaning your network be it local or worldwide can be in seamless tandem. The scheduling of playlists is a simplified process to save your time as well and are designed for 24 hour use.
About Assured Systems
Assured Systems is a leading technology company offering high quality and innovative applied computing solutions to the embedded, industrial, and digital-out-of-home markets across the world. Headquartered in Stone, England and with offices in North America, our reach is truly global. Our impressive product portfolio includes a full range of Fanless Embedded Computer Systems, Digital Signage & Multimedia Computer Systems, Touchscreen Panel PCs, Human Machine Interfaces, Vehicle Mount Computers, Rackmount Computer Systems, Single Board Computers, Rugged Laptops & Tablets.