AAEON RICO-3399-A10-0003 (MOQ: 50) ARM Cortex-A72/Cortex-A53 Pico-ITX Fanless Board with Rockchip RK3399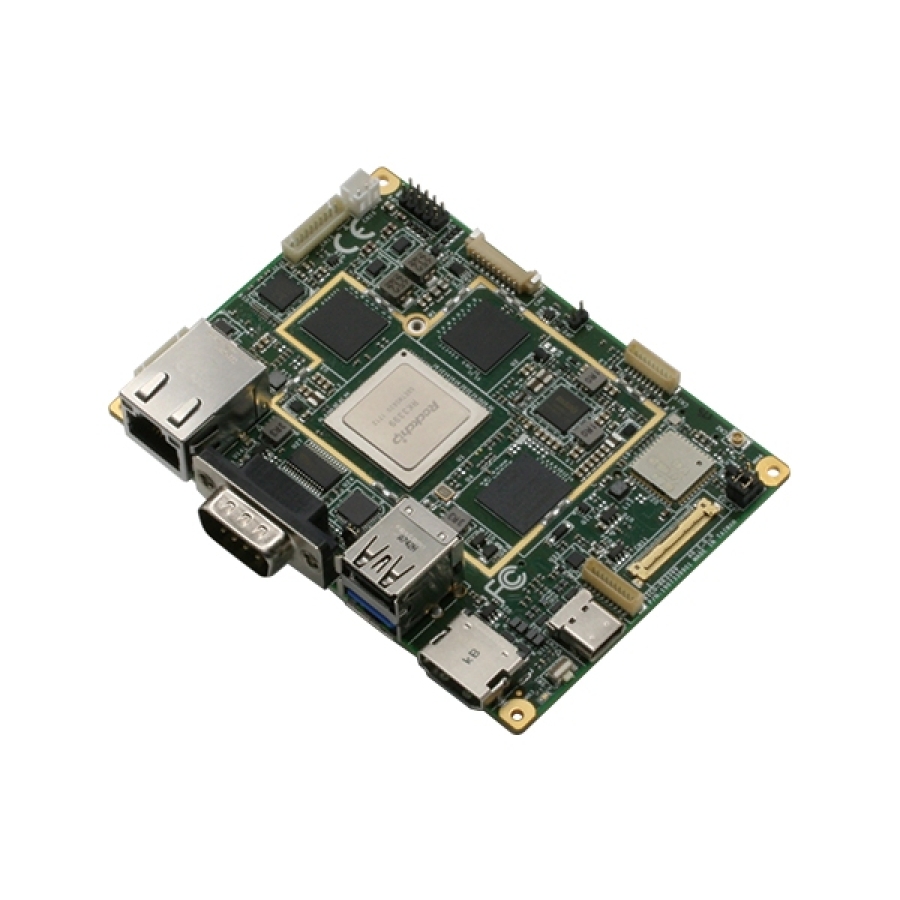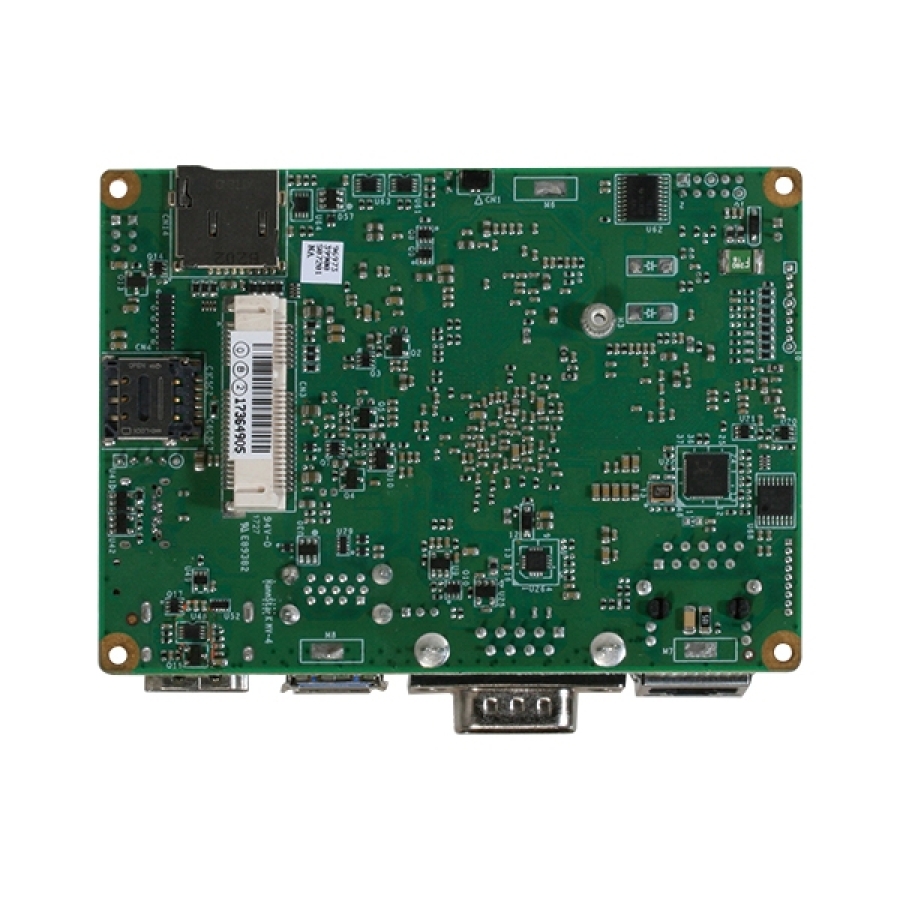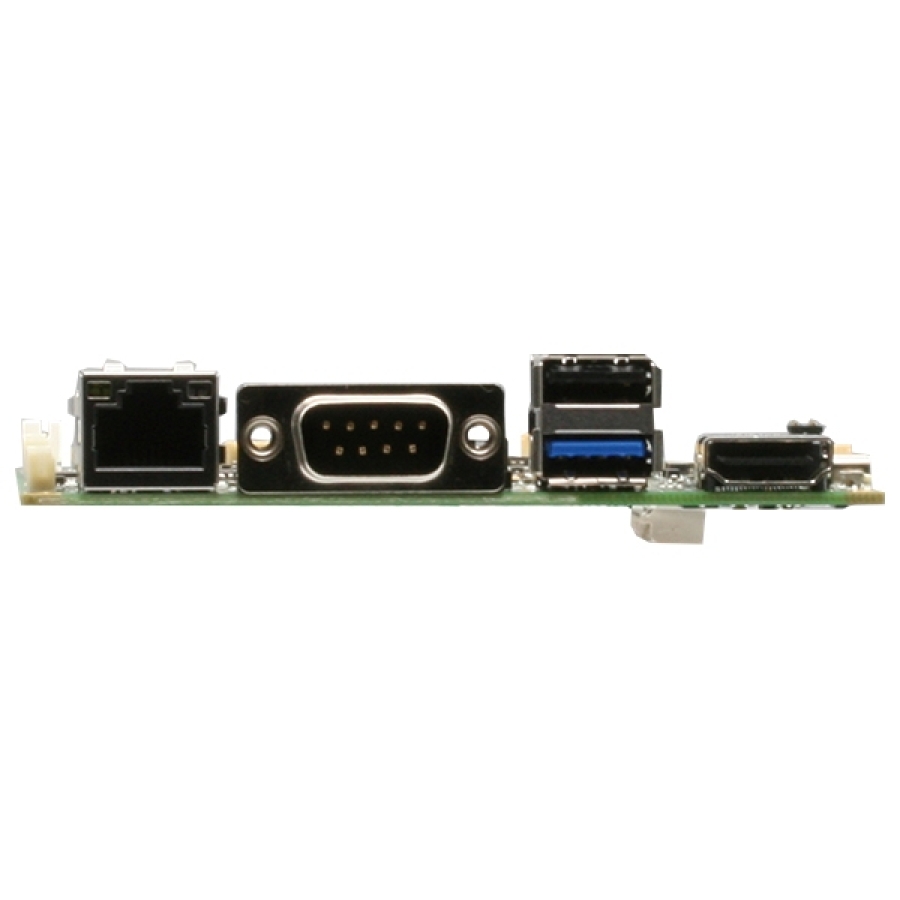 AAEON RICO-3399-A10-0003 (MOQ: 50) ARM Cortex-A72/Cortex-A53 Pico-ITX Fanless Board with Rockchip RK3399
RICO-3399-A10-0003 (MOQ: 50) Price: $POA
Rockchip RK3399
Onboard LPDDR3 2GB/4GB (Optional)
Onboard eMMC 16GB and Micro-SD Card Slot
HDMI (2.0) & eDP
WiFi 802.11 a/b/g/n/ac, BT V4.2, GPS (Optional), NFC (Optional)
GbE: RJ45 x 1
USB 3.2 Gen 1: OTG x 1, Type A x 1
USB 2.0: Type A x 1, Pin Header x 1
RS-232/422/485 x 1, RS-232 x 1
8-bit GPIO, I2C, mPCIe Slot x 1
+12V DC Input
OS Support: Android 8.1
Small Board Size: 100mm x 72mm (PICO-ITX)
For more information please click "Add to Inquiry". Alternatively you can contact our US sales team on +1 347 719 4508.

Details
The RICO-3399-A10-0003 (MOQ: 50) single board computer is a RISC platform that is designed to meet the requirements of a wide range of applications, from digital signage and KIOSK to intelligent cameras and machine learning applications. Armed with the powerful Rockchip RK3399 ARM hexa-core processor, capable of 4K Ultra HD, built on the PICO-ITX form factor, and featuring a fanless design; the RICO-3399 SBC is designed to deliver out-of-the-box brains and brawn to tackle any application.
Powered by the Rockchip RK3399 ARM hexa-core processor, the RICO-3399 SBC has the brains and brawn to tackle your application requirements. Utilizing the latest in ARM and RISC technology, the Rockchip RK3399 ARM hexa-core processor is a SoC that combines two processors into one, splitting computing and graphics tasks between the two processors. The RICO-3399 teams up the processor with a built-in Mali-T860MP4 GPU, a GPU that is 50% faster than its previous generation, to provide the strength for 4K video decode applications and 4K Ultra HD graphics at 60Hz through HDMI 2.0. The RICO-3399 also features onboard 16GM eMMC storage, and 4GB LPDDR3 memory, giving it the intelligence to power machine learning and computer vision applications.
The RICO-3399 SBC combines a fanless design, RISC architecture, and the PICO-ITX form factor to be a platform that is powerful and energy conscious. In addition, these features allow it to squeeze into almost any application that requires a tight fit. Being small doesn't mean sacrificing flexibility and expandability. The RICO-3399 features a wide array of I/O interfaces, including USB 2.0, USB 3.0, USB C, microSD slot, and MIPI camera support. The RICO-3399 also features both a nanoSIM and a mini-PCIe slot to provide 3G and 4G capabilities, making the RICO-3399 a mobile platform.
AAEON's manufacturer services offer both hardware and software customization options that ensure the RICO-3399 SBC will be ready to go the moment you open the box. The RICO-3399 comes standard with Android 7.1, which can be tailored at the factory to suit your needs. Further customization options are available to help reduce turnaround, speed up development and ensure rapid APP deployment. AAEON will work directly with you to ensure your requirements are met.
The RICO-3399 SBC powered by Rockchip RK3399 ARM hexa-core utilizes RISC architecture to deliver the brawn of 4K Ultra HD graphics, the brains of intelligent camera systems, and the compact package of the PICO-ITX form factor.
Downloads
System Integration
Please ask about how we can configure your solution
Global Operations
We ship and support products via offices globally
Full Warranty
Industry leading warranties on all solutions as standard
Technical Support
Experienced engineers are on hand to support your project
Can't Find What You Want?
| | |
| --- | --- |
| Processor Type | 2 Cores, 4 Cores, RISC |
| Memory Capacity | 4GB |
| Memory Type | LPDDR3 |
| COM Ports | 1 Port, 1x RS-232/422/485, 2 Ports, RS-232 |
| LAN Ports | 1 Port, 1 Port, 1GB |
| USB Ports | 2x USB 2.0, 2 Ports, 4 Ports |
| Video Ports | 1x HDMI, 1 Port, eDP |
| Storage | 1, eMMC |
| Operating Temperature | 0°C to 60°C, Standard |
| Power | 12V |
Shipping Information
Orders dispatched from Assured Systems USA will be delivered using FedEx.
Payment Methods & Options
Accepted payment methods for US customers include bank transfer, VISA or Mastercard in USD.
Warranty & Service Information for AAEON Products (United States)
All AAEON products distributed in the USA come with a 2 year warranty as standard, with additional extension options available upon request. As an official AAEON partner, we are proud to provide customers with peace of mind and the highest quality products, including any systems which have been configured to meet individual specifications.
Related Products
You may also like...