The combination of AI (Artificial Intelligence – the automation of decisions) and 5G is transforming enterprise and accelerating economic growth, as 5G networks are providing the backbone, scalable bandwidth and remote computing resources to process increasing volumes of data that fuel the proliferation of AI.
If someone had said a few years ago, that in cities and towns, there would be smart delivery bots being driven by autonomous vehicles that would walk down pavements, climb stairs and deliver right to someone's door, most would have said that might happen maybe 15 or 20 years from now.
Those applications, especially within the likes of the USA, are being tested and rolled out right now.
Automation and control is happening in warehouses and in factories across the world, because of sensors and actuators running on a 5G network.
Exploring the relationship between 5G and Edge AI in the future
Thriving in the global tech-driven market, is Edge Computing via the implementation of Edge AI in multiple edge devices such as smart phones, smart speakers, drones, AGVs (Automatic Guided Vehicles) and many more.
Edge AI is effectively, the combination of Artificial Intelligence and Edge Computing to enable a more efficient service through the collection of sufficient real-time data to make decisions faster, which is essential in order to achieve ultra-low latency in different edge devices like drones, telesurgery devices and many others.
Where 5G has become the fifth generation standard for a broadband cellular network, with low latency and up to 100 times faster than the existing 4G, 5G and edge computing offers a perfect combination where smart devices can share real-time data to be processed with near real-time efficiency and effectiveness in this digitalised era.
Both of these technologies have an aim to improve the standard of living as well as application performance.
There will be a much shorter distance to travel for the necessary real-time data along with the fastest speed. The network connection level of 5G is needed so that the Edge AI is able to drive the huge demand for its efficient service in the nearby future.
Edge computing could indeed prove to provide an appropriate environment to the global developers' community for creating multiple 5G applications post-launch of 5G. The exponential growth of real-time data through edge computing will be driven by the power of 5G and its connection with the next wave of edge devices.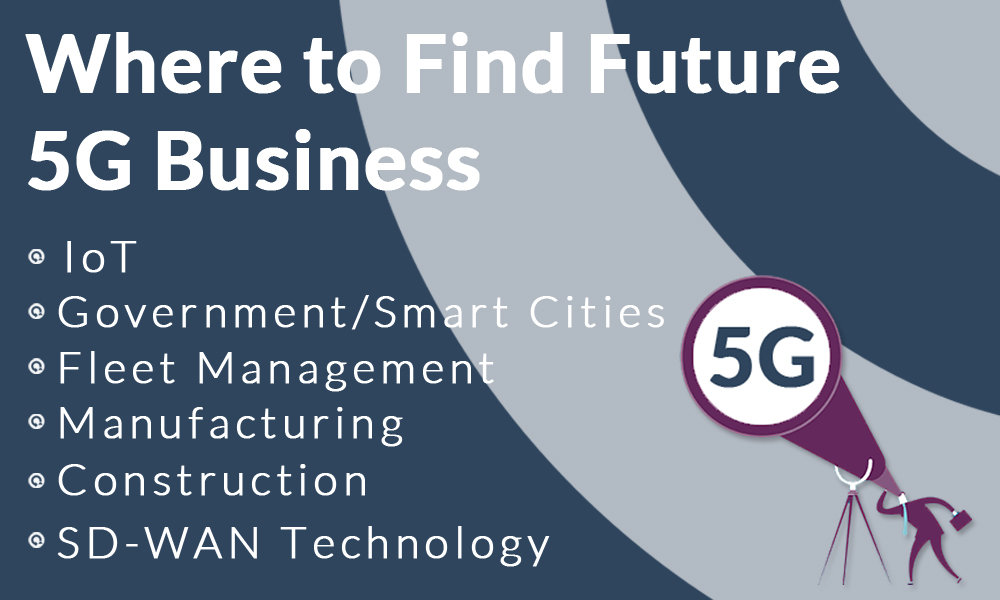 Across the globe, industries can start leveraging this combination of 5G and edge computing in order to collect enormous volumes of real-time data that will enhance the existing operational system/s, improve productivity and create new customer experiences that can meet customer satisfaction in an efficient and effective manner.
The automobile industry is one of the top industries in the world to reap the benefits of both 5G and edge computing in order to create more advanced autonomous cars. Workloads and productivity across many industries, will benefit from the power of automation complimented or indeed improved by the integration of 5G and artificial intelligence.
Thus, the relationship between 5G and edge computing in multiple edge devices can enable the era of a new user-centric network as well as devices.
Advantages of 5G in IIoT applications
In telecommunications, '5G' is the term used for the fifth-generation in broadband cellular network technology.
For a number of years before now, we have all been using 3G and 4G for a number of years via our phones, tablets and other mobile devices.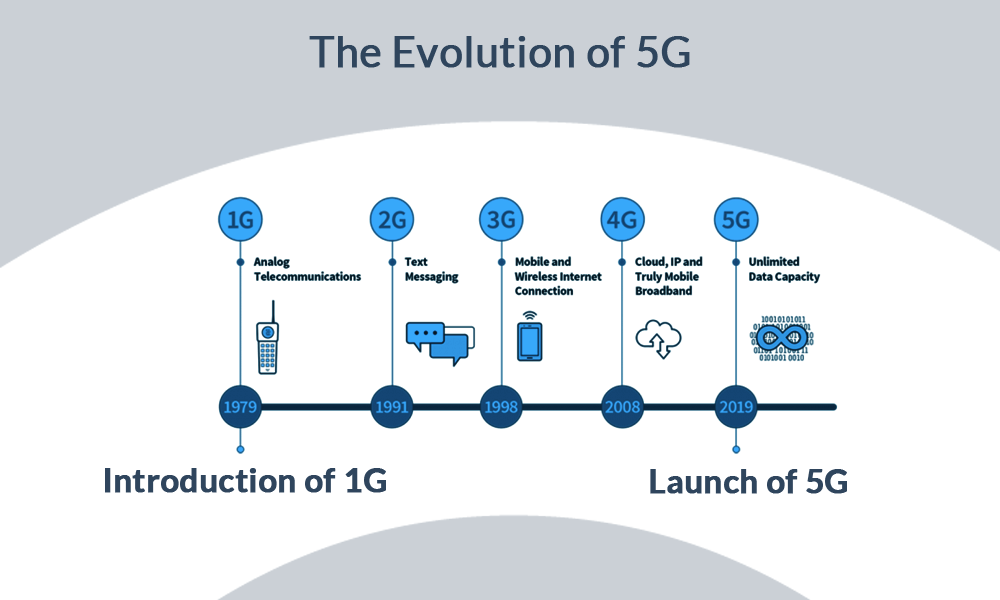 '5G' not only impacts our personal lives with the benefits it brings; a faster, more stable internet connection via LAN or wireless, greatly increased upload and download speeds, etc; it will also be of an even greater benefit to all industries and indeed the Industrial IoT space in the not too distant future, as IIoT devices become more complex and more prevalent in industrial applications.
5G began rolling out back in 2019 and by now has been rolled out to most of the U.K. in terms of wireless cellular technology providing some good numbers when it comes to speed and latency, along with a huge leap in the number of connected devices the network can handle.
This leap forward in cellular network technology is especially of importance to the advance in Smart Cities, due to the sheer number of connected devices needed to make modern, complex Industrial IoT systems operate to their full extent.
What types of 5G are there?
Cellular operators use a combination of different spectrum bands to deliver 5G services and it plays a critical role in determining the speed and range of coverage.
5G continues to present new challenges for wireless operators as on one hand 5G networks are intended to support faster mobile broadband speeds and allow for lower latencies, making new applications possible like on-demand video and autonomous vehicles,  whereas on the other hand, 5G requires wireless operators to have access to large amounts of spectrum to make these new services a reality.
The GSMA (Global System for Mobile Communications), a global trade organization that represents mobile operators, recommends that regulators and government agencies that control 5G spectrum allocation, make 80-100 MHz of contiguous spectrum available per operator in prime 5G bands and about 1 GHz of spectrum per operator available in millimetre wave bands.
The spectrum is a scarce resource and that means that wireless operators around the world have to use a mix of low-band, mid-band and high-band spectrum to deliver the type of 5G experience that their customers demand.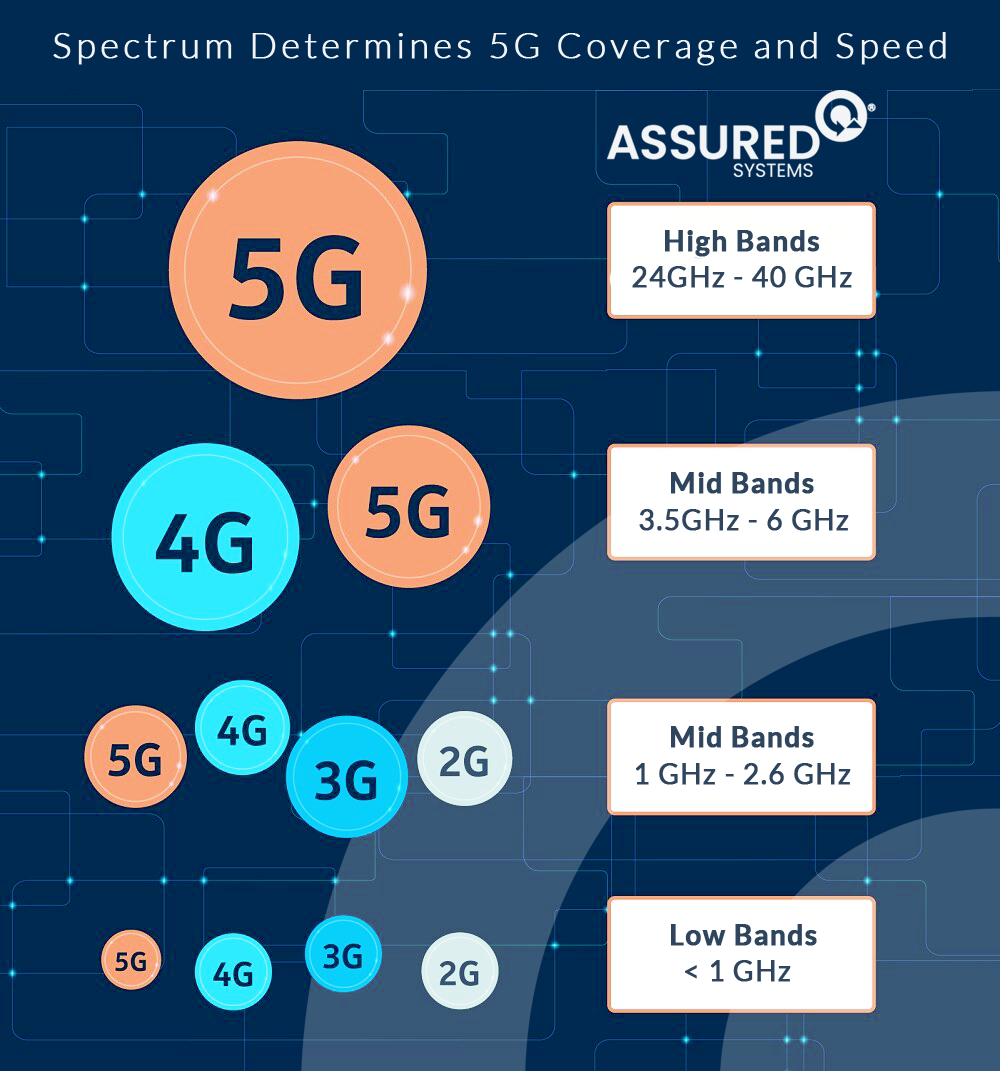 Three types of radio frequencies are used on a 5G mobile network: low band, C-band, and millimetre wave, each are used for mobile phones to really boost 5G coverage, but 5G internet mostly uses C-band and millimetre-wave 5G because the speeds are a lot faster.
Low-band 5G has speeds similar to 4G and works over a long range, perfect for rural areas.
C-band 5G has a shorter range than low-band 5G, but it can hit speeds of 100 Mbps or faster over distances up to about six miles.
Millimetre-wave 5G works only in contained areas (like buildings or stadiums), so it gives you the lowest 5G coverage. But it's extremely fast, capable of surpassing 1 Gbps speeds.
Prior to the 5G cellular rollout, C-band and millimetre-wave frequencies were not widely used in communications technology – although the frequencies did have some other commercial and industrial uses, making for less-congested mobile networks and greater capacity for carrying data.
5G technology also incorporates innovations like massive MIMO (in radio, multiple-input and multiple-output, or MIMO, is a method for multiplying the capacity of a radio link using multiple transmission and receiving antennas to exploit multipath propagation) and beamforming, which help reduce network congestion and streamline communications between the mobile 5G network and your router at home.
Here we look at five advantages 5G will bring to Industrial IoT applications:
1.  Faster network speed
1.2 billion people stand to be connected by '5G', with access to eventual potential speeds of 100 Gigabit/sec. When compared to 4G, recorded as performing up to 300Mb/s, 5G's advances mark a phenomenal leap forward in the realm of data exchange and bandwidth – a whole 100 times faster.
To put things into context and somewhat layman's terms… you'll soon be able to download a HD movie in 10 seconds.
The Fifth Generation Mobile Network (5G) enables greater capacity as networks will be able to cope with high-demand applications simultaneously. Such technology as Autonomous cars will benefit its high-speed and low-latency response of 1m/s, improving the technology's reaction time for a safer experience. It takes 300-400m/s to blink, so blink and you will certainly miss it, as the response time will be physically undetectable by the user.
5G is set to have widespread effects on everything from the IoT (Internet of Things) and the emergence of smart cities, to virtual-augmented reality, edge computing and BIG Data, remote-robotic surgery and health services, and even holographic video, among many more.
Near to 'Real-time' capable functionality will be possible as well as potentially enabling some technology to move from concept to reality.
5G is putting cellular connectivity at the forefront of system integrators' connectivity considerations.
2.  Lower latency
Latency is the time it takes for a device to send one small 'echo' packet to the serving content server and the corresponding 'echo-reply' packet to return to the device. This time is also called the round-trip time. It has become common practice to use the terms synonymously. Different tools are used in the industry to measure latency this way.
Latency is not the same as time-to-content.  Some people say or write latency but mean time-to-content, not seeing the difference and not using the terms consistently, is often a common source of confusion.
Latency results aggregated across the three major U.S. communications service providers when testing for such, showed that latency is lower on 5G compared to 4G – it's the lowest when 5G is operated on millimetre wave and the vast majority of all speed tests measured a latency of less than 50 ms, which is roughly fifty times more responsive than 4G.
In terms of consumer use, the latency reduction offered may appear infinitesimal, humans will hardly be able to tell – at least not appreciate much – the difference between a latency of 30 vs. 50 ms when using everyday apps on their smartphones and other devices.
In terms of machines it's a game changer.
Industrial IoT and Industry 4.0 is ready to seize upon these improvements, especially in applications needing near-real-time feedback, as they will benefit greatly from the ultra-low and ultra-reliable latencies that only 5G can provide.
For example, think about video-controlled high-precision robots in a smart factory. We are talking about latencies below 10 ms, i.e., ultra-low, and without latency spikes exceeding 10 ms, i.e. making them ultra-reliable.
Remote security systems are now able to stream 4K video over cellular connection with just a one millisecond delay, allowing operators to make decisions in real-time and take more timely action. Augmented Reality (AR) is also an area that will benefit from the reduced latency of 5G cellular connectivity.
Having been limited by 4G's fifty millisecond latency, 5G could mean being able to use AR for remote surgery, robotics and even military operations, or scenarios requiring a human touch but deemed too dangerous for direct human interaction.
3.  Enhanced provisioning for devices
The number of devices that can access a 4G connection at any one time is limited and has noting to do with available bandwidth.  This limitation is due to the fact that 4G technology limits the number of devices that can access a 4G connection at any time to 4,000 devices per square kilometre.  We're guessing that lack of connectivity and past large sporting events or music festivals now makes sense.
5G also has a limit, but this is now a huge 1,000,000 connected devices per square kilometre — that is an increase of 25000% over 4G, meaning load spikes could now be a thing of the past at major events and large gatherings.
4.  Network Slicing
Network slicing is a network configuration that allows multiple networks (virtualised and independent ) to be created on top of a common physical infrastructure, enabling service providers to build virtual end-to-end networks tailored to application requirements.
Network slicing has become an essential component of the overall 5G architectural landscape where each "slice" or portion of the network can be allocated based on the specific needs of the application, use case or customer thus allowing network administrators of 5G Industrial IoT systems to take bandwidth from non-critical systems and redistribute it to more data-intensive areas of the network.
Network slicing in 5G supports diverse services like smart-parking meters, which value high reliability and similar, like driver-less cars, which  may need ultra-low latency (URLLC) and high data speeds to facilitate the efficient reassignment of resources from one virtual network slice to another.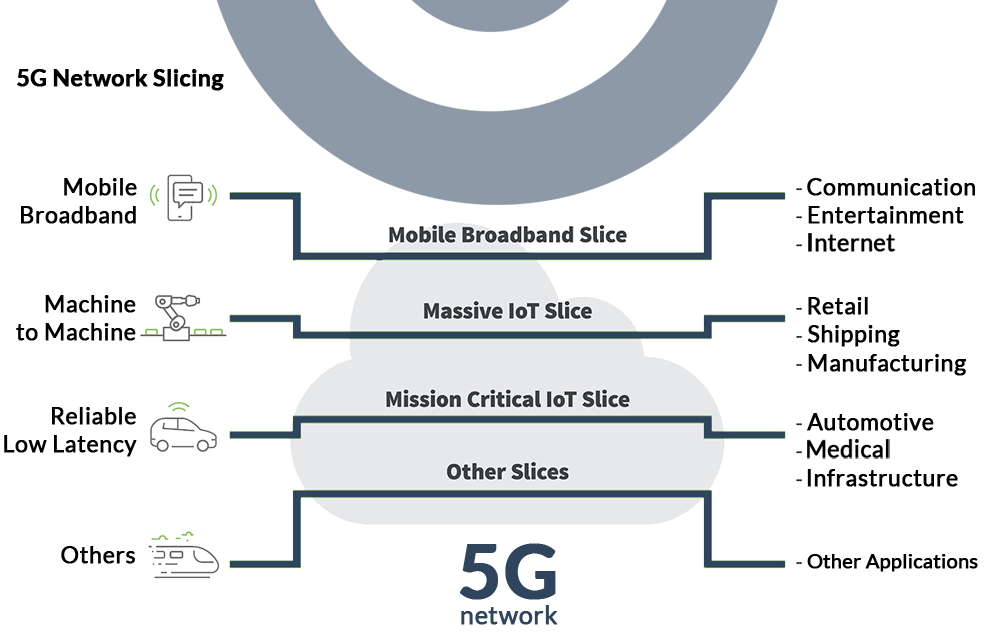 For instance, Industrial IoT infrastructure systems like fleet management could be deemed as non-critical. With data generally being limited to location and driver behaviour details, being transmitted from vehicles to control centres on an interval basis, fleet management systems don't require a lot of bandwidth, network speed, nor a low ping. On the flip-side, companies who adopt autonomous driving systems which use cellular data to get hyper-accurate location details and vehicle telemetry, would require a faster, more reliable connection. ISPs can allocate this boost in connectivity, at a price of course.
The 3rd Generation Partnership Project or 3GPP, has recognised network slicing to be an essential overall component of 5G. This has made network slicing an integral feature and an ongoing focus for working groups developing 5G core architecture.
5G opportunities like low latency industrial IoT and autonomous driving is now possible after Release 16 of the 3GPP 5G specification. Items included in 3GPP release 16 are the 5G core solutions to enable cellular IoT and the bandwidth and cost implications of unlicensed NR spectrum.
This Network Slicing technology will ensure that critical systems remain the priority and networks don't get overloaded with devices that could compromise the flow of data between these critical IoT devices.
5.  Retail is likely to also benefit from 5G
One of the industry sectors believed to be set to benefit from 5G by the end of the decade, is retail.  5G coverage is expected to flourish in the more populous areas and therefore expected to also complement smart retail technology, such as shelf sensors, cashier-less checkout and QR codes.
In November 2019 a IHS Markit report explained how 5G will contribute to the global economy, stating that brick-and-mortar retailers could use 5G in conjunction with ultra-high definition (UHD) video, virtual reality and augmented reality, as a way of competing more effectively to differentiate themselves, within the online shopping arena; in the form of greater in-store digital interaction with customers.
The benefit to retail will come in the form of building blocks – frictionless end-to-end consumer experiences in the form of enhanced mobile broadband; massive machine-type communications (MTC) and ultra-reliable, low-latency communications.
Machine-type communication provides connections to numerous devices that intermittently transmit small amounts of traffic. 5G mobile broadband will facilitate virtual and remote support before, during and after a sale, including VR and AR services, smart screens and mobile cloud services.
5G communications will help the retail supply chain to be more transparent and efficient as IoT sensors become more common place.  The IoT market in North America should hit 5.9 billion connections by 2025, according to GSMA (Global System for Mobile Communications).