What are Stretched Bar LCD Displays?
We've spoken about the vast array of screen resolutions available on the market and how those resolutions dictate image quality and screen size. Even with all of these options, the vast majority of screens for use in the home, in industry or in digital signage are of the same shape, which is rectangle to a limited ratio of height and width. Screens have always been driven mainly by the home market which takes sizing from TV camera filming dimensions and more recently the desire for widescreen and home cinema sizing. The implication being that industrial screens and digital signage platforms followed suit because (a) people are used to absorbing information from rectangular screens and (b) the cost of adapting TV based resolutions to commercial grade displays has been lower than starting from scratch.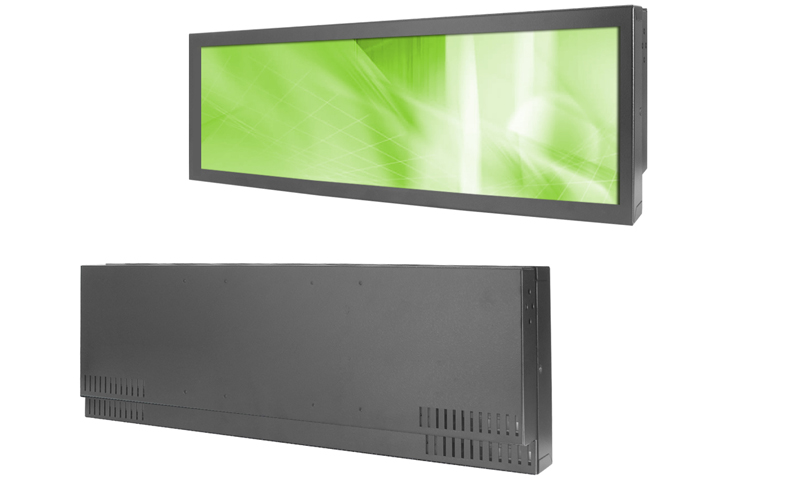 Restrictions of standard screens
As the digital signage revolution has developed, OEM designers and marketing visionaries have realised the potential for signage screens to fit into more bespoke applications. The conformist approach to digital signage has been to take a standard resolution; commercial grade monitors and wall mount or embed that screen shape into say, a store design. But the demand for displayed information goes beyond that of uniformed walls able to accept the standard rectangle screen. The opportunity to impact visually may come in long and thin spaces which will only fit all but the smallest of standard screens, or demand longer and thinner units. For example, fitting standard TV screens into public transport vehicles for information and advertising has been done for over a decade or so, but the desire to embed these screens into flush panelling and for them to fit the designed interiors of carriages has grown along with the evolving technology. Bus and train designers now want long and thin screens to fit along the header panelling of a coach where all passengers have a view, not just at the front of a coach on a wall mount where only a few passengers can see.
Why have they been difficult to get hold of?
It's mainly been a point of cost. As mentioned above, to take existing screen resolutions from television display screens and adapt to commercial applications is relatively straight forward. Many screens can be made to suit and therefore the cost of production is reduced, making screens in traditional resolutions a viable investment for all. Taking a screen down to half the original height and keeping the width drastically reduces the number of applications the screen can be used in. Those applications tend to be in high ambient light so require sunlight readable; bright backlighting and rugged designs which can cope with the demands of public display and/or transport applications. This all leads to a market with a limited size availability at a premium cost.
Now You Can Display Everywhere!
Assured Systems can now supply a full range of stretched bar LCD displays with excellent price points. These commercial grade screens have filled the gap created by the growing demand for limited height digital signage screens. Presented in a comprehensive number of sizes, the SSD Series opens up a previously cost inhibitive range of digital signage opportunities which includes but is not restricted to:
Tailor made digital signage
Portrait gaming information points for casinos and bingo halls
Transportation header panelling in coaches
Menu board header displays
Ticket Kiosk / Box Office header displays
Museum displays
Taxi information and advertising
Bus shelters for schedules and routes
The SSD Series products are housed in a strong wall mountable chassis' with standard VESA mounting points. The range features brightness levels from 300 NITS to an ultra-bright 2000 NITS LCD panels with multiple video inputs for flexibility. Additional features include touchscreen options, low power consumption (from just 9.6W for the 10" unit) and viewing angles up to +80°~-80°(H), +85°~-85°(V).
Main Features
Comprehensive Sizing: from 10″ to 49″
Sunlight Readable: Brightness from 300nits to 2000nits
Green: LED Backlight & Low Power Consumption
Long Life Expectancy: from 70,000hrs to 100,000hrs
Smart Design: Slim Bezel & Fanless
Flexible: Available with LCM Module / Plug & Play Monitor
View the full range of Assured Systems Stretched Bar LCD Displays.
OEM Support
Assured Systems are available for support when choosing components, including screens, for an OEM design. If there is a particular sized aperture which needs a product to retrospectively fit, we can manufacture a solution to fit.
Assured Systems specialise in the production of commercial grade screens for OEM designs and applications in highly specific vertical markets. We can assess your needs to find the correct screen solution having a more than extensive range of options which nears a bespoke service, without bespoke prices. Call our sales team now on +44 1785 87 90 50 (EMEA) and +1 864 421 6991 (USA) for any advice on screen displays in digital signage, OEM integration or general industrial use.