Industrial High-Power 802.11b/g/n Outdoor AP/Bridge/Client, IP67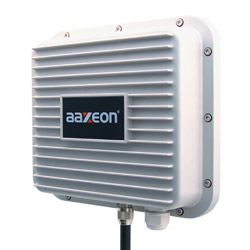 Aaxeon Official Distributor
The APX-3100 features 802.11n standard compliance allowing support of higher bandwidth for wireless Internet service. Its easy-to-install elements no longer make the installation tedious or complicated. The APX-3100 2.4GHz access point/CPE highlights outstanding throughput performance and a cost-effective design guaranteeing reliability at an affordable price. Flexible Deployment by PoE The APX-3100 comes with IEEE 802.3af PoE compatibility which enables it to be used in locations where socket availability is limited or nonexistent. Easy installation & Configuration A web-based utility offers system administrators an easy method to upgrade the firmware and manage the device over the Internet. When using SNMP, the APX-3100 can support multiple access point configurations from one location. The Antenna Alignment Tool simplifies the installation and alignment process. Enhanced Throughput The APX-3100 is compliant with the 802.11n standard, therefore providing a much higher data rate than a traditional 802.11g. It has an upgradeable external N-type interface that offers a scalable antenna solution.
Compliant with IEEE802.11b/g/n
Reliable Waterproof (IP67) Enclosure
High Output Power 600mW
WPA/WPA2-Enterprise Encryption for a Highly Secure Wireless Network
WEP/WPA/WPA2/IEEE 802.1x Authentication Support
Spanning Tree and IGMP Snooping Protocol Support
Power-over-Ethernet (PoE) IEEE 802.3af Compliant
Ethernet Port: One 10/100BaseT(X) with PoE
Connector: RJ-45
Antenna Connector: N-type connector for external high gain antenna
Radio Frequency Type: DSSS
Modulation: IEEE 802.11b (DSSS): CCK, DQPSK, DBPSK
IEEE 802.11g/n (OFDM/DSSS): QAM-64, QAM-16, QPSK, BPSK
Frequency Band: IEEE 802.11b/g ISM Band; 802.11gn 20MHz
US, Canada: 2.412GHz ~ 2.462 GHz , EU: 2.412 GHz ~ 2.472 GHz
IEEE 802.11g/n 40MHz Band
US, Canada : 2.422GHz ~ 2.452GHz, EU : 2.422GHz ~ 2.462GHz
Transmission Rate: 150Mbps(Wireless)
100Mbps(Ethernet)
Transmit Power: IEEE 802.11b: 27.5dBm @ 11Mbps
IEEE 802.11g: 27.5dBm @ 6Mbps IEEE 802.11gn: 27.5dBm @ HT20 / 27.5dBm @ HT40
Receiver Sensitivity: IEEE 802.11b: -88dBm @ 11Mbps
IEEE 802.11g: -73dBm @ 6Mbps
IEEE 802.11n: -70dBm @ HT20 / -67dBm @ HT40
Encryption Security: WEP 64,128, 152-bit, WPA/WPA2, WPA-PSK/WPA2-PSK, 802.1X Authentication
Power Input: 48V IEEE 802.3af PoE Adapter
Operating Temperature: -20° C ~ 70 ° C Ambient Temperature
Storage Temperature: -30° C ~ 80°C
Dimensions: 267 x 241 x 83 mm (10.5 x 9.5 x 3.25 in.)
Warranty: 5-year Warranty
Compute. Control. Communicate.
Call our experts today for friendly advice on
+44 (0) 1785 879 050