2-Port Isolated RS-232 PCIe Mini Card with Wide Operating Temperature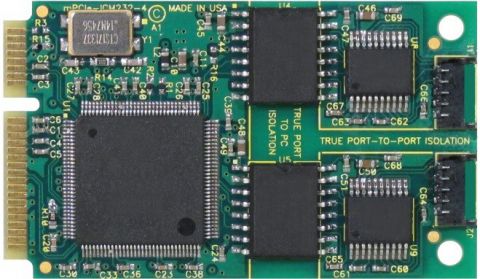 ACCES I/O Official Distributor

Size:
Full Size Mini-PCIe
The mPCIe-ICM232 family of cards feature high performance 16C950-class UARTs. Available in 4-port (mPCIe-ICM232-4) and 2-port (mPCIe-ICM232-2) versions, each port is capable of communication speeds up to 921.6kbps and has 128-byte deep transmit and receive FIFOs which protect against data loss in multitasking operating systems, reduce CPU utilization, and improve data throughput. The advanced integrated circuit with pre-scalar supports a wide variety of custom baud rates, and any rates not otherwise achievable can be supported via a custom factory-installed crystal oscillator.
The RS232 ports provided by the card are 100% compatible with every other industry-standard serial COM device, supporting TX, RX, RTS, and CTS. In addition, they provide Tru-Iso™ port-to-port and port-to-PC isolation.
Communication is possible either with custom application software, with off-the-shelf applications (such as HyperTerminal), or with provided samples and utilities, including WinRISC™ ("Windows Really Incredibly Simple Communication).
The serial ports on the device are accessed using a low-profile, latching, 5-pin Hirose connector. Optional breakout cables are available, and bring each port connection to a panel-mountable DB9-M with an industry compatible RS232 pin-out.
PCI Express Mini Card (mPCIe) type F1, with latching I/O connectors
2-port mPCIe RS232 serial cards with optional DB9M connectivity
500V isolation port-to-port and 1500V isolation port-to-computer on ALL signals
High performance 16C950 class UARTs with 128-byte FIFO for each transmit and receive buffer
Supports data communication rates to 921.6kbps
Virtually any custom baud rate may be configured by the user via register settings, no custom oscillator needed
±15kV ESD protection on all signal pins
Supports 9-bit data mode
Supports CTS and RTS
RoHS and Industrial Temp (-40°C to +85°C) both standard
Want A Quote? Get In Touch
Call our experts today for friendly advice on
+44 (0) 1785 879 050