PCI-104 4-port RS-232/422/485 Serial Communication Card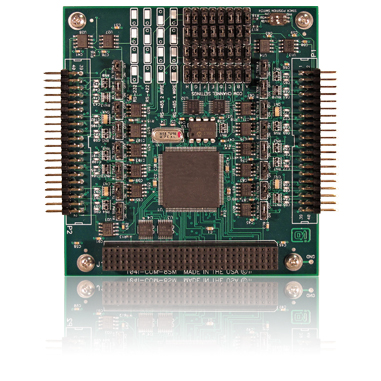 ACCES I/O Official Distributor

Model No:
104I-COM-4SM—PCI-104
These PCI-104 boards feature 4-ports of field selectable RS-232, RS-422, and RS-485 asynchronous serial protocols on a port by port basis. Ports are accessed via two 40-pin IDC type right angle header connectors. The 104I-COM-SM Series are feature-rich and allow for the connection of multiple serial devices—ideal for a variety of applications such as POS, gaming systems, retail, hospitality, automation, kiosks, defense industries, high-density networking, or any other application requiring the connection of RS-232/422/485 serial devices to a PCI-104 compatible system. Each RS-232 port is capable of supporting data communication rates up to 921.6 kbps and implement full modem control signals to ensure compatibility with a broad variety of serial devices. RS-422 and RS-485 modes support data communication speeds up to 1.8432 Mbps. Based on the XR17D158, the boards have eight enhanced 16550 compatible UARTS and include 64-byte transmit/receive FIFO buffers to decrease CPU loading and protect against lost data in multi-tasking systems while maintaining 100% compatibility with all operating system COM port software. Assured Systems offers the 104I-COM-4SM in both standard and extended temperature versions ideal for outdoor applications, harsh industrial surroundings, or military use.
Compute. Control. Communicate.
Call our experts today for friendly advice on
+44 (0) 1785 879 050