2-Port USB to Serial RS-232/422/485 Adapter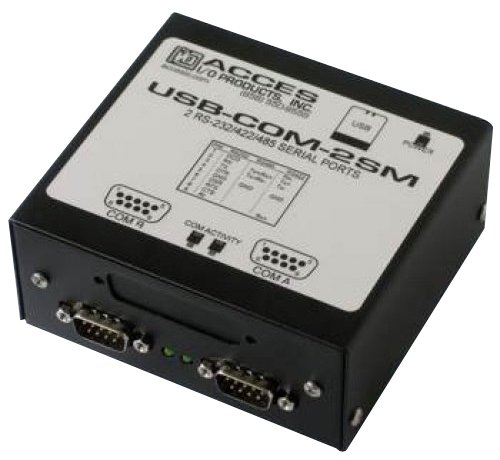 Apple Official Distributor
Size:
101mm (W) x 101mm (D) x 46mm (H)
The USB-COM-2SM is a two-port asynchronous serial communication adapter designed for use with any computer system equipped with a USB port. Multiple peripherals such as POS, barcode scanners, scales, date-entry terminals, data acquisition modules, and automation equipment can now be recognized and used on a single USB port. Simply install the included software and connect the unit to your USB port. It instantly provides two RS-232, RS-422, or RS-485 serial ports which can be selected on a port by port basis. It is now easier than ever to add serial ports and serial devices to any application along with easy plug-and-play and hot-swapping features.
Serial adapter for USB 1.1 and 2.0 port hosts
Two serial ports—field selectable RS-232/422/485
Small, rugged industrial enclosure
PC/104 module size and mounting compatibility
Speeds up to 921.6Kbps
Power and individual port activity LEDs
All required power drawn from USB port, no external power adapter required
Extra downstream USB expansion port
Type B USB connector features industrial strength and high-retention design
Compute. Control. Communicate.
Call our experts today for friendly advice on
+44 (0) 1785 879 050