2-port PCI RS-422/485 Serial Communication Card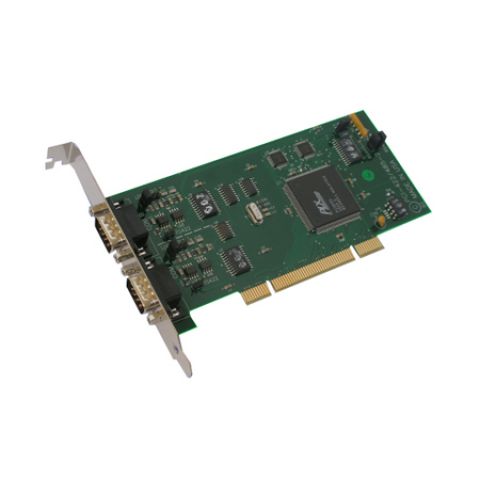 ACCES I/O Official Distributor

Size:
Standard or Low Profile PCI
The PCI-422/485-2 is dual-port, asynchronous serial communications cards designed for use in PCI-Bus computers. The board measures 165 mm long and may be installed in any 3.3V or 5V PCI or PCI-X slot. Each independent port supports RS-422 and RS-485 balanced-mode transmission/reception, and has the capability to add bias voltage. (RS-485 communication requires that one transmitter in the network must supply a bias voltage to ensure a known "zero" state when all transmitters are OFF). Also, receiver inputs at each end of the network should be terminated to eliminate ringing. The PCI-422/485-2 supports these options by means of jumpers on the card. Type 16550 UARTs are used as the asynchronous communication elements. These include a 16-byte transmit/receive FIFO buffer to protect against lost data in multitasking systems while maintaining 100 percent compatibility with the original IBM serial port. A crystal oscillator is located on the card and permits precise baud rate capability up to 115,200. Higher baud rates, up to 460,800 baud, are achieved by changing a jumper on the card. The driver/receivers used, type 75ALS180, are capable of driving extremely long communication lines at high baud rates. They can drive up to ±60 mA on balanced lines and receive inputs as low as 200 mV differential signal superimposed on common mode noise of +12V to -7V. In case of communication conflict, the driver/receivers feature thermal shutdown.
Universal PCI, PCI-X, 3.3V and 5V compatible
Dual-port serial communications card for PCI bus
Supports RS-232(PCI-COM2S only), RS-422, and RS-485 protocols
Automatic control of RS-485 driver under Windows systems
Includes type 16550 UART with 16-byte FIFO buffers
Baud rates up to 460,800 baud
Detected as standard COM ports under Windows 95/98/98se/NT4/NT2000/XP/2003/etc
No base address or IRQ switches to set
Compute. Control. Communicate.
Call our experts today for friendly advice on
+44 (0) 1785 879 050