2-Port Isolated RS-422 PCI Express Mini Card with Wide Operating Temperature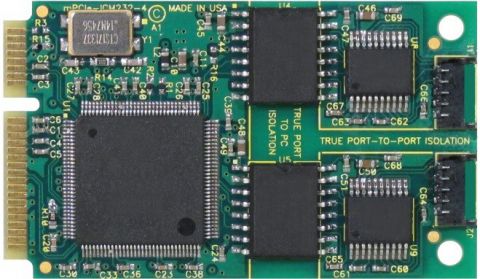 ACCES I/O Official Distributor

Size:
50.95mm (L) x 30mm (W)
The mPCIe-ICM422-2 by ACCESI/O is a PCI Express mini card with 2 x RS-422 isolated serial ports. Each port is capable of communication speeds as high as 3Mbps and has 128-byte deep transmit and receive FIFOs. Large FIFOs protect against data loss in multitasking operating systems, reduce CPU utilization, and improve data throughput, while reducing or eliminating inter-character or inter-packet pauses. The advanced integrated circuit with pre-scalar supports a wide variety of custom baud rates, and any rates not otherwise achievable can be supported via a custom factory-installed crystal oscillator (up to 12Mbps!).
Tru-Iso™ port-to-port and port-to-PC isolation provides a robust solution to common signal level and grounding issues when using long cables to connect computers and other powered devices - up to 500V of difference between pins and adjacent ports and 1500V between each port and the host computer.
Communication is possible either with custom application software, with off-the-shelf applications (such as HyperTerminal), or with provided samples and utilities, including WinRISC™ ("Windows Really Incredibly Simple Communication).
Connector

I/O: Hirose DF57-5P-1.2V 5-pin, latching
Mating: Hirose DF57H-5S-1.2C

Serial Ports: 2 x RS-422
UART: Quad 16C950 with 128-byte FIFO for each transmit & receive buffer
Baud Rates: Up to 3M baud (advanced-prescaler allows a wide variety of unusual baud rates to be achieved. Up to 12Mbps via custom crystal option.)
Character length: 5, 6, 7, 8 bits (contact factory for assistance with 9-bit data)
Parity: Even, Odd, None, Mark, Space
Stop Interval: 1, 1½, 2 bits
Flow Control: Xon/Xoff, None
Operating Temperature: -40°C to 85°C
Storage Temperature: -65°C to 150°C
Humidity: 5% to 95%, non-condensing
Power required: +3.3VDC @ 1.6W (typical)
ESD Protection: ±15kV on all signal pins (IEC 61000)
Want A Quote? Get In Touch
Call our experts today for friendly advice on
+44 (0) 1785 879 050