16-Port RS-232/422/485 To Ethernet Device Server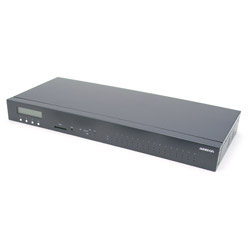 Aaxeon Official Distributor
The STE-516C is a serial-to-Ethernet device server that consists of 2 x 10/100 Mbps LAN ports and 16 combo RS-232/RS-422/RS-485 serial ports. The STE-516C features a built-in powerful ARM9G20 (400 MHz) processor that provides a maximum serial transfer rate of up to 921.6 kbps. The STE-516C can be applied in many serial applications from manufacturing plant, factory and industry as well as building automation, etc. Network Communication with Diverse Protocols Supported The STE-516C device server provides an easy way to enable RS-232, RS-422 and RS-485 serial devices to be Ethernet LAN/WAN ready devices. The STE-516C also provides Web GUI configuration, allowing you to easily configure the device server and serial devices. Furthermore, the STE-516C features a "COM port redirection" function enabling serial communication without socket programs. Various network protocols are supported by the STE-516C including TCP, UDP, Telnet, ICMP, DHCP, TFTP, HTTP, SNMP 1/2/3, SSH and SSL. In addition, server mode, client mode, and virtual serial port mode enable the STE-516C to connect, communicate, and exchange data with user application programs via various methods. All-Purpose Software and Programs Useful software such as COM Port Redirector and PortView are provided with the STE-516C to help facilitate the use of the device server. COM Port Redirector is a software installed on a computer for automatic serial to LAN conversion. As COM Port Redirector is applied, the serial ports of the STE-516C connected through a network can be used as if the serial ports in STE-516C were COM ports from the user's computer. PortView, however, is a program of real-time monitoring of communication status for the STE-516C. From the remote site, users can monitor all input, output data, and the communication status of the STE-516C via each serial port on a Windows operating system.
High Speed ARM9G20 (400 MHz) CPU
Support up to 16 RS-232/422/485 Serial Ports
Support Dual 10/100 Ethernet,LAN and WAN communication
Provide easy-to-use Windows Utility, COM Port Redirector and PortView
Support TCP, UDP, Telnet, ICMP, DHCP, TFTP, HTTP, SNMP 1/2/3, SSH, SSL
Easy IP address configuration with front LCD panel
Management access password protection
Serial Connector: 16 x RJ-45
Serial Interface: RS-232/422/485
Data Rate: 921.6 Kbps Max.
Flow Control: XON/XOFF, RTS/CTS
Data Bits: 5, 6, 7, 8
Parity: None, Even, Odd
Stop Bits: 1, 1.5, 2
Flash Memory: 8MB
SDRAM: 32MB
CPU: ARM9G20 (400MHz)
Network Interface: 2 x 10/100Mbps RJ-45 Ports
IP Address: Static IP, DCHP
Protocols: TCP, UDP, Telnet, ICMP, DHCP, TFTP, HTTP, SNMP 1/2/3, SSH, SSL
Embedded Linux FS: Embedded Linux
Management: Portview, Web, Telnet
Security: Username and Password
Led Displays: TX, RX, Power, LAN, Ready
Power: 100 ~ 240VAC
Power Consumption: 2.5 Watts
Operating Temperature: 0° C to 50° C (32° F to 122° F)
Storage Temperature: -40° C to 85° C (-40° F to 185° F)
Operating Humidity: 5% to 95% (Non-Condensing)
Casing Enclosure: Metal Enclosure
Dimensions: 243 x 193 x 44 mm (9.57 x 7.60 x 1.73 inches)
Weight: 2,470 g
Approvals: FCC, CE
Warranty: 5-year Warranty
Compute. Control. Communicate.
Call our experts today for friendly advice on
+44 (0) 1785 879 050