16 Isolated DIO with Change-of-State Mini-PCIe Module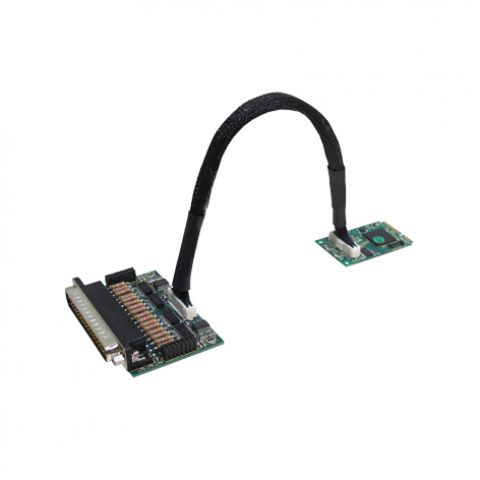 The mPCIe-II-16 consists of a type F1 PCI Express Mini Card (mPCIe) interface board that connects to a Mobile-ITX-sized, DB-37M Isolation Module via an included 9" cable. That module is designed to be easily panel-mounted in any application environment. It uses the high speed PCI Express bus to transfer digital data to and from the card. The digital I/O is compatible with 8255 PPI chips making it easy to program. This allows for simple and trouble-free migration from other ACCES PCI and PCI Express digital I/O cards, but also provides for advanced features enabled by the onboard FPGA logic.
The mPCIe-II family of cards are well suited to complex environments, mitigating otherwise challenging ground-loops, high-common-mode, and transient voltage spikes common in electrically-noisy industrial or factory locations. Individual channel-to-channel isolation allows every channel to be physically and electrically separated from the others. The broad voltage compatibility allows use in a wide range of applications.
PCI Express Mini Card: Type F1 "Full Length" V1.2
Isolated Inputs

Number: 16, 8 or 4
Type: Non-polarized, optically isolated from each other and from the computer (CMOS compatible)
Voltage: 3 to 31 DC or AC RMS (40 to 10000Hz)
Isolation: 500V channel-to-ground and channel-to-channel
Resistance: 1.8KΩ in series with opto-coupler
Filter Response

Rise-time: 4.7 ms
Fall-time: 4.7 ms

Non-Filter Response

Rise-time: 10 μs
Fall-time: 30 μs

Digital I/O Lines

Number: 4
Type: High Side Power MOSFET Switch. Protected against short-circuit, over-temp, ESD; drives inductive loads.
Voltage Range: 5-34VDC recommended (customer supplied) for continuous use, 40VDC absolute maximum
Current Rating 2A maximum
Turn On time: 90μsec
Turn Off time: 110μsec
Digital Inputs (4 or 2 LVTTL)

Logic High: 2.0V to VCCIO (3.3VDC, 5VDC tolerant)
Logic Low 0V to 0.8V

Digital Outputs (4 or 2 LVTTL)

Logic High: 2.0V (min) 24mA source
Logic Low: 0.55V (max) 24mA sink

Environmental


Operating: 0°C to 70°C (order -T option for industrial temperature -40°C to 85°C)
Storage: -65°C to 150°C
Humidity: 5% to 95%, non-condensing
Power required: +3.3VDC @ 360ma (typical)

Physical

mPCIe card characteristics
Weight: 6.2 grams
Size

Length: 50.95mm (2.006″)
Width: 30.00mm (1.181″)

I/O connector

On-card: Molex 501190-4017 40-pin latching
Mating: Molex 501189-4010

Isolation board characteristics

Weight: 38.2 grams, (+11.2 grams for the 9" cable)
Size (Mobile-ITX sized)

Length: (2.952″)
Width: (1.1.772″)

I/O connector

On board: Male, D-Sub Miniature, 37-pin
Mating: Female, D-Sub Miniature, 37-pin
Want A Quote? Get In Touch
Call our experts today for friendly advice on
+44 (0) 1785 879 050