15.6" Intel Core i7/i5 Fully-Rugged Notebook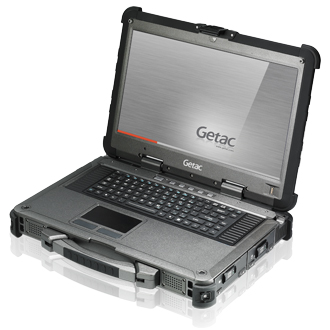 Size:
410mm (W) x 290mm (H) x 65mm (D)
The Getac X500 is the first rugged and fully equipped standard military grade commercially available notebook. For the first time, a customised military grade I/O interface is configured into standard specifications, enabling full compliance with military standards. Combined with Intel Core i5-520M or Intel Core i7-620M processors and NVIDIA GeForce GT330M 512MB graphic controller, Getac X500 offers excellent processing performance. The built-in PCI & PCIe interfaces allow simple and flexible system configuration. Ninety percent of the Getac X500 is made with metal, rubber and plastic materials, offering superior performance and compliance to MIL-STD-810G and IP65 certified ratings. In military field testing the Getac X500 was used to run special military software and perform quick conversions of 2D and 3D images and precise location positioning of allied and enemy forces, thus proving the devices combination of ruggedness and performance in a compact mobile platform.
Operating System: Windows 7 Professional or Windows Vista Business
Computing Platform: Intel Core i7 620M 2.66GHz or Intel Core i5 520M 2.93GHz Chipset: Mobile Intel QM57 Express
Graphics: Intel HD Graphics; optional NVIDIA GeForce GT330M 512MB
Display: 15.6" TFT LCD (1366x768)
Brightness: 1000 NITS QuadraClear Sunlight Readable Display with Multi-Touch Screen.
Optional nightvision.
Memory: 2GB DDR expandable to 8GB
Storage: SATA HDD 320GB; optional 160GB Solid State Drive
Keyboard: Membrane with optional LED Backlit Membrane/Rubber Keyboard
Pointing Device: Touchpad with optional Touchscreen
Expansion: PCMCIA Type II x 2, ExpressCard/54, Smart Card Reader
Serial Ports: 2 x RS-232
Audio: Mic-in, Line-out
USB: 4
Ethernet: 2 x 10/100/1000
Video Out: HDMI
IEEE 1394b: 1
Connectors: Pass-through for GPS, Wi-Fi and GSM
Power: AC adapter (90W, 100-240VAC, 50 / 60Hz)
Battery: Li-Ion smart battery (8700mAh)
Second Battery: Optional Multimedia Bay 2nd Lithium-polymer smart battery (8700mAh)
Compliance: MIL-STD-810G, MIL-STD-461F and IP65 Certified, optional UL1604 Class 1/Division 2
Case: Full Magnesium Alloy
Operating Temperature: -20 to 60 Degrees Centigrade
Want A Quote? Get In Touch
Call our experts today for friendly advice on
+44 (0) 1785 879 050