1-Port RS-232 To Ethernet Device Server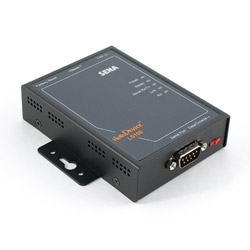 Aaxeon Official Distributor
Size:
100mm(W) x 72mm(L) x 25mm(D)
The LS100 is the most cost effective one port serial-Ethernet communication device. The LS100 supports RS232 serial communication allowing virtually any asynchronous serial device to be accessed over a network. The LS100 supports open network protocols such as TCP/IP allowing serial devices to be accessed over broadband network or a conventional LAN (Local Area Network) environment. The LS100 provides the management console using Telnet and the serial console port under the password protection support. The LS100 also provides the management function using the HelloDevice Manager Software Utility.
Connects legacy serial devices to 10Base-T Ethernet network
Supports RS232 based serial devices via DB9 serial port
Serial data transfer rate up to 115Kbps
Reliable TCP/IP protocol stack
PPPoE protocol for DSL connection to broadband network
Low-price model for lowest transition cost
Configuration via telnet or serial port
Management software for configuration and administration
Serial Connector: Male DB9
Serial Interface: RS-232
Data Rate: 1200bps ~ 115Kbps
Flow Control: None, Hardware
Pins RS_232: RS232: Rx, Tx, RTS, CTS, DTR, DSR, GND
Network Interface: 10 Base-T Ethernet with RJ45
Protocols: ARP, IP/ICMP, TCP/IP, Telnet, DHCP client, PPPoE
Management: Telnet, Serial console port & HelloDevice Manager
Security: User ID & Password
Led Displays: Power/Ready/10 Base-T Link/Act, Serial Rx, Tx
Power: 7.5V ~ 15V DC
Supply Power Current: 300mA / 7.5V DC
Operating Temperature: 5° C to 55° C
Storage Temperature: -40° C to 66° C
Dimensions: 100 x 72 x 25 mm (3.94 x 2.83 x 0.98 inches)
Weight: 240g
Approvals: FCC(A), CE, MIC
Microsoft: Win 98/ME/NT4/2000/XP/Vista
Linux: Linux x86
Unix: Unix98 pty driver (included in Linux by default)
Cable: Serial data cable
Power Adapter: External 110V power adapter
Warranty: 5-year Limited Warranty
Compute. Control. Communicate.
Call our experts today for friendly advice on
+44 (0) 1785 879 050