Assured Systems are pleased to announce the release of the NDiS B324 low cost fanless embedded computer aimed at multi-media applications such as digital signage.
The product is one of the very first systems based around the Intel's new Bay Trail family of processors which offer significant improvements in performance versus power consumption. Thanks to the new system on chip design (SoC), there are many advantages, most noticeably, and pertinent to the multimedia market, is the big leap in graphical performance thanks to the Intel Gen7 HD graphic processor, which provides stunning visuals with sharp and smooth HD video playback.
Key Benefits
Compact Size
Low Cost
Industrial Grade & Fanless
Strong CPU & Graphical Performance
Despite it's compact size, the B324 system offers a wealth of connectivity via four USB 2.0 ports (1 x USB 3.0), a serial port, Gigabit Ethernet, plus a Mini-PCIe slot for adding Wi-Fi or 3.5/4G support. The system is housed in a rugged, fanless aluminium chassis ideal for applications where dust is present, and measuring just 180mm x 150mm x 25mm, smaller than a sheet of A5 paper. Whilst it lends itself to multi-media applications, the NDiS B324 industrial grade computer could be a great fit for any application that requires a small, high reliability, revision controlled platform, such as industrial control, factory floor automation, pharmaceutical management & dispensing, inventory control and POS systems.
Our experienced sales team can offer the most up to date information and suggest options which fit your specification and budget; depending on location, please call the numbers listed at the top of the page or use the contact form to send us your requirements.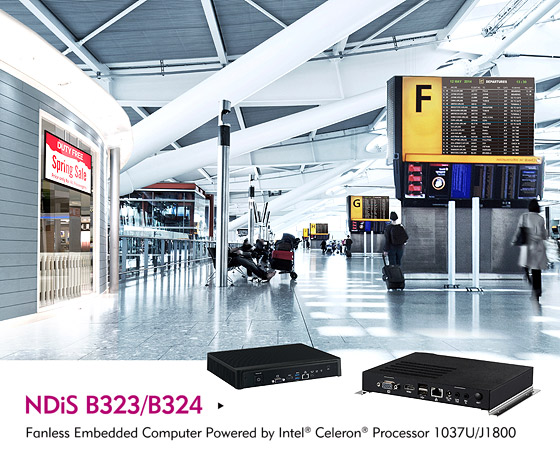 About Assured Systems
Assured Systems is a leading technology company offering high quality and innovative applied computing solutions to the embedded, industrial, and digital-out-of-home markets across the world. Headquartered in Stone, England and with offices in North America and the UAE (coming Q4 2015), our reach is truly global. Our impressive product portfolio includes a full range of Fanless Embedded Computer Systems, Digital Signage & Multimedia Computer Systems, Touchscreen Panel PCs, Human Machine Interfaces, Vehicle Mount Computers, Rackmount Computer Systems, Single Board Computers, Rugged Laptops & Tablets. Please call the numbers listed above or visit our website at www.assured-systems.com for more information.