In this article:
PoE Power Devices - Simplify Your Install With One Cable Connection
Power over Ethernet (PoE) allows network cables to carry electrical power, simplifying your installs. Our PoE devices bring new benefits to a whole host of new applications.
Power over Ethernet (PoE) allows network cables to carry electrical power, enabling peripherals like digital security cameras to be fed power whilst simultaneously transferring and receiving network data from embedded computers, which then in turn manage the information to display equipment. PoE power gives the following advantages:
Time & Money Saving – No need to pay for and install electrical power cables. Port to port Ethernet cables don't need qualified electricians to be installed.
Flexibility – Siting is not restricted to where there's power, and can be repositioned easily.
Safety – PoE is designed to protect the network and power is regulated via the connected devices.
Scalability – Distribution of network cables is a simple and effective
This is not new technology, but with the advancement of CPUs being able to operate with such low power, the application of PoE has moved from peripherals to the embedded devices themselves. Assured Systems now supply a range of devices that can be powered solely via a PoE cable, bringing the benefits of PoE powering to a whole host of new applications.

ICO 310
The ICO310 by Axiomtek is a robust fanless IoT gateway. The small system is especially flexible in it's placement options because of it's PoE power supply and by it being able to be DIN rail mounted. The embedded system is based around a choice of Intel Celeron Braswell (codename) pair of processors, the N3060 1.6GHz dual core or the N3160 1.6GHz quad core. Both of which provide great performance versus the low power needed for PoE power operation. It does however have the option of a Power DC-input if needed.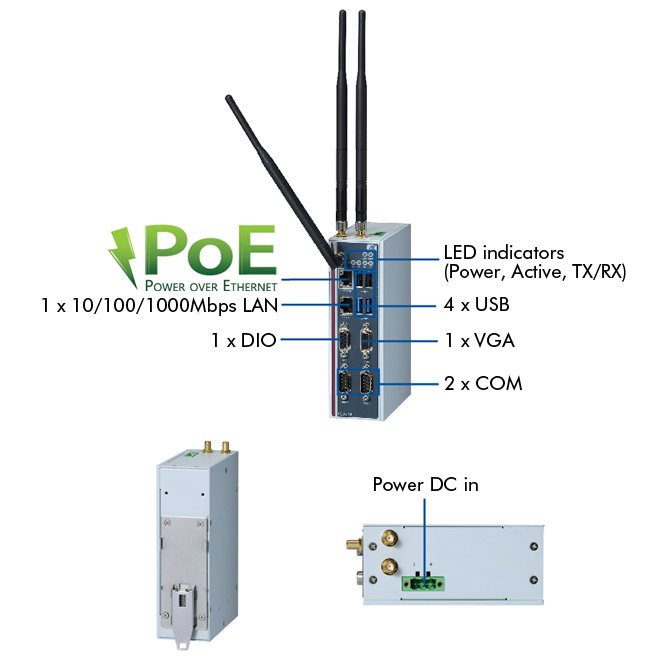 MAIN FEATURES
CPU: Intel Celeron processor N3060 (1.6 GHz/2-core) or N3160 (1.6 GHz/4-core)
Operating Temperature: -20C ~ +60C
Serial: 2x RS-232/422/485
USB: 2x USB 3.0 2x USB 2.0
LAN: 2x 10/100/1000 Mbps
Digital: 1x DIO
Display: 1x VGA
Storage: 1x mSATA, 1xSATA
Power: 12-24V DC
PoE: 1x IEEE 802 3at
Expansion: 2x Full size PCI Express Mini, 1x Sim slot, 3x Antenna
Certification: CE, FCC

Assured can also supply PoE powered Panel PCs from Winmate. These stylish looking all-in-one computers have been designed to suit applications where looks matter. Convenience is also key with these machines as they can all be powered via PoE, making placement a great deal easier.

These stylish PoE powered PCs are a perfect fit for:
Home automation – is a growing industry with multiple applications emerging from various sectors. The opportunities to develop software solutions for home automation is growing also. Automation applications in the home include energy saving, domestic appliance management, heating and air conditioning control, access control for humans and pets, a huge range of security and surveillance functions and entertainment control.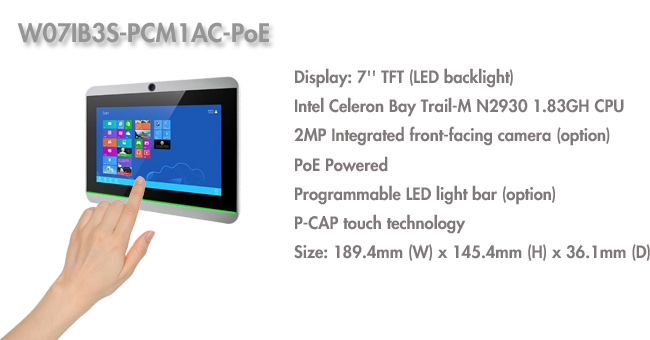 Panel PCs can easily be utilized as a control panel for any/all home automation applications when suitable software is devised. These systems are perfect for home integration with stylish exteriors and optional programmable LED bar lights. The programmable bar light LEDs are useful for successful or failed indications. Optional front facing cameras also further the scope for home automation solutions.
Check-in – panel PCs are now standard for Doctors surgery waiting rooms and the application is currently underused. Opportunities for check-in and door entry are vast for travel, leisure facilities, activity centers and in particular, holiday lets and Air BnB properties.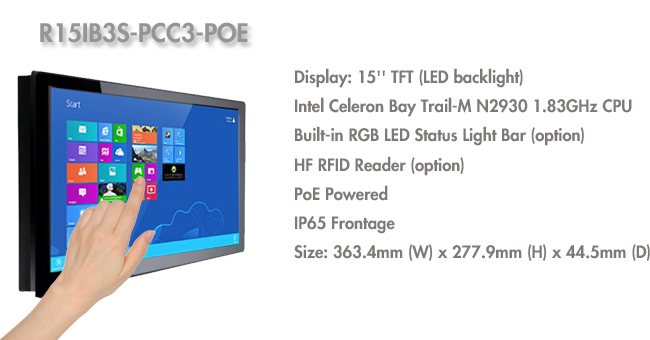 These units can be programmed with software to manage check-in details and manage premises access. The bar light strip can indicate entry success or failure through green or red lighting and relay data to automated locking mechanisms to trigger entry to buildings.
Building Management – Whether it be a leisure facility with squash and tennis courts or a conference facility, the potential for a smart display to show booked details and manage entry is great. With the addition of a HF RFID Reader, bookings can be designated to cards or barcoded print off vouchers that can be scanned at the point of entry.

Contact us for more information and pricing on PoE powered devices which will bring extra options to your projects and simplify your install.

About Assured Systems
Assured Systems is a leading technology company offering high quality and innovative applied computing solutions to the embedded, industrial, and digital-out-of-home markets across the world. Headquartered in Stone, England and with offices in North America, our reach is truly global. Our impressive product portfolio includes a full range of Fanless Embedded Computer Systems, Digital Signage & Multimedia Computer Systems, Touchscreen Panel PCs, Human Machine Interfaces, Vehicle Mount Computers, Rackmount Computer Systems, Single Board Computers, Rugged Laptops & Tablets.