The PhanTAM series enhances overall features especially in hygienic design.
APLEX Technology Inc., a global industrial computer products solutions provider, is proud to announce their newly launched stainless steel panel PC and display solution – PhanTAM, powered by the Intel 11th Generation Core processor, providing high computing performance and suitable for high hygienic standards applications, such as food and beverage automation, the pharmaceutical industry, chemical industry and clean rooms.
The PhanTAM is specially design to be the upmost hygienic solution for strictest of standards and requirements, constructed with SUS304 or optional SUS316 stainless steel with two size of panel available, 15.6" and 21.5".
In order to make it look more stylish and modern; it comes in an ultra-thin frame, full-range panel and its new mechanical design can reduce system weight as well.

Being both IP66 and IP69K certified, the PhanTAM 9C Series systems can resist high temperature and high-pressure water jet up to 100 bars at 80 degrees Celsius. Its hygienic bolts and the blue silicone rubber O-ring, can prevent water, dust and even bacteria accumulation.

Its I/O interfaces, are equipped with waterproof M12 connectors. The panel PC has 2 x USB2.0, 1 x COM, 1 x LAN and 2 expansion slots for optional modules and I/Os, whilst the display supports 1 x VGA, 1 x HDMI and an OSD control. Moreover, the PhanTAM Panel PC series supports Wi-Fi 6 and LTE to level up the wireless communication performance, simultaneously offering better transmission speed and reducing latency.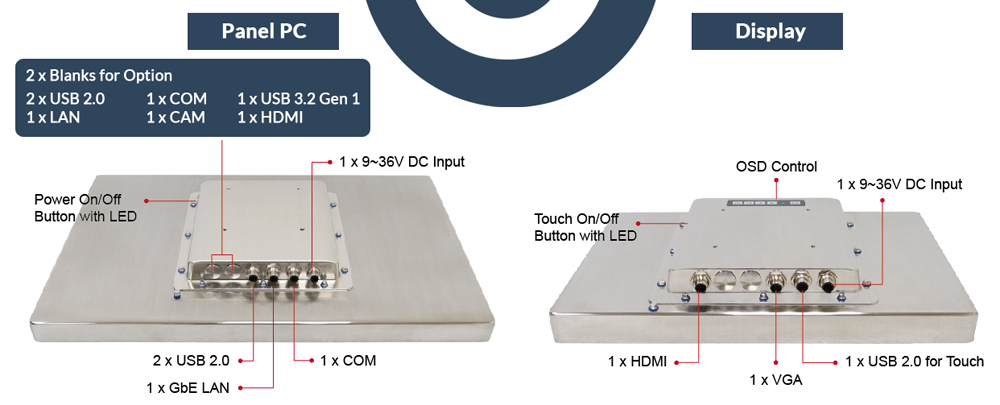 The PhanTAM supports various mounting kits to fit in different application forms. For example, VESA mount, floor mount, stand mount, desktop mount and swing arm mount. In addition, it is able to exchange between landscape mode and portrait mode to fulfill every working style. The swing arm kit has multiple configurations and all cables can be stored together to avoid dust accumulation to make the environment neater and cleaner.

The PhanTAM 9C Series is a robust system, offering great performance whilst having many advantages. Aplex endeavoured on making it a rugged solution for usage where hygiene is essential, by equipping it with stainless steel construction, hygienic screws, featuring waterproof and flexible I/O interfaces.
Therefore, APLEX PhanTAM series is well suited for factories that put hygiene as their top priority.