In this article:
The Client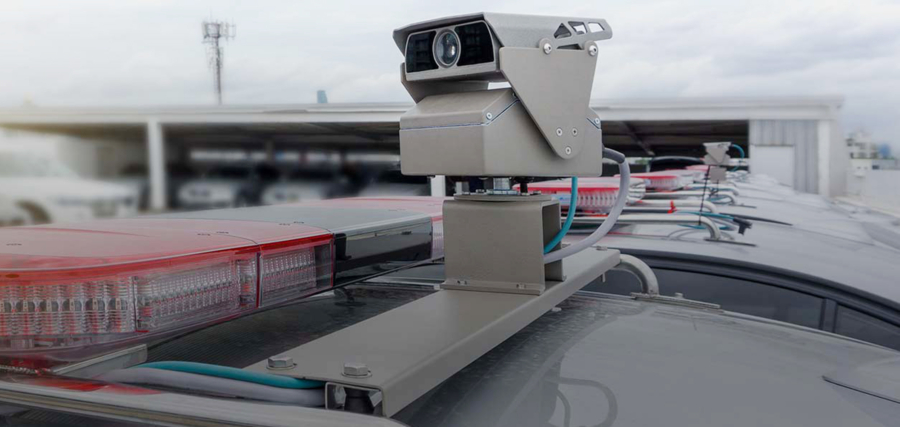 An Automated License Plate Recognition (ALPR) system helps law enforcement to detect and find stolen vehicles and those of interest.
As an aid to fighting crime, technology can be used, from something as simple as a dipstick test to something advanced and complicated, such as DNA matching.
With the application of automated license plate recognition systems, police with bodycam and their vehicle (car or motorcycle) mounted cameras, coupled with recognition software, can read multiple license plates in a single view.
The data is initially checked against a smaller edge database (stored on police vehicles) for recently reported license plates, while the processed edge data can later be uploaded back onto the server to be cross-checked with the backlogged database.
The system allows law enforcement personnel to safely perform the checks undetected and not set off any alarms for the perpetrator.
The Demands of The Application
The camera can be inside or on top of the vehicles, though mounting on top is a preferred option as it gives a better view for license plate scanning.
When cameras operate in outdoor environments, where lighting conditions are a factor and where the rain can also affect its operations, the cameras need to be waterproof and the DVR or onboard computer needs to be able to withstand in-vehicle environments, such as elevated operating temperatures, confined space, shock and vibration.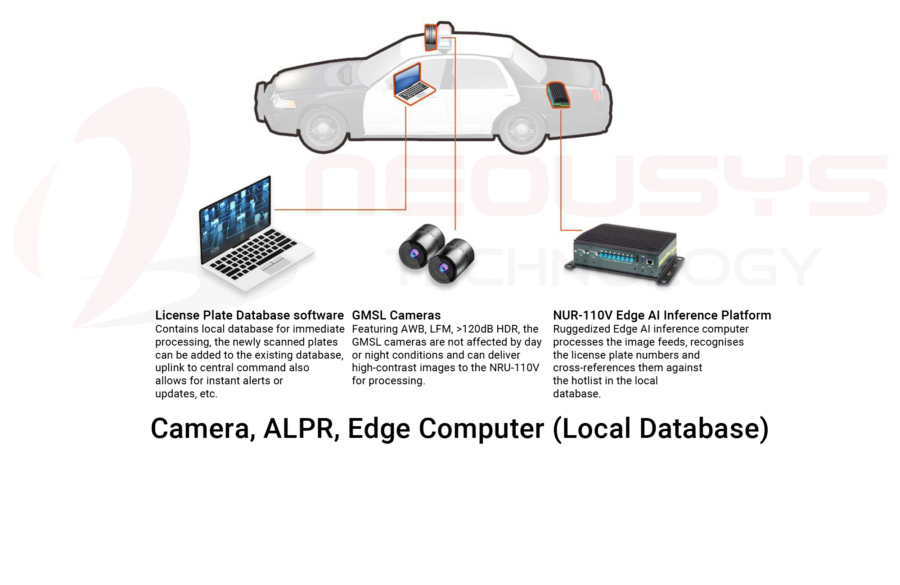 The Solution
Having a system that can operate in in-vehicle conditions and cameras that operate in various lighting conditions whilst in the rain meant the client chose to utilize the Neousys NRU series edge computers.
The Neousys NRU series edge computers support GMSL cameras that have IP67 waterproof characteristics, high dynamic range (>120dB HDR), auto white balance (AWB) and LED flickering mitigation (LFM) and is not affected by lighting conditions, sunny, overcast or in the dark.
The NRU series edge computer powered by NVIDIA® Jetson AGX Xavier, offers TFLOPS inference performance, perfect for image recognition applications.
Furthermore, the NRU series systems are compliant with MIL-STD-810G and built to withstand the shock and vibration conditions of a moving vehicle and compact enough for installation within a confined space
In addition, the NRU series systems, come with ignition power control to protect the computer from power surges at startups and offer true wide-temperature operation capabilities.
Benefits of Neousys Rugged Embedded Computers
Neousys NRU series rugged computers offer the following advantages:
Environmental
Rugged chassis construction for extra volatile environmental conditions
True -25°C up to 70°C wide-temperature operations for harsh, volatile environments
MIL-STD-810G certified to withstand shock and vibration
Compact systems to fit into tight spaces
Connectivity
8x GMSL FAKRA Z connector, supporting 8x 1280×720 @ 30 FPS camera input
1x 10GBASE-T 10G Ethernet port by Intel® X550-AT controller
CAN bus 2.0 port
1x GPS PPS input, 3-CH isolated DI and 4-CH isolated DO
3x USB 3.1 Gen1 (5 Gbps) ports
Inference processing power
NVIDIA® Jetson AGX Xavier™ System-on-Module, comprising NVIDIA® Volta GPU and Carmel CPU
Electrical
Wide-range DC input
Ignition power control