In this article:
The Client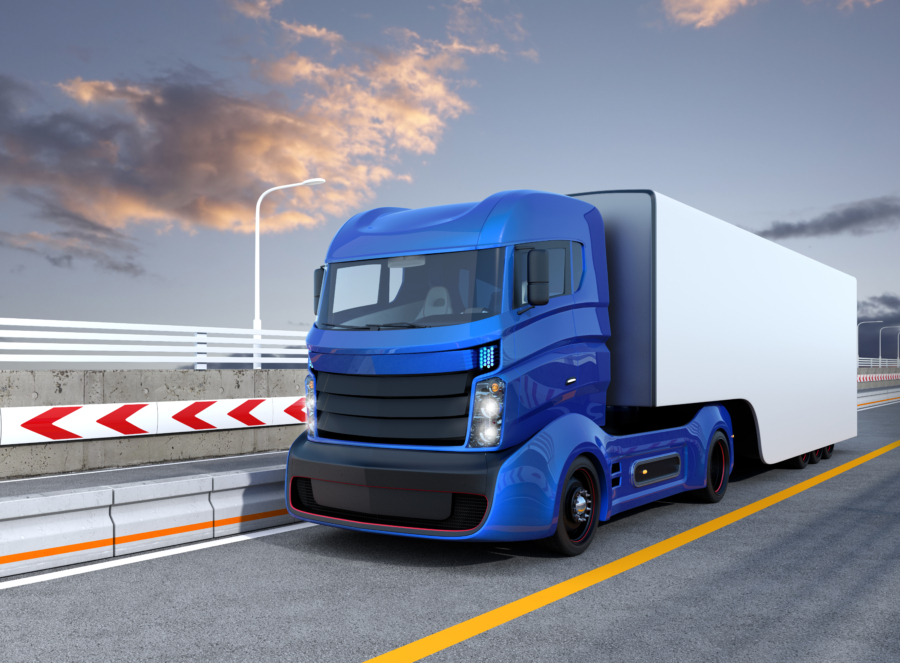 Long-haul Semi-trailer trucking is the backbone of the economy for many countries and serves as a means to deliver or distribute mass essential goods or materials.  Millions of tons of goods and materials shipped via long-haul vehicles each day to sustain our daily lives. While deliveries mostly go unnoticed, the dangers and hazards are reported daily.
One of the more common problems with long-haul trucking is the hours a driver must endure.  Imagine a cross-country drive in the USA, it is approximately 2800 miles, coast to coast and it needs to be driven in a matter of days.
Upon arriving at the destination, the driver and the truck face the daunting task of travelling the exact same distance back to their starting point.
The Demands of The Application
Delivering goods and materials from A to B over thousands of miles whilst driving 100+ hours a week means driver fatigue.  In addition to driver safety, the long haul may involve transporting hazardous loads such as dangerous chemicals, live stocks, petroleum and pressurized gas, which may also be problematic in the event of an accident.
The solution would need to be able to connect to a variety of sensors, collect and process data, whilst withstanding the constant shock/vibration environment of a semi-trailer.  It would also need to operate for extended periods of time.
The Solution
The client went with the Neousys Technology Nuvo-8108GC series to use as their central autonomous vehicle controller.  The Nuvo-8108GC series support up to RTX 3080 graphics cards, with the ability to connect to a variety of sensors and collect and process the data while withstanding the constant shock/ vibration environment of a semi-trailer.
The benefits brought by autonomy solve:
Driver fatigue: Bringing safety to the semi-trailer driver, other car users on the road and goods/ materials themselves
Optimization for performance: With the driver in standby mode, drivers are much less likely to be fatigued and the autonomous semi-trailer can drive further distances and longer hours at a time without stopping, offering fuel efficiency and less wear and tear.
The GPU-aided inference technology is geared for:
Advance machine-learning capability: Traveling for thousands of miles, situations may arise, that the autonomous computer won't recognise, so the human driver will take over the wheel and manoeuvre around the situation on the road whilst the GPU-aided inference central computer will "take note and learn" to help it better recognise similar incidents in the future and perform the manoeuvres necessary to get around it.
The Nuvo-8108GC series GPU-aided platform was the obvious choice. The platform offered processing power, USB3.1 Gen1, PoE, COM port (for LiDARs, RADARS & CAMERAS), wireless communication (5G/ 4G for real-time information), CAN bus, other function expandability and patent damping bracket to withstand constant shock and vibration for the system to withstand operating conditions of a semi-trailer.
Benefits of Neousys GPU Platform
Neousys GPU platforms offer the following benefits:
Efficient and patented thermal dissipation design
Effective and patented shock and vibration bracket
GPU inference processing power
4G/ 5G module connectivity for V2X
CAN bus for vehicle module communication
Neousys GPU-aided Edge AI platforms are ideal inference central processing units. Coupled with modularized sensor components and an advanced algorithm, the system can identify objects, pedestrians and complex situations and make spontaneous adjustments based on an object moving path prediction.
Neousys Rugged DNA
Fanless and true wide temperature operation
Patented thermal dissipation design to sustain true wide-temperature operation, Neousys systems thrive in harsh conditions, specifically under high-temperature operations (up to 70°C).
Processing power
Neousys Nuvo-6000 supports 6th Gen while Nuvo-7000/ 8000 GPU-aided series systems support 9th/ 8th Gen Intel® Core™ i CPUs.
GPU-aided AI inference systems
Nuvo- 6000/ 7000/ 8000 GPU-aided series systems support NVIDIA® RTX graphics cards up to RTX 3080.
Nuvo-7162GC/ 7164GC/ 7166GC systems support NVIDIA® Quadro P2200/ Tesla® P4/ T4 inference accelerators.
NRU systems feature NVIDIA® Jetson AGX Xavier offering similar GTX-1660Ti performances while consuming only 30W
Shock and vibration proof
Featuring patented damping brackets, the system is designed to withstand operating shock and vibration conditions.
Wireless communication module and various I/O ports
Via expansion sockets, Neousys systems can add on WiFi 6/ WiFi 5, 4G/5G cellular modules, or both in the system. They offer wireless communication with other nearby devices, central computer, or cloud systems. Also, systems are equipped with CAN bus, USB3.0 Gen1, LAN, COM, etc.ules to offer wireless communication with other nearby devices, central computer or cloud systems. The IGT series IIoT systems may also offer analog inputs (0-10V, 4-20mA), digital I/Os, CAN bus, USB, LAN, COM, etc.