Assured Systems is pleased to announce the launch of our latest digital signage solution aimed at applications where cost and performance are paramount. The DS-370 from world-leader Advantech is a powerful quad-core embedded computer system aimed at the digital signage and multimedia markets. Powered by Intel's acclaimed quad-core Celeron J1900 processor, the DS-370 offers similar performance to previous generation i3 CPUs but at a fraction of the cost and paired with Intel's latest HD graphics, it fits most modern multimedia applications perfectly. The system supports dual Full HD 1080P playback via either HDMI, DisplayPort or VGA for legacy applications.
Equipped with a full compliment of I/O including two serial ports, four USB (including USB 3.0), audio, dual LAN and two Mini PCIe slots for adding wireless functionality via Wi-Fi or 3G. The system is housed in a compact and rugged aluminimum chassis which allows fanless operation vastly improving reliability and eliminating fan noise. The DS-370 has a cable free design and a sliding storage bay accessible from the side for easu maintanance alongside lockable power and HDMI connections for increased robustness.
The DS-370 is also one of the first digital signage players to feature an on-board storage design as an option. The 64GB Micro SSD design guarantees much faster boot times and high performance read and write speeds, allowing the system to boot twice as quickly than those systems still using traditional hard drives. Advantech have cleverly added a 'Flash Vault' to this option which, once enabled, provides complete write protection to the whole disk (or partitions of it) to protect the system from unwanted access or accidently overwriting of content and application files.
View our full range of digital signage computer systems. Our experienced sales team can offer the most up to date information and suggest options which fit your specification and budget; depending on location, please call the numbers listed at the top of the page or use the contact form to send us your requirements.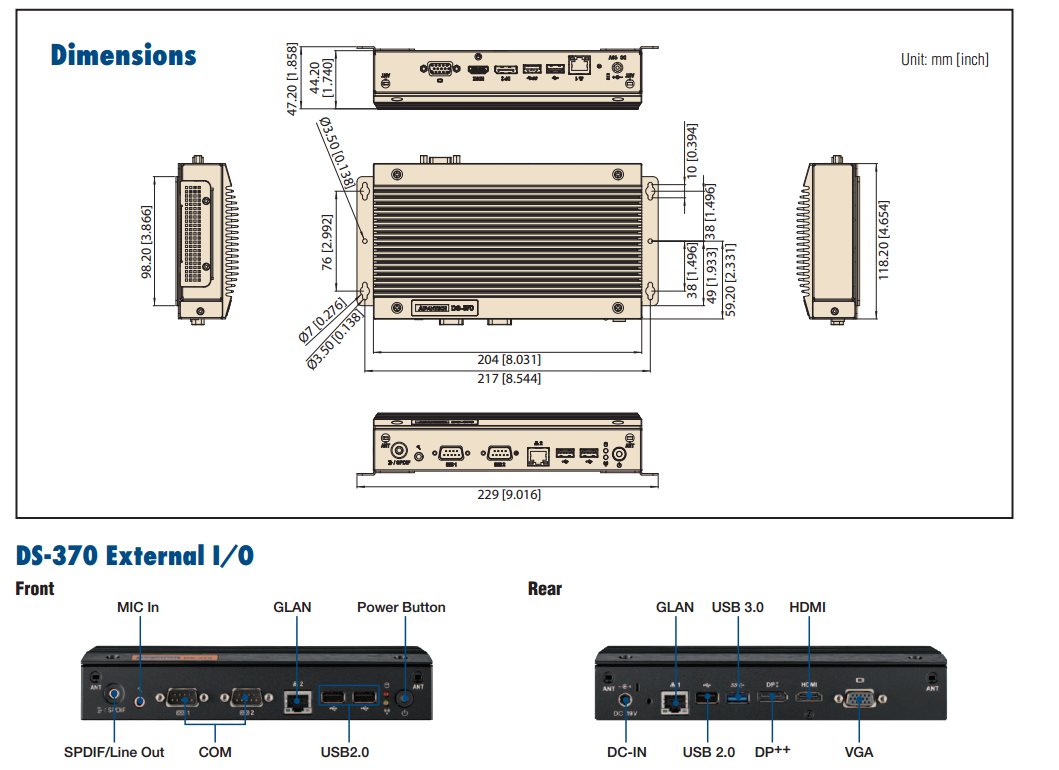 About Assured Systems
Assured Systems is a leading technology company offering high quality and innovative applied computing solutions to the embedded, industrial, and digital-out-of-home markets across the world. Headquartered in Stone, England and with offices in North America and the UAE (coming 2015), our reach is truly global. Our impressive product portfolio includes a full range of Fanless Embedded Computer Systems, Digital Signage & Multimedia Computer Systems, Touchscreen Panel PCs, Human Machine Interfaces, Vehicle Mount Computers, Rackmount Computer Systems, Single Board Computers, Rugged Laptops & Tablets. Please call the numbers listed above or visit our website at www.assured-systems.com for more information.