What is Optical Bonding?
Optical bonding is a process where a layer of resin is applied between the glass or touchscreen and LCD module of a monitor, bonding them to make a solid laminate with no gaps or pockets of air. When choosing a screen for any project, you should evaluate the environment and operating conditions the screen will have to endure. Industrial grade screens and panel PCs are made rugged with all types of features available to withstand any type of application. One such feature available to consider is optical bonding.

When screens (including touchscreens) are manufactured, the front glass of the screen is layered onto the LCD module. This doesn't present a problem in standard viewing environments, however in certain conditions, like with outdoor placement, the tiny gap between the 2 layers can impair viewing performance.
What are the benefits of optical bonding?
Optical bonding makes screens more readable in sunlight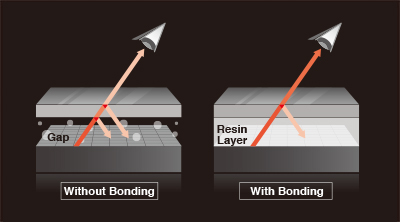 The display from an un-optically bonded monitor is created by the light of the LCD reflecting through the gap and then the outer glass of the screen. The light is interrupted and bends when it passes through the gap and glass of the screen and some of the light is actually reflected back to the LCD module, this is called refraction. This refraction through the layers impairs the intensity and clarity of the end image and thus lowers brightness and readability. By bonding the LCD module and glass together you remove the interruptions and chances for the light to be reflected back. More light gets through to the surface of the screen and therefore the image is brighter.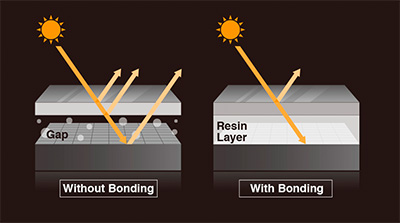 The same principle is applied when an external source of light hits the screen. With an un-bonded screen, the gap between the glass and LCD module creates opportunities for refraction which bounces external light back off the screen to the viewer as glare. When bonded together the light passes through the bonded layers and is absorbed somewhat into the screen. Optical bonding is therefore important in making screens sunlight readable.
Optical bonding makes screens more physically durable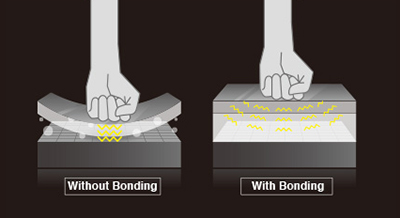 The additional resin layer in optical bonding absorbs shock. This provides high durability for use in public access areas, factories, or other harsh environments.
Optical bonding prevents condensation
The most obvious benefit to adding a resin bonding layer between the glass and LCD module is that it physically prevents dust and liquid ingress from getting between the two. The quality of manufacturing means that dust and water isn't a big problem for screens in standard environments. What can be a problem however is condensation getting between the glass and LCD module in environments with wide temperature ranges or fluctuating humidity. Condensation can cause screens to become foggy from moisture that penetrates the air gap. Again, the physical filling of the gap prevents this problem from arising. Optical bonding should therefore be considered for any outdoor application as well as indoor applications where consistent temperatures aren't maintained.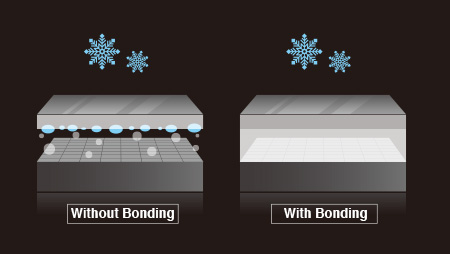 Optical bonding makes for more accurate touch technology
A touch monitor with optical bonding maintains a more accurate touch response because the pressure is maintained through the substrate, rather than being delayed by a gap.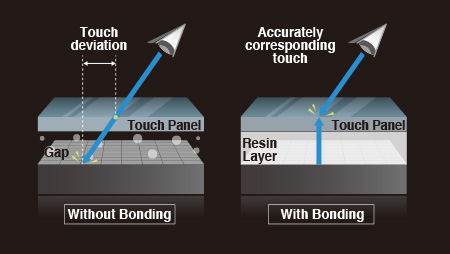 When don't I need Optical Bonding?
Optical bonding is a time consuming additional process to the manufacture of a screen and can therefore be costly, especially if a project demands multiple screens. Assured Systems has a technical sales team who have applied their decades of experience to thousands of projects where optical bonding has and hasn't been used. You can trust us to objectively support your project needs with accurate and principled advice - contact us today with your requirements and we'll be happy to advise you.
About Assured Systems
Assured Systems is a leading technology company offering high quality and innovative applied computing solutions to the embedded, industrial, and digital-out-of-home markets across the world. Headquartered in Stone, England and with offices in North America, our reach is truly global. Our impressive product portfolio includes a full range of Fanless Embedded Computer Systems, Digital Signage & Multimedia Computer Systems, Touchscreen Panel PCs, Human Machine Interfaces, Vehicle Mount Computers, Rackmount Computer Systems, Single Board Computers, Rugged Laptops & Tablets.