Introducing the Nuvo-5608VR Series, coming soon from Neousys
The Nuvo-5608VR is a fanless surveillance system designed for real-time video analysis and streaming. Based around the Intel 6th-Gen Core I processor family, this system has a massive storage capacity of up to 24 TB, making it a future choice for emerging intelligent surveillance and security applications.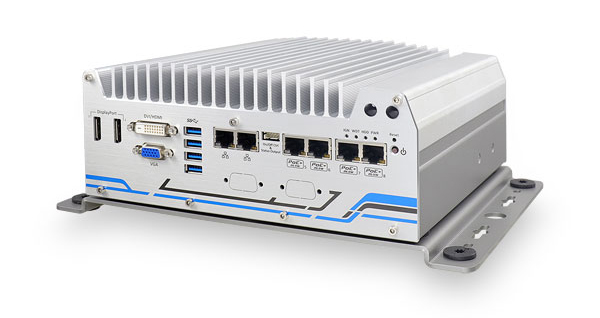 Processor Options
Intel Core i7-6700 (8M Cache,3.4/ 4.0 GHz, 65W TDP)
Intel Core i5-6500 (6M Cache, 3.2/ 3.6 GHz, 65W TDP)
Intel Core i3-6100 (3M Cache, 3.7 GHz, 51W TDP)
Intel Core i7-6700TE (8M Cache, 2.4/ 3.4 GHz, 35W TDP)
Intel Core i5-6500TE (6M Cache, 2.3/ 3.3 GHz, 35W TDP)
Intel Core i3-6100TE (4M Cache, 2.7 GHz, 35W TDP)
Over 3 Months of 1080p Video Storage
This rugged surveillance computer features 8 x Gigabit PoE+ ports, compatible with IP cameras and sufficient in bandwidth to collect high definition footage from said cameras, whilst being able to perform real-time video analytics. The system is able to do this by having 2 x 3.5" hard drives with RAID 0/1 configuration, storing up to 24 TB. That translates to over 3 months of footage from 8 channels of 1080p @H.264 video.
Wide Operating Temperature
The Nuvo-5608VR has a dedicated heat sink engineered to protect the HDD storage, allowing the system to operate in temperatures between -10°C ~ 60°C. When SSD storage is integrated, this operating temperature extends from -25°C ~ 70°C.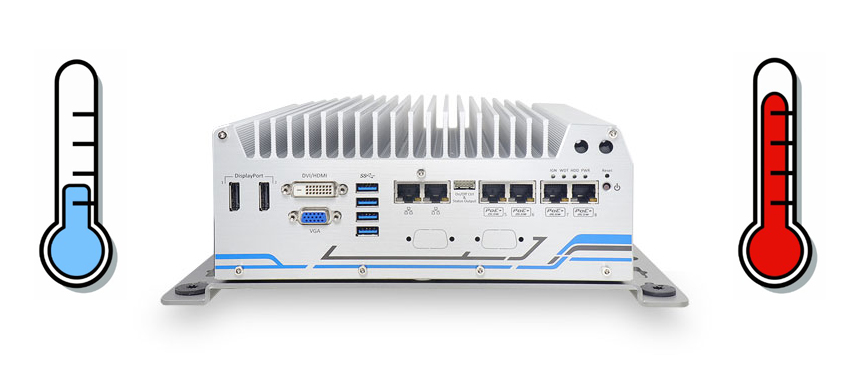 Rugged
Neousys' patented damping-bracket protects the system against vibration in harsh environmental conditions. Figures for vibration are, 1 Grms, 5-500 Hz, 3 Axes (w/ HDD and damping bracket installed, according to IEC60068-2-64). For shock they are 30 Grms, Half-sine 11 ms Duration (w/ HDD and damping bracket installed, according to IEC60068-2-27).
Big I/O
There's plenty of interfaces for the fanless system to connect to, it hosts:
2 x Gigabit Ethernet ports by Intel I219 and I210
4 x USB 3.0 ports
4 x USB 2.0 ports
1 x stacked VGA + DVI-D connector
2 x Display port connectors, supporting 4K/2K resolution
2 x software programmable RS-232/422/485 ports (COM1 & COM3)
1 x RS-232 port (COM2)
4 x isolated DI and 4 x isolated DO
1 x CAN 2.0 port
1 x mic-in and 1 x speaker out
Certification
CE/FCC Class A, according to EN 55022 & EN 55024
The perfect fit for both stationary and mobile surveillance applications.

About Assured Systems
Assured Systems is a leading technology company offering high quality and innovative applied computing solutions to the embedded, industrial, and digital-out-of-home markets across the world. Headquartered in Stone, England and with offices in North America, our reach is truly global. Our impressive product portfolio includes a full range of Fanless Embedded Computer Systems, Digital Signage & Multimedia Computer Systems, Touchscreen Panel PCs, Human Machine Interfaces, Vehicle Mount Computers, Rackmount Computer Systems, Single Board Computers, Rugged Laptops & Tablets.